Common Draw Blackjack – Innovation by NetEnt!
Hey there, fellow gamblers and welcome to another review! We have something to confess, let's say it's a big pet peeve of ours. We really don't like waiting for a table! Yes, sometimes when you enter an online casino and want to place bets at a Live Dealer game, chances are there aren't any free seats left and you must wait for a long time to have some fun. Luckily, this is where NetEnt comes to the rescue with a superb alternative. We're talking about Common Draw Blackjack – we have all the tea to spill so keep on reading!
Common Draw Blackjack is a scalable version of the popular and classic Blackjack and it's a superb game to try while you're waiting for a seat at a standard 7-box live table. In this review, we'll share more about the game itself – looks, rules, setting and we'll show you how to become the best at the table and win the big cash! We have also prepared a little video preview for you to see what the game is like and finally – we'll share our honest opinion and will show you why this game is so good! Stay tuned, players! If you are curious where you can play online, you can refer to the best blackjack sites that we trust!
Common Draw Blackjack Rules
RTP:
99.50%
Blackjack Pays:
3:2
Number of Decks:
6
Dealer Rule:
Does not hit soft 17
Dealer Peek:

No

Insurance:
Ace
Surrender:

No

Split:

Yes

Re-split:

No

Double:

Yes

Double After Split:

Yes

Hit Split Aces:

Yes

Side Bets:

No

Multihand:

No
Common Draw Blackjack Details
NetEnt has done a great job – the game has a superb video and audio quality, great and professional dealers and a classy, but relaxing atmosphere! Like any standard Blackjack game, in Common Draw Blackjack you must have 21 or the closest to 21 possible and if you win, you win the amount you've placed as a bet beforehand! Remember, your points should not exceed 21 but also shouldn't be too small! This is a low-stake scalable game and bets vary from £1 up to £1,000 – it is perfect for those of you that have been playing for a while, but it is also great for those of you that are just getting into the world of online gambling!
As the name says it itself, this is a common draw game – that means that all players at the table play from a common set of cards, placed on the table, which is known as the card stream. You have a few seconds to place your bets and once the time is up, the dealer deals two cards face up into the card stream and one card (face up again) to themselves which is not part of the card stream. From there, you and each player decide how to proceed according to the Blackjack rules – whether you hit, stand, double or split, the next card dealt (can be more than one card) is counted toward this decision. You can take insurance when the dealer has an Ace and you could also choose to take Even Money. Still, the game can be played with some of the latest casino bonus offers.
The Ideal Strategy for the Big Win!
Common Draw Blackjack has an RTP equal to 99.50% – that's quite of a good number if we do say so ourselves. As we all know, most of these games are considered 'games of chance' in one way or another, but that doesn't mean that Lady Luck is going to grant you with a big fortune while you do nothing. The big cash comes when you have a strategy! Therefore, we've prepared a strategy table below for you to explore, learn and hopefully practice when you're playing for real. It would definitely be of help!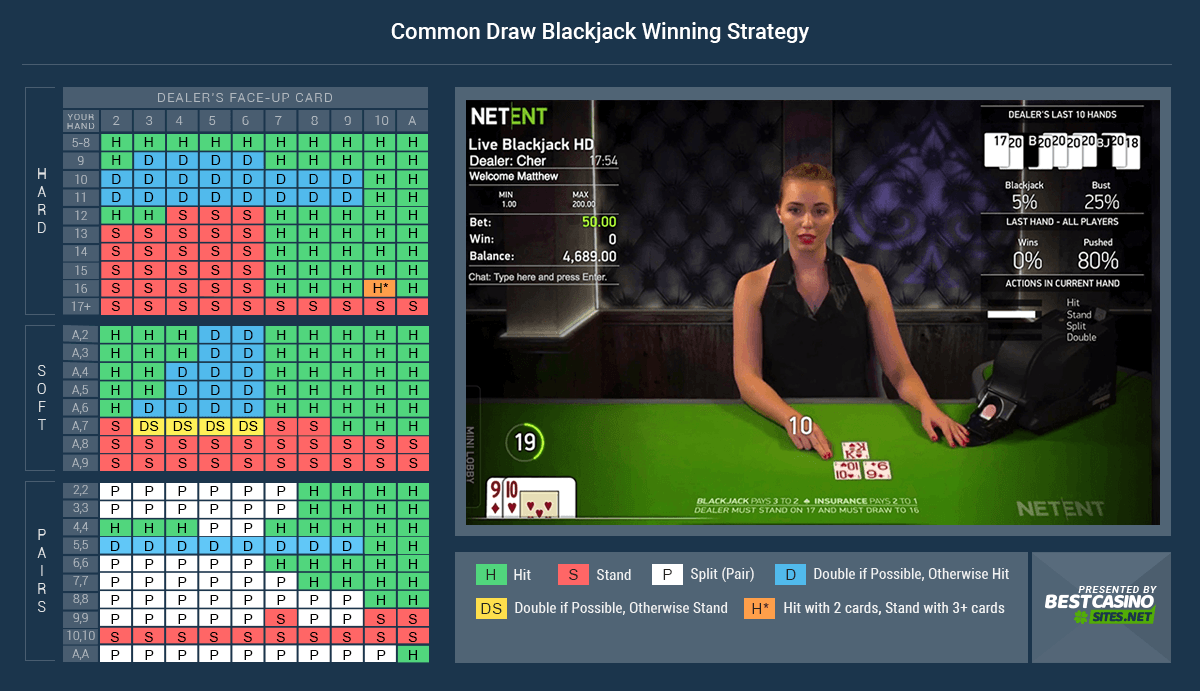 This strategy ensures the lowest possible house edge (0.57/0.58%), but keep in mind that it wouldn't eliminate it. In this case, to guarantee yourself even better chances, we suggest you claim a bonus. There are a few casinos that offer Common Draw Blackjack like 21 Casino, Casino Cruise and more, but we think that Mr Green is the best choice with its superb bonus also available for live dealer games. You could learn more about the casino in our dedicated review here.
Common Draw Blackjack Video Preview
Now that you know how the game works, what the rules are and how to win every time thanks to the superb strategy, it's time for a little practice. Sadly, Live Dealer games do not have a demo mode and it is not possible to play a game without investing money. Good news is that we have included a video preview for you to check out! It will show you what the table looks like, there will be a tutorial on how to use all the features like settings, placing bets and so on, and it will also give you a better idea on how to use the strategy!
We know that it would be more beneficial to play the game rather than just watching other people playing but let's look at it in a different way. When you're only watching without playing, you're not losing any money and time for the game itself. Another benefit is that when watching the video, you get to know whether this is the game you would enjoy playing in the future. Once you're ready and you've got the basics of Common Draw Blackjack, you're ready to play at the top blackjack sites for real money and make it rain! We believe you can do it!
In Conclusion…We Like It!
NetEnt is one of the popular and really good developers, alongside Evolution Gaming and Microgaming, that has created a lot of Live Dealer games that are all legit! Common Draw Blackjack is one of these games and we highly recommend you give it a go! The quality and the structure of the game are perfect, the dealers are superb and will always welcome you with a smile, and it's overall a pretty good game! However, if you don't think that this is worth your time and smackers, we encourage you to take a look at our full gambling card game list.
Rating:

4.57 /5

Powered by:

Evolution Gaming

Play at:

Royal Panda
Rating:

4.77 /5

Powered by:

Evolution Gaming

Play at:

21 Casino
Rating:

4.85 /5

Powered by:

NetEnt

Play at:

Royal Panda
So, what do you think – if you want to stick to Common Draw Blackjack, that's great news. We wish you lots of winnings and a good time while playing. We hope that this review will help you turn into a real Blackjack Master and will be helpful. As we mentioned earlier, there are some casinos that you can play at, including Grosvenor Casino, but Mr Green is our top pick. Make sure you claim your superb live casino bonus and… get rolling at Mr Green. Or roaring (You know, like a lion). Whatever the case, have fun and play responsibly.