Blackjack Switch Review – How to Play and Free Demo
Created in 2009 by Geoff Hall, Blackjack Switch has been designed as the perfect getaway from the classic blackjack rules allowing one of the most desired options – a card swap to optimise your starting hand. Yes, you've heard right, it is appealing and that's why it has been so popular and frequently preferred over the conventional game. Combining these undeniable advantages with the graphical excellence delivered by Playtech, you'll get a stunning result and the highest RTP of any blackjack game out there.
Stick with us to the end as we will touch on the 4 key subjects listed in the table above. We will start by briefly discussing the essential rules together with the optimal Blackjack Switch strategy chart. Step 3 would be a free demo to give all you have learned a risk-free try and finally an online casino recommendation where the game can be played for real money. This 4-step package is waiting for you to give it a glance and is bursting with valuable info, so go ahead and use it to your advantage. Another thing that can help you in your blackjack 'career', you can take a look at our page about the best online blackjack sites in 2023.
Blackjack Switch Rules
RTP:
99.92%
Blackjack Pays:
1:1
Number of Decks:
6
Dealer Rule:
hits soft 17
Dealer Peek:

yes

Insurance:

yes

Surrender:

no

Split:

yes

Re-split:

yes

Double:

yes

Double After Split:

yes

Hit Split Aces:

yes

Side Bets:

yes

Multihand:

yes
Rules Overview
Blackjack Switch is based on the classic blackjack game except for a few rule alternations. Starting with the most beneficial one, the player places two equal bets on two hands simultaneously and has the option to switch the top card of each hand after considering its value in the initial hand composition. This can result in scoring a blackjack with just a quick swap action. Sounds tempting but don't get too excited. The trick is, blackjack pays even money instead of the usual 3 to 2 and a dealer's 22 result means a push for the player.
Some further exceptions to the standard rules are that the dealer must always hit on soft 17, a peek for blackjack is allowed and in the case of one, the round ends with him collecting all bets. If you skip the switch option at the beginning or after applying it, actions pretty much follow the standard blackjack style: hit, double, stand, split or make an insurance. The only option not available is to surrender.
Side bets make a nice addition to the game with payouts up to 40:1 for 4 of a kind or even money for a single pair. To use this opportunity, place the desired bet in the super match circle between the two normal bet areas. Even though side bets tend to increase the house edge, placing them in moderation can win you some unexpected cash.
Get Some Help from the Strategy Card
Being familiar with the rules is crucial when playing any game but with blackjack you have it even easier as a player. Down below we have attached the perfect customised help centre, i.e. strategy card for Blackjack Switch. It shows the ideal move according to your two opening hands and the dealer's up cards. Following these recommendations assists in obtaining the game's optimal RTP and increasing your winning chances. If you are new to the rules, using it is desirable, at least until you transform all blackjack decisions into an automated process.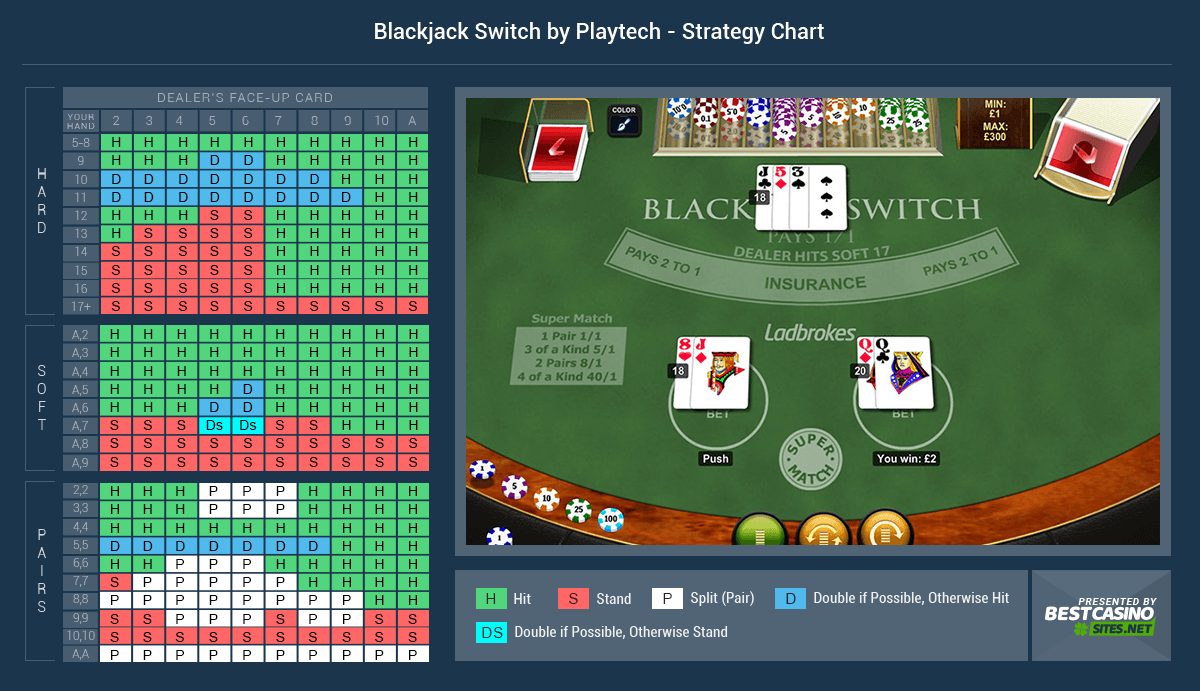 The one thing to keep in mind when playing with a strategy chart is that it navigates towards obtaining the lowest house edge rate but without a guarantee for never losing. The strategy is based on odds and you know there are no certain things when dealing with odds. To be one step ahead we suggest finding a good welcome offer like the one of Ladbrokes Casino granting the exclusive £600 for all new registrations. Read the full casino review for further details.
Test Blackjack Switch in Demo Mode
Now that you know the rules and have the ideal strategy card, you are more than ready for the next step – trying the game in demo mode. Your balance will be full of demo money while all game features are 100% matching the real money version. Does it get any better? The same fun with no risk involved! Give it a go and see how you like it down below!
Practicing your blackjack skills in any of its many variations means getting better, gaining experience and reaching a point where fast and optimal decisions feel intuitive and easy as a piece of cake. If you have the opportunity to master the art of blackjack without losing any real money, make sure to take advantage of it to the fullest. The time invested will pay off at the end or even if you end up not liking this exact game and switching over to a different one, trying it out wouldn't have cost you anything.
Final Verdict and the Best Real Money Casino
With the stunning house edge of 0.16%, Blackjack Switch is a chart leader. It rarely goes better than that so its high popularity amongst all blackjack lovers is absolutely understandable. If you have never tried it before, now is the best time to do that as it's totally worth your attention. You can check out our full list of gambling sites and pick a website where you can play this game. But as in everything else, there are some disadvantages as well. For all of you looking for something a bit more traditional or just some other great blackjack game, here are our top 3 further recommendations.
Rating:

5/5

Powered by:

Playtech

Play at:

Ladbrokes
Rating:

4.9/5

Powered by:

Playtech

Play at:

Ladbrokes
Rating:

4.9/5

Powered by:

Playtech

Play at:

Ladbrokes
The choice is yours and if you decide to stick to Blackjack Switch and maybe try it by depositing at the top real money blackjack apps, then the mobile Ladbrokes Casino is the best place to do that. Claim the £600 exclusive offer by making a registration and follow the steps. The generous welcome will give you the perfect start and you'll be playing at one of the most trustworthy casinos in the UK! Good luck!