Blackjack Surrender – Basic Rules and Free Demo
As part of Playtech's incredible blackjack collection, this variation of the classic game has its unique rules allowing the player to surrender a poor hand by getting its half wager back in return. Combining this beneficial option with sleek graphics, multi-hand bets, and one of the highest RTP makes it a widely-favored choice suitable for all types of players. To find out more about or give it a free try, stick with us to the end.
The purpose of this review is to cover all the key elements which a player looks for in a blackjack game. We will set the start with a short rule and features guide that will lay the groundwork followed by the perfect strategy card, a free demo version of the game and for those of you wanting to stick to it – a safe real money casino recommendation or some alternative blackjack variations. For even more details and suggestions, you can refer to our page about online blackjack sites in the UK. And if this review sounds like something that could answer some of your questions, just keep on reading.
A Glance at the Basic Rules
Blackjack Surrender Rules
RTP:
99.66%
Blackjack Pays:
3:2
Number of Decks:
6
Dealer Rule:
stand on all 17
Dealer Peek:

yes

Insurance:

yes

Surrender:

yes

Split:

yes

Re-split:

no

Double:

yes

Double After Split:

yes

Hit Split Aces:

yes

Side Bets:

no

Multihand:

yes
Played with six 52-card decks, the main object of Blackjack Surrender is for the total of your cards to be closer to 21 than the dealer's cards without exceeding. You get to bet on 5 hands simultaneously, the wager amount is totally up to you starting from £1 – £300. Getting a blackjack pays 3:2, a winning hand- 1:1, and the insurance 2:1.
To start the game, place the chips you want to bet for each hand and hit the deal button. If the dealer has an Ace or a 10-value card, he gets to peek for blackjack but before that the player is offered an insurance. If you go for it half of your initial bet is added to your total one and in the case of blackjack, you are paid 2x half of the original bet making sure you don't lose anything after all. The surrender option becomes available when the dealer has already checked for blackjack and allowing you to get half of your bet back by surrendering. This action is advisable only if you feel your starting hand will hardly beat the dealer.
The game applies also the 7-card Charlie rule where your hand automatically wins after drawing 7 cards without going bust. Any two cards with the same value can be split into two hands. Afterwards, you can draw as many cards as you wish except when splitting Aces. In this case, you are allowed only one more additional card and if this happens to be a 10-valued one, the combination is considered as a standard 21 result, not a blackjack.
Try the Strategy Card Gameplay!
If you want to play and keep your results as close to the game's highest RTP levels, consulting with a strategy chart like the one we have embedded below is a must. Each blackjack variation has its tailor-made strategy card created with the purpose to help you make an optimal decision. Simply connect the row of the chart that has your current hand value with the column that shows the dealers up card. The square where they meet gives away you best move – hit, stand, split, double and in the case of this game also surrender.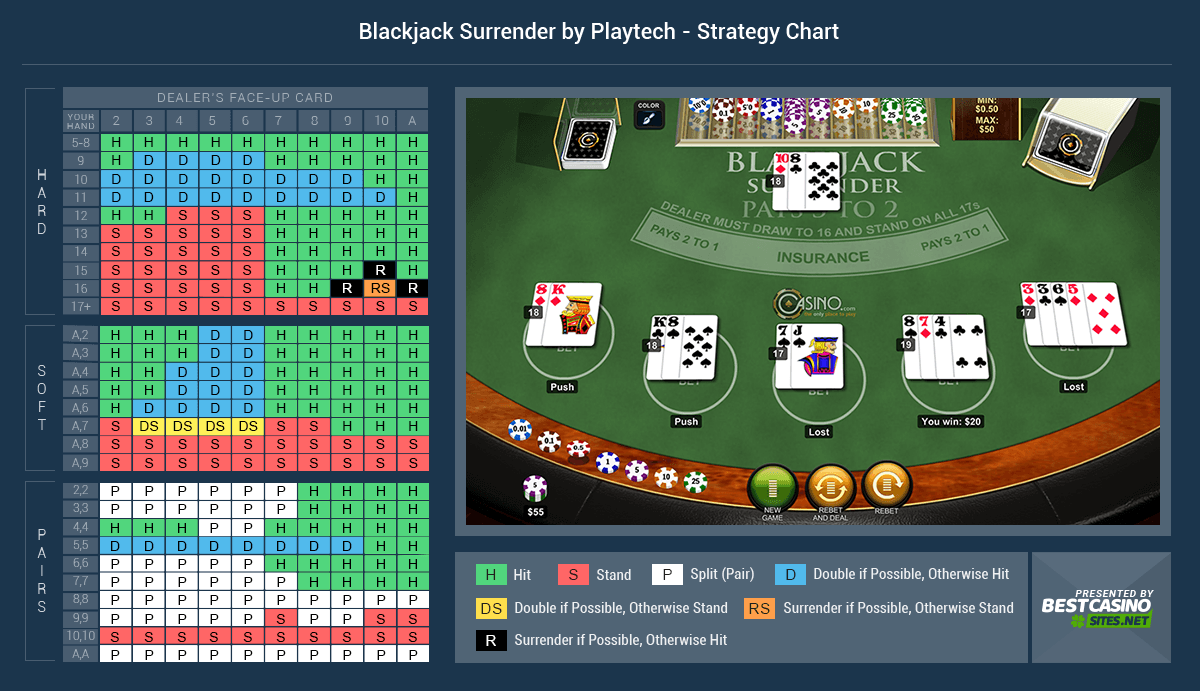 Keep the strategy chart advices as your guide but don't forget that the card doesn't eliminate the house edge entirely, just ensures its lowest possible values. What this means is that even a strict following of its suggestions may result in you losing a hand. So, the best way to guarantee yourself even better chances of more frequent wins is to find a really good welcome bonus offer from an online casino and use it as a start-up advantage. Visit Ladbrokes Casino full review for a chance to learn more on one of the best bonuses in our opinion.
Practice with the Free Demo!
Do you know what actually makes the great players so great? It's the practice, of course! So, down below is your free chance to get better and gain a lot of experience in Blackjack Surrender. Now that you already know the basic rules and have the perfect strategy chart, trying it out seems more than logical. The demo game looks and feels exactly the same as its variation that you can play at the top 10 real money blackjack casinos, so you will be perfectly prepared when you want to make the transition.
But probably the best thing about playing for free must be the player getting to know the game in depth without losing any real money. And I am sure you will agree with me that there is nothing more frustrating than paying for your wrong moves while still learning. Furthermore, the blackjack game is actually one of the few of its kind where strategy and luck are both equally essential for you to go out as a winner – so, go on and practice your skills as long as you need to.
Final Verdict and More Games
At the end, we will conclude that Blackjack Surrender is one of the best and most frequently preferred out of all existing blackjack variations combining amazing winning odds, low house edge, high RTP, great visuals, multi-hand betting, and the tempting late surrender option. The game can also be found at the best UK Bitcoin casino sites. Now, if you'd like to explore some other options that feature different rules or new looks there are 3 further blackjack recommendations in the table right below.
Rating:

4.8/5

Powered by:

Playtech

Play at:

Ladbrokes Casino
Rating:

4.9/5

Powered by:

Playtech

Play at:

Ladbrokes Casino
Rating:

4.9/5

Powered by:

Microgaming

Play at:

32Red Casino
If you decide to go for this one though, we suggest finding a safe online casino that holds it in its game portfolio and that will award you gratefully for signing in. Bearing in mind these two factors will get you further for sure, so take your time and do your research. In case you don't like the idea of reading and comparing multiple casino reviews, our recommendation goes to Ladbrokes. As one of the most reputable gamble providers out there the only thing you should worry about while at it is not to forget to claim your welcome bonus! Good luck!