Blackjack Super 7's Multihand Review – Free Play, Rules, and Strategy
A deep-seated belief is that most of the video blackjack titles circulating the web nowadays offer multi-hand action, but that's just not true. That's why we felt duty-bound to compile an exhaustive blackjack Super 7's Multihand review. Not only does the game accommodate multi-hand betting, but it also brings a whole lot of other features to the table. The use of gestures for betting together with the outstanding graphics intensify the gameplay and give this blackjack variation a unique identity. Powered by iSoftbet, this title sounds and looks promising, so let's see what else it has to offer. Smarten up your game because it's time to start betting smart – the multi-hand way.
Going over the key points of the game, we'll provide all the necessary insight for you to make an informed decision on whether Blackjack Super 7′ is worth your time. First, we'll give you the lowdown on the casino blackjack rules. Basically, the moves that are allowed in the game and the ones that are not. Another thing factored in our review is a play money version that you can run and dabble with for free. Frankly, it's the ideal medium to practice the blackjack strategy explained in the third paragraph. We also took the liberty of closing off by recommending a good online casino where Blackjack Super 7's Multihand can be played. But don't leave with the impression that this is the only recommendation that we have! You can find much more options if you take a look at our page about the best online blackjack sites in the UK!
Details About the Game
Blackjack Super 7 Rules
RTP:
99.56%
Blackjack Pays:
3:2
Number of Decks:
8
Dealer Rule:
Stand on all 17's
Dealer Peek:

Yes

Insurance:

Yes

Surrender:

No

Split:

Yes

Re-split:

No

Double:

Yes

Double After Split:

No

Hit Split Aces:

Yes

Side Bets:

Yes

Multihand:

Yes
Scrolling through the rule book of Blackjack Super 7's Multihand, you won't find anything unusual. The game lives up to the expectations of a derogative blackjack variation with the option for multiway bets. Initially, you can start with up to three hands covered by three separate bets. Afterwards, depending on whether you decide to split or not this number can increase to up to 5. No re-splitting is allowed. A total of eight decks are in play
Blackjack Super 7's Multihand special feature is the side bet activated by clicking the encircled 7 just below the bet box. To win the side bet your first two cards have to be sevens. The side bet's RTP is 90.99%, and the main game boasts an RTP of 99.59%, which most of the time implies a high-end product. Another important piece of information is that the dealer will check for blackjack up front if their face-up card is a ten or an Ace.
When it comes to how the game is played, the rules are not a far cry away from those of the classic version. There are three possible scenarios Wing, Bust, Blackjack and Push. If you win by dint of a better draw, that's a regular winning hand. If the dealer outdraws you or your hand goes over 21 you lose. A push occurs when dealer and player have hands of equal value. You hit a blackjack when your first two cards add up to 21. A blackjack also gives you the option to take advantage of Even Money, an auto win scenario in which you get a 1:1 return on your initial bet.
Of course, if you are serious about making the most of the payouts in this game, you should make sure you have revised your basic strategy, and remember that the side bets increases not only your potential profits, but also the risks.
Blackjack Super 7's Multihand Strategy Card
Sifting through the various blackjack strategies out there, we came across a very viable option for Blackjack Super 7's Multihand players. You'll see every situation that could occur in a game of blackjack covered in a single table of simple instructions. Somewhere, as indicated by the blending colours, you'll have the elbow room to interpret the situation through your own blackjack senses for right and wrong. Be that as it may, you can always refer to the strategy card anytime you need a statistically-justified solution for your next move. Adhering strictly to the proposed actions therein can drive the house edge down to mere thousandths for certain blackjack variants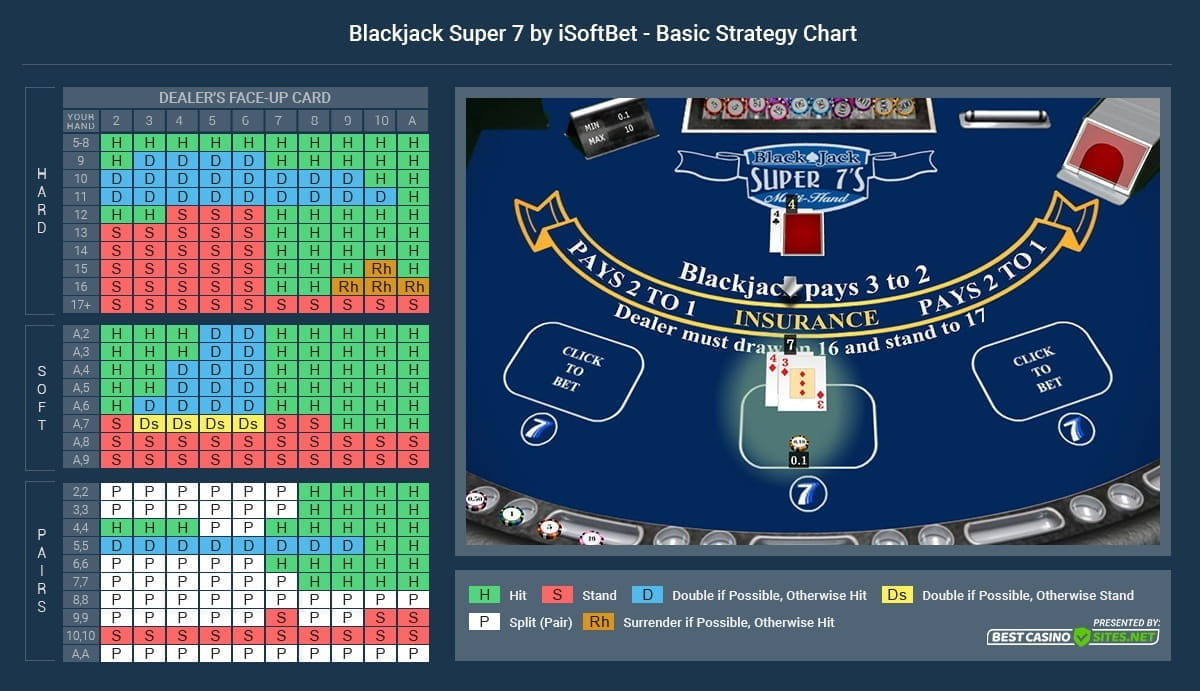 A disciplined execution of what the table suggests will take the house edge a notch but let us tell you – don't stake your success on that, it's just a bonus. Sad as it may sound, casinos have got you figured out. Maybe explaining how house edge works will flesh out a statement like this, but we have a better idea. You can improve your chances of coming out a winner in the long run by choosing carefully your welcome offer. For example, you can get up to 500 spins bonus with your first deposit at NetBet casino. What else they got, read in our NetBet casino review.
Try the Game for Free
With a view to giving you more practical know-how, we've included a demo game of Blackjack Super 7's Multihand. Playing to the try-before-you-buy rule, you can explore all features of this blackjack version safely, without putting at risk any of your own money. You also have a proven-concept strategy, by dint of which you can explore the game from all angles. What's more, practising in this way, you're laying the groundwork for future real money blackjack endeavours. Once you feel comfortable with the free play version, you can easily transition to playing at our recommended real money blackjack online casinos.
Recommended Casino and Alternative Blackjack Games
This game ticks all the boxes on the list of demands we have as passionate blackjack enthusiasts. Well, except for one small thing. As a little obstacle for creative players like us, we want to single out the availability of just one side bet, which, on top of that, is a really hard one to nail. If you want to spice up the action with side bets that pay much more often, you've got to try Yggdrasil's Lucky Blackjack. That variant boasts generous prop bets pay-table and alluring graphics. You can find more information about the game in our in-depth Lucky Blackjack review.
Rating:

4.93/5

Powered by:

Playtech

Play at:

Ladbrokes Casino
Rating:

4.9/5

Powered by:

Microgaming

Play at:

32Red Casino
Rating:

4.75/5

Powered by:

Microgaming

Play at:

32Red Casino
iSoftbet steps into the fray with another title that comes up to the high demands we normally place on gaming developers. Blackjack Super 7 has the attributes of the top multi-hand card game we are looking for, such as interesting rules, reasonable wager limits, and welcoming graphics. If you choose to give the game a shot, we'd suggest you play at NetBet casino. The has been on top of its game for a long time now. Currently, newcomers can enjoy up to 500 spins with their first deposit at the casino site. To find out more about this online casino, read our exhaustive NetBet review.