Blackjack Pro Review – Classics Never Go Out of Style
Blackjack Pro is one of those classic blackjack games that seems to always have its share of dedicated fans. And there is nothing surprising about that, people have been attracted to simple and easy-to-follow games since forever. Combining Playtech's excellent graphical performance with super high RTP creates a perfect product highly appreciated from all types of players. So, if you are on the hunt for the good old pure blackjack, just keep on reading.
Here is what to expect from this review! We'll start with an overall look at how the game is structured by shortly discussing its key rules, bet limits, and payouts. Then, it's time for some strategy moves and helpful tips on how to win more using our 100% Blackjack Pro-customized strategy card along with a free demo to experience all the rules in action. Go straight to our closing paragraph if you're looking for the most favourable real money casino to play the game at and to discover alternative blackjack recommendations. Or, you can decide to sneak a peek in the page filled with our most favourite sites for blackjack games as well!
Blackjack Pro Rules
RTP:
99.53%
Blackjack Pays:
3 to 2
Number of Decks:
1
Dealer Rule:
dealer hits soft 17
Dealer Peek:

Yes

Insurance:

Yes

Surrender:

No

Split:

Yes

Re-split:

No

Double:
on hard 10-11
Double After Split:

No

Hit Split Aces:

No

Side Bets:

No

Multihand:

No
Key Details of Blackjack Pro
Blackjack Pro follows the standard Las Vegas Strip rules with some small changes. As a classic blackjack game, the goal is, of course, to get your cards' total closer to 21 than the one of the dealer without exceeding. There is only one deck of cards shuffled after each round which makes card counting impossible.
The dealer will always hit soft 17 and peek for Blackjack when his up card is an ace or a 10-valued one. Placing an insurance bet at that point will pay 2:1 if the dealer really ends up with a blackjack. Splitting is available only once and split aces get just one more card without an option for a further hit. Doubling down requires a 9 or a 10 result on your first two cards and is never offered after a split.
The game does not provide a multi hand bet option or any variations of side bets. Choose the preferred chip size and place your bets starting from £1 up to £300 after which it's time for the deal button. From this moment on, you will have to just follow the natural game flow and make decisions when to double, to hit, stand, make or skip insurance, split, re-bet or just start a new game. As most other Playtech games, Blackjack Pro's settings menu features six different table colours to choose from and a fast mode making bets and results happen much quicker.
Tips and Strategy Sheet for Blackjack Pro
Blackjack is a game of odds and as we all know odds can often be mathematically and precisely calculated. If doing complicated estimations in a matter of seconds is not your strongest skill, though, have no worries. Each blackjack variation has its own cheat sheet helping you visualize your best move depending on your cards' total value and the dealer's up card. Connect the two rows and see the corresponding abbreviation that will advise you on your next best action. Down below we have prepared the perfect strategy chart for Blackjack Pro. Feel free to use it all the time or just when in doubt.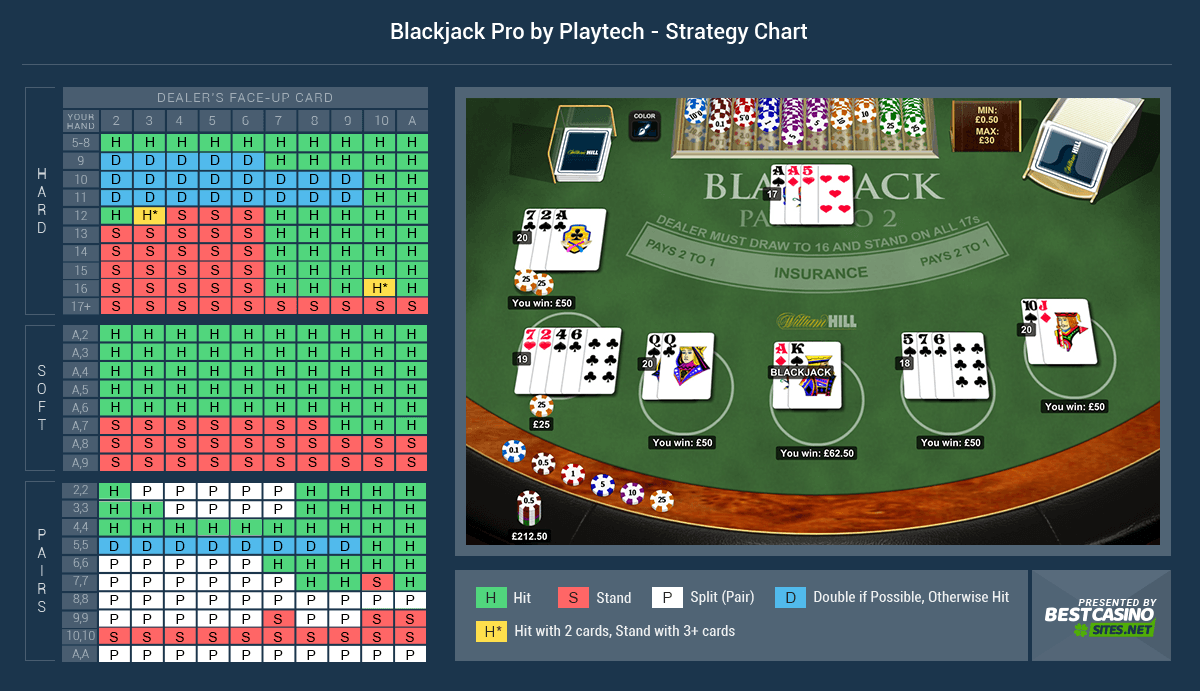 The strategy card ensures the lowest house edge possible but keep in mind that this doesn't eliminate its influence completely. Even though it has been downsized, it is still present. The suggested strategic moves are just a recommendation which comes from odds calculations but there is always the element of chance. To maximise your win opportunities and your overall long-term success, we suggest playing the game at Ladbrokes Casino where you will be given the advantage of their £600 exclusive welcome bonus.
Play the Demo Game Right Here
Now that we have covered the most important rules and provided you with the best strategy plan for playing Blackjack Pro, trying the game in demo mode seems like the intuitive next step. To do that, simply click on the play button right beneath this paragraph and experience this classic blackjack variation in its full glory without risking any of your own money. The real game does not differ from its demo version in any way, so go ahead and give it a try right here!
Playing any betting game in demo mode before placing real wagers at the best real money blackjack casinos is always a good idea but when it comes to blackjack it is almost a must-have option. Practicing your gambling skills with the assistance of a strategy table and no real money at stake can train you to become a true blackjack master. With more practice, you will be able to take the optimal "hit or stand" or "split or double" decisions quick and easy maximising your winning odds and taking advantage of all that the game can deliver.
Blackjack Pro for Real Money and Other Recommendations
Blackjack Pro is a high-quality game that fits perfectly into Playtech's portfolio famous for accommodating all classics just as well as their many innovative and upgraded alternations. We are coming to the end of this review, so you probably already know that this blackjack game pertains to the first group without the additional too many features, side bets or any modifications of the standard rules. But if you don't like choosing the one or the other and want to have a little bit of both worlds, mix it all up by trying one of the three further blackjack recommendations down below.
Rating:

5/5

Powered by:

Playtech

Play at:

Ladbrokes Casino
Rating:

4.9/5

Powered by:

Playtech

Play at:

Ladbrokes Casino
Rating:

4.9/5

Powered by:

Microgaming

Play at:

Ladbrokes Casino
And if Blackjack Pro seems like your way of gambling, then it's time to place some real money bets and feel the true excitement of winning. When choosing the right online casino to do that, look for a safe and reputable operator with a good welcome offer. These two aspects matter the most and will guarantee for your best results. Considering all this, our recommendation goes to Ladbrokes Casino – a name with a solid reputation and generous bonus treats for all players wanting to enjoy this blackjack classic.