Live Blackjack Party Review – Where the Party Never Ends!
As most of you probably know, Evolution Gaming is one of the best developers in the business and the world leader in video-streamed Live Dealer gaming – always innovative and always striving to provide the best online casino experience to its audience. In the end of 2014 – the beginning of 2015, the developer got live with a new and very exciting Live Blackjack game – the Blackjack Party table! This is the kind of game you would like to play if you're looking for an adventure, some extra smackers and a good laugh!
In this article we'll talk about Blackjack Party and its characteristics. We'll explain the rules, show you how and where to play for real money and how to gain the most of this game. Blackjack Party is definitely something new and gives you the feeling that you're on TV, playing at a game show for the big prize! Don't worry, it's not that hard to understand – the game is just like any other classic Blackjack game, but with a twist. Not every day you get to place your bets while the live dealer tells you jokes and has a sweet presenter next to him/her! Oh, we also have piled up our favourite blackjack sites in the UK, for you to check and eventually enjoy!
Blackjack Party – Rules
RTP:
99.64%
Blackjack Pays:
3:2
Number of Decks:
8
Dealer Rule:
Stands on hard and soft 17s
Dealer Peek:

No

Insurance:
Ace
Surrender:

No

Split:

Yes

Re-split:

No

Double:

Yes

Double After Split:

No

Hit Split Aces:

No

Side Bets:

Yes

Multihand:

No
Blackjack Party in Detail
Let's briefly go through the rules of the game. Blackjack Party is not as different as the other Blackjack tables – the main rule you must remember is that the total of your cards must be closer to 21 than the dealer's cards and you must not exceed 21! If it's 21 or close to 21, you win the amount of the bet you've placed previously. This is a low-stake live game and bets vary from £5 to £1000, which makes it suitable for both pros and newbies. Now, how do you know your points? Aces are counted as 1 or 11, face cards count as 10 and all other cards count as their face value (4 is 4 points, 2 is 2 and so on).
Something that really makes Blackjack Party stand out as a game are its two side bets. The first one is The Perfect Pairs Side Bet, that will be winning if the initial hand dealt with a player consists of two cards of the same suit, colour or both. The second bet is a little bit more specific and it's known as 21+3 – you win if your first two cards combined with the dealers' first card make up any of the five combinations: Flush (5:1), Straight (10:1), Three of a Kind (30:1), Straight Flush (40:1) or Suited Trips (50:1). This is actually the most commonly met side bet when you play live blackjack UK games. Since the table can welcome up to 7 players, while you wait for a vacant seat, you can Bet Behind any seated player who makes optimal blackjack decisions. Well done, Evolution Gaming!
To Win, Have a Good Strategy!
You're probably aware that each game is different, and you need to have a specific strategy in mind to win. Same goes for Blackjack Party. This game has an RTP of 99.64%, seven seats, 8 decks of 52 cards each and a really fun atmosphere. Based on our research, we've inserted a strategy table below for your convenience. If you follow the strategy strictly, it will decrease the house edge (0.49%) and you will increase your chances for potential rewards. Please be advised that this strategy does not cover the side bets, only the base game!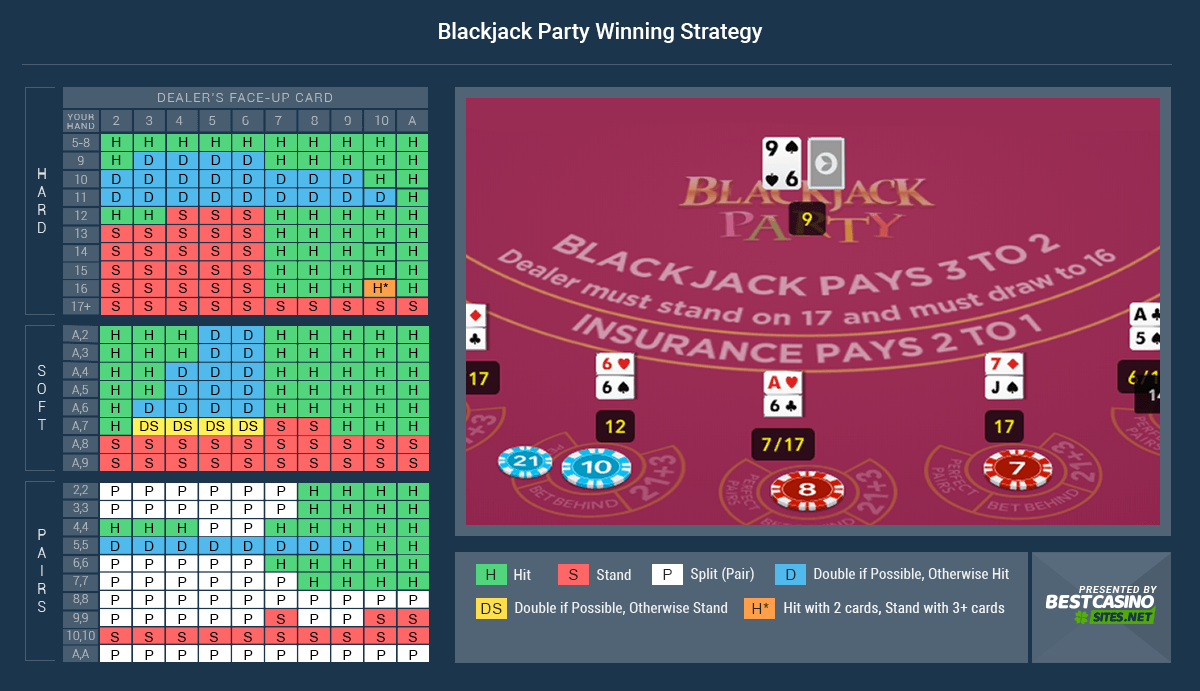 As mentioned earlier, the strategy may help you put cash in your piggy bank and ensures the lowest possible house edge. However, it still doesn't eliminate it and the casino still has a big chance of pulling your smackers away. Having a strategy is okay and helpful, but you must have a Plan B., In this case, we highly recommend you consider playing with a bonus. We think 888Casino is the way to go with its superb Welcome Bonus up to £100 on your first deposit and other interesting promotions!
Learn From Our Video Preview!
Now that you know the basics of Blackjack Party and you have a strategy chart to follow, it's time for the fun side of all that – playing! Sadly, Evolution Gaming hasn't made demo versions of their Live Dealer games yet (Fingers crossed it will happen soon!), however, there is another way to get the hang of the game in action. We've prepared a step-by-step video preview, that will help you understand the game better without having to dig deep down into your pockets! Grab some paper and a pen and watch carefully – you'll thank us later!
You're probably thinking: 'How would a video help me win some cash?'. Well, for starters, you will see what the game is like and whether you would like to invest time and money in it. Another great benefit is that you'll get to see the strategy in action – you'll learn how to apply it and what the chances are once you start playing at the best real money blackjack casinos. The video preview is also perfect for those of you that have never played at an Online Live Casino before! Just follow the steps, use the strategy and with some extra luck – you're ready to roll!
In Other Words…We Like It!
Well, that's the end of our review! Let's do a quick recap: Evolution Gaming created Live Blackjack Party for those of us who like to play blackjack, but also like to have a good time. The game has great video and audio quality, great and friendly atmosphere and superb features. The game is suitable for those who have played before and for those who are just becoming a part of the online gambling community. You can play on your phone or your tablet with some luck and a good strategy by your side!
Rating:

4.90 /5

Powered by:

Playtech

Play at:

Ladbrokes Casino
Rating:

4.77 /5

Powered by:

Evolution Gaming

Play at:

21 Casino
Rating:

4.88 /5

Powered by:

Microgaming

Play at:

32Red Casino
If Blackjack Party is not your forte, make sure you check our blackjack suggestions above to find the game you really want to try. If you want to stick to this one, perfect! You can play at a lot of casinos, including LeoVegas and Mr. Green, but, as mentioned earlier, 888 casino site is the best choice for us! You can benefit from its amazing bonus and other promotions, and you could also show others how you win at Blackjack Party! Thank you for going through our review – remember, have fun and play responsibly!