Blackjack 3 Hands Review – Triple the Fun!
Blackjack 3 Hands is a table game, developed by NetNet using the latest HTML5 technology. It offers great gameplay, with features such as splitting, double bets, even money and insurance. Furthermore, its classy looks, great graphics and high level of customization leave little to be desired. And as if that's not enough, the house advantage has been brought down to the negligible 0.41%. Follow this review till the end and you will find everything there is to know to get you started playing Blackjack 3 Hands.
In this article, we will try and give you all the information you need in order to make a knowledgeable decision on whether NetEnt's Blackjack 3 Hands is the blackjack variant for you. We will start by diving into the basic rules and game-specific intricacies. Then we will take a look at strategies and will give you a chance to test them in the free to play demo version. In the end, you will find the three casinos that we recommend for playing Blackjack 3 Hands once you decide to wager your own money. But, if you are interested also in other options, we recommend you to check our page about online blackjack in the UK.
All About Blackjack 3 Hands
Blackjack 3 Hands Details
RTP:
99.59%
Blackjack Pays:
3:2
Number of Decks:
6
Dealer Rule:
Stands on Soft 17
Dealer Peek:

Yes

Insurance:

Yes

Surrender:

No

Split:

Yes

Re-split:

No

Double:

Yes

Double After Split:

Yes

Hit Split Aces:

No

Side Bets:

No

Multihand:

Yes
Blackjack 3 Hands is a classic blackjack game which follows rules that are simple enough to be easily comprehended by novice players. At the same time it packs enough options to make it just as compelling to the experienced gamblers amidst you. To begin with the basics, the game is played with 6 decks of 52 cards each and the dealer has to draw to 16 and stand on 17 or higher. Betting limits are between £1 and £500, blackjack pays 3:2 and wins pay 1:1. The odds are pretty good in terms of RTP – as long as you don't go bust!
After the first two cards are dealt, and in case neither you nor the dealer was dealt a blackjack, you will be faced with an array of options. You can always stand and, as long as your cards' total value is less than 21, you can hit as many times as you'd like. Another move could be to split two cards that share an equal face value, thus receiving an additional hand to play. Doubling down is also possible. As a result, you will double your bet and opt for one last card in order to beat the house. One of the things that make this game by NetEnt so unique is the fact that it, unlike most blackjack variations in land-based or online casinos, allows for a pair of aces to also be split.
You should, however, keep in mind that only one split per hand is permitted and after splitting aces you will only receive one additional card per hand. And last but not least important is the fact that in this blackjack variation, players have the option to take an insurance. What this means is that if the dealer's up card is an ace you will be offered to make an additional bet which is of the same value as your initial bet. It pays 2:1 when the dealer's hand is a blackjack, hence the name, in any other case, however, you lose the insurance.
Another important aspect is the way the game looks and feels. And in that department, the NetEnt software studio has done wonders. First of all, the graphics are sleek and extremely detailed. Besides that, you can customize the speed with which the cards are dealt as well as the soundtrack, giving you a total of 60 different combinations. Furthermore, the sound effects of selecting chips or cards being drawn and placed on the table make the whole experience extremely enjoyable and realistic. Overall, Blackjack 3 Hands is a very pleasing and entertaining game to play.
The Best Way to Approach the Game
If you've just finished watching Robert Luketic's movie 21 and feel like trying your luck with card counting, this blackjack variation is bad news for you. It shuffles all cards after the end of each round, making counting cards utterly impossible. However, as long as you concentrate and consistently follow the basic blackjack strategy, you should be able to achieve an impressive RTP of 99.59%. In case you wonder what strategy we are talking about, we have provided a chart to explain it in a simple and visual way. So put your head down, study this chart very carefully and start applying what you've learned. This way you will rarely loose funds and will soon be on your way to making some serious money.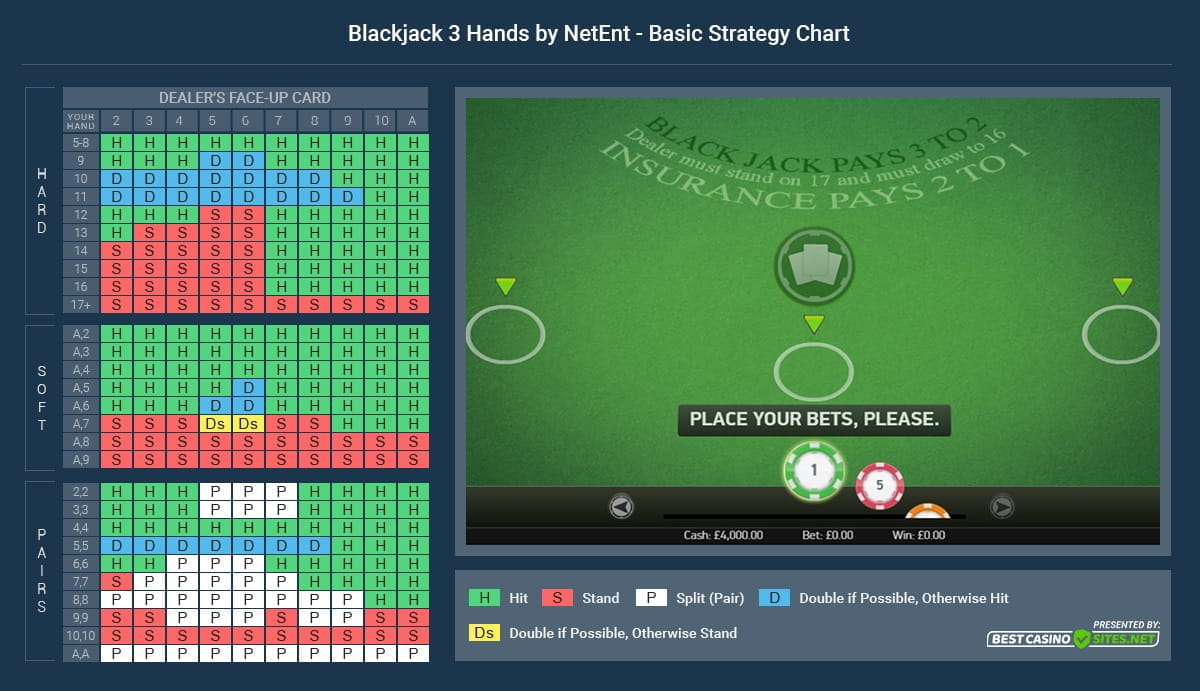 Тhe basic strategy is a great tool for understanding the game of blackjack, as well as for lowering the dealer's advantage. It must be noted, however, that even if perfectly executed, it will not completely eliminate the house's edge over the players. Thus, in order to give you the best chance to win, we will throw some casino bonuses into the mix. Blackjack 3 Hands can be played on multiple casinos, however, we believe that Fun Casino's welcome bonus is your best bet. With your first two deposits you can claim as much as £998 and 111 free spins which can be used on a couple of games, including NetEnt's truly entertaining slot Joker Pro.
Play Blackjack 3 Hands Demo for the Cost of Nothing
It is one thing to read about a game, and a whole new story to actually play it. Knowing that we went out and found a demo version of Blackjack 3 Hands for you to try. So, enough reading, for now, time to put what we've talked about into practice. Go through the options menu, try out different soundtracks and speed settings, and simply enjoy this wonderful blackjack variant.
Experiencing a game first hand in a demo version is the single best thing you can do before putting some real money on the line. Furthermore, it is something you should always do, as no matter how hard we try to present every single feature of the game in a neutral and impartial manner, it is never going to feel the same as trying it for yourself. Moreover, with a demo version, you get the chance to experiment with the basic strategy in a zero-risk environment. Now, after you've had a taste of the game you can much better understand what we've been talking about.
Our Final Thoughts on the Game
Blackjack 3 Hands is an excellent all-round game which offers both great looks and diverse playing options. Furthermore, it can be customized in numerous ways to suit your exact taste and requirements. You might, however, feel the need to play a game that gives the house an even smaller advantage or maybe playing 3 hands seems like a walk in a park. Perhaps you would fancy a selection of side bets to spice the game up. In any case, we have picked out three blackjack variants that we believe you might also like.
Rating:

4.95/5

Powered by:

Playtech

Play at:

Gala Casino
Rating:

4.88/5

Powered by:

Microgaming

Play at:

Betway Casino
Rating:

4.85/5

Powered by:

NetEnt

Play at:

Royal Panda Casino
Going back to Blackjack 3 Hands, we believe that if you enjoyed the game even half as much as we did, you will be looking for the best casinos to play more of it. However, that's a task easier said than done. Finding trustworthy online gambling venues which also happen to have the game in their collections is usually a complicated and time-consuming business. Here is where we step in. We believe that Fun Casino with its offer of up to £123 is the best real money option for playing Blackjack 3 Hands. However, competition is so fierce nowadays, that you won't regret choosing any of the casinos we've mentioned in the review.