Big 5 Gold Blackjack Review – Classical Variant by Microgaming
Are you looking for a twist to your blackjack game? If so, look no further than Big Five Gold Blackjack. Here in this game, you have a variety of playing options to make your game that much more exciting. As always, the aim is to hit that elusive 21 with a set of cards played on five decks. This, of course, is possible if you play your cards right. There are various rules for this game, which we will cover in more detail a bit later, but for now we want to introduce to you one of the most fun and newest versions of blackjack offered by Microgaming – one of the top games providers.
Before we get started, we would like to give you a brief overview of what we will cover here in this review so that you have a good idea of what to expect when reading it. For starters, we'll start with the general details about the games including side bets and setting of the game. We'll also tell you about the basic strategy and the RTP this game offers players. We then go on to recommend that you try this game in demo mode followed by playing it for real. We believe that playing in demo mode first is really the best option because this allows you to test the limits of your gameplay and see how comfortable you are without betting real money. Finally, we end off by telling you at which casino you can play this game. But if you want to dive in a larger pool of options, refer to the guide which we prepared for the top sites for blackjack in the United Kingdom!
Game Details
Big Five Gold blackjack Rules
RTP:
99.55%
Blackjack Pays:
3:2
Number of Decks:
5
Dealer Rule:
Hit on soft 17
Dealer Peek:

no

Insurance:
2:1
Surrender:

yes

Split:

yes

Re-split:

no

Double:

yes

Double After Split:

yes

Hit Split Aces:

yes

Side Bets:

yes

Multihand:

no
Now that we've explained what we'll cover in this review, let's get started with a detailed explanation of the rules, the side bets, and the settings of the game. Big 5 Blackjack Gold is played on five decks of 52 standard cards that are shuffled before each game. Splits are available on two cards that have the same denomination or value. Double down is available on your first two cards only. Double down is also available after a split. Both insurance and early surrender is available.
The general rule is that the dealer is dealt one card face up. Blackjack is the strongest hand and automatically stands, it cannot be beaten. All cards with a face have a value of 10, while Aces can have a value of either one or 11. You and the dealer can draw up to nine additional cards to make a hand of 11 cards, provided the value of the hand does not exceed 21. If a hand doesn't exceed 21 after receiving 11 cards, the hand automatically stands. The dealer hits on soft 17 and malfunctions automatically void the game.
As for rules related to splitting, you can split two cards that have the same denomination or value. The split bet placed on your second hand is equal to your regular bet amount. If you split a pair of Aces and then draw a regular card with a value of 10, this is not blackjack, although it has a value of 21. This rule also applies to splitting pairs of cards with a value of 10 and then drawing an Ace. You can split a maximum of three times per game, totalling four hands. Aces can only be split once. When you split a pair of Aces, each Ace is dealt one card, and the hand automatically stands.
The Perfect Winning Strategy
With an RTP of 99.55%, this game means that the house edge is really low, this, in turn, meaning that you can really make some winnings and play to your advantage. As for basic strategies, the most important one is knowing when to surrender. This is a strategy that is usually learned first. A hard 16 with a dealers' 10 or a 9 is a certain sign for the player to forfeit a hand. The same strategy would apply for a hard 14 or 15. For combinations below 12, a player should be hit. Hard 17 should be followed up with the same routine if the dealer is now showing three to six cards. Alternatively, doubling down or standing would be the preferred option.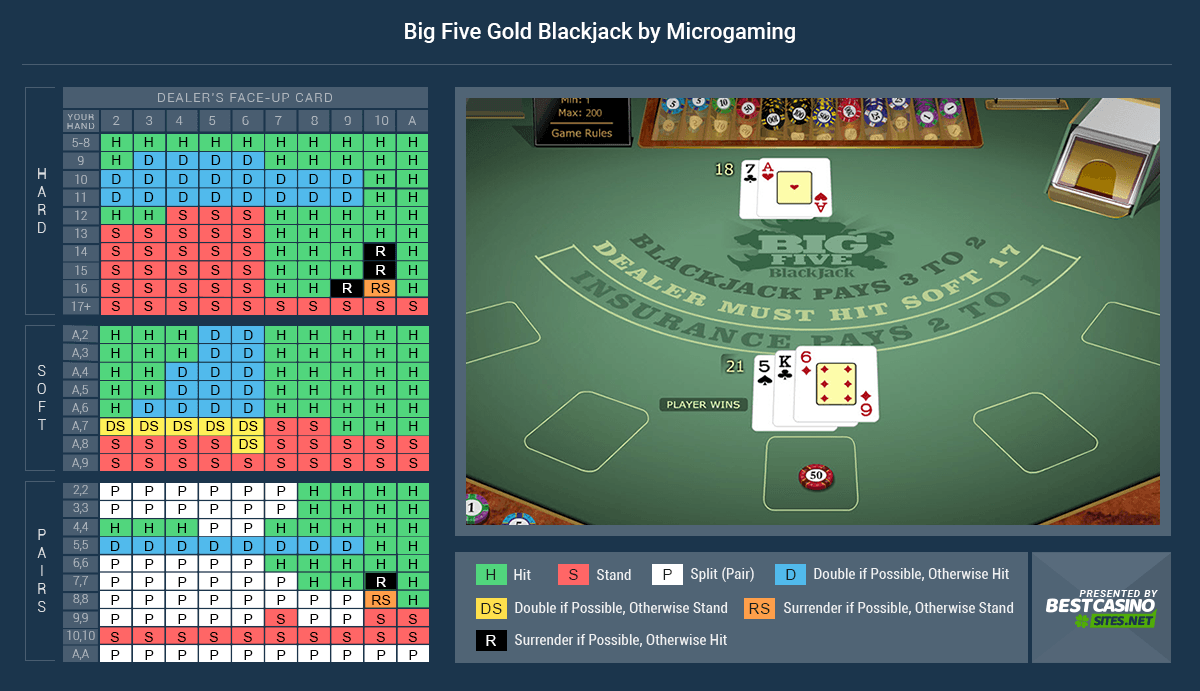 The strategy we outlined above ensures the lowest possible house edge. However, keep in mind that we're talking about casinos and a house edge is always present wherever you go so don't be fooled into thinking that your winning strategy will eliminate the house edge. In order to guarantee yourself even better chances of making some winnings while playing, our suggestion is that you claim yourself a welcome bonus from one of the casinos offering this game. We're talking about Video Slots casino where you can play Big 5 Gold Blackjack. You can use parts of your deposit and welcome bonus combined to play this game at this operator.
Enjoy Big 5 Gold Blackjack for Free
Now that you have read about the rules of the game, and have a strategy chart to help you play, it's suggested that you play this game in demo mode. This will allow you to practice the game for free and if you make any mistakes, they will be negligible as you won't be losing real cash over any of the games. Playing in demo mode is really recommended for you as a first-time player of Big 5 Gold Blackjack as you'll enjoy the game, learn its intricacies, and become more adept at it without losing any cash. Of course, once you become more proficient, you're welcome to try the game with real cash, and this, of course, brings the option of some real winnings. So, just click on the button below and start playing for free now!
The awesome part of playing the demo game before going on to play real money blackjack online is that you don't lose any real cash when you play. There is another benefit, too, and this is the fact that you get to learn about the game, becoming more adept at it and getting familiar with the rules. These factors combined mean that you get to become a pro without spending a cent on the game. This is a real treat and once you're ready to play for real cash, you'll already be an expert. So, try out the game for free now!
Playing for Real Money and Trying out Some Other Blackjack Variants
There are many pros to playing Big Five Gold Blackjack. For example, there is insurance, there are side bets, there is splitting and these are the most crucial features of the classic game of 21. We didn't pick up on any cons to this game, which we think is a fantastic offering by Microgaming. They have truly outdone themselves on this safari-themed blackjack game where you can immerse yourself in the African savannahs and enjoy the sights and sounds of the big five from the comfort of your screen at home or at work. Our recommendation is that you definitely give this game a go! However, we certainly can make other suggestions and have a short list of other blackjack variants available below for you to pick from:
Rating:

4.88/5

Powered by:

Playtech

Play at:

Ladbrokes Casino
Rating:

4.8/5

Powered by:

Felt Gaming

Play at:

LeoVegas Casino
Rating:

4.8/5

Powered by:

Playtech

Play at:

Ladbrokes Casino
If you've tried these three games, but you feel that you'd rather go back to Big Five Gold Blackjack, then play this game at Video Slots casino. You'll not only be welcomed there by a lovely welcome bonus, but you'll have lots of variety to choose from whilst there. So, to play Big Five Gold Blackjack, try Video Slots casino now. You can truly take advantage of the side bets, splits, and all other variants of the game at this operator. You're bound to have the time of your life playing there. So, why not give Video Slots Casino a try? It's the best operator for this blackjack variant.