American Blackjack Review – All You Need to Know about the Game
Thank God for the Americans, their friendliness, and generosity. You can really acknowledge that trait of the character in the game style. American Blackjack is a user-friendly game that gives a few benefits to take the house edge down effortlessly. Firstly, the dealer is allowed to peek at his own hand only. Secondly, the dealer stands on soft 17s and above. Third, following the basic strategy guarantees you to win your bet double every round. But what could be some possible downsides? Well, read below to find out!
In the following paragraphs, I would do the most I can to provide you with reliable feedback on this style of blackjack. You seem sceptical about my words? No worries. You will be able to experiment and reveal the truth for yourself. The first step to our scientific approach is to recognise the differences between European and American Blackjack featuring some small perks. Then, you will discover the most optimal and efficient strategy (and one of the simplest to get). You can also read about the bacis blackjack strategy chart which could help you to improve your odds. At the next phase, you should give a try to the 'theoretical' knowledge through the demo play. Then, you will find some more about the imperfections of American Blackjack and a few substitute suggestions. Don't get yourself too comfortable as it would be a fast ride! Once you finish with the reading, you can give a check to the blackjack sites that we trust.
American Blackjack Diagnosis: Specifics
American Blackjack Rules
RTP:
99.53%
Blackjack Pays:
3:2
Number of Decks:
6
Dealer Rule:
Stands on both hard and soft 17s
Dealer Peek:

No

Insurance:
Yes
Surrender:

No

Split:

Yes

Re-split:

No

Double:

Yes

Double After Split:

Yes

Hit Split Aces:

No

Side Bets:

No

Multihand:

Yes
The advantages of the American Blackjack preferred to the European style are that the dealer doesn't steal a glance when an ace shows up in the player's hand. Well, at least in the blackjack version of Playtech. Another cool thing is that the dealer stands on both hard and soft 17s. That being said, the house edge is reduced, and you have better chances of winning. Knowing those and other tricks will help you adjust your strategy. It is also quite common that the dealer gets one card that is visible for everyone and one that is face down. The latter is called a hole card. The dealer is allowed to peep in his hand since there is an opportunity for a blackjack. But, then, you will most probably know as the game will suddenly end, and all bets will be collected. In the European version, the dealer will get his second card after you have completed your hand. This method allows for the dealer to catch a glimpse of blackjack hands reminding of a detective revealing the mystery after the crime scene occurred.
Currently, there are no side bets, but you can take an insurance bet or even money bet allowing you to ensure your hands against the potential blackjack hand of the dealer. Then, the payout changes to 2 to 1 and 1 to 1 if you select the second option. The dealer offers you the even money bet when your hand is a pure blackjack and his visible card – an ace. If the dealer gets a blackjack as well as you do, money is tied – neither lost nor paid. However, if the dealer has no blackjack and you didn't take the even money bet, you will be paid 3 to 2 as usual.
Moreover, no splits of already split hands are allowed, but you can double your bet if you are certain about your hand's odds. Besides, American Blackjack features a great possibility for you to draw up to 10 cards and not getting busted. The routine is called 10 Card Charlie. If you draw up to 10 cards without going bust, you instantly win the game. The rule applies for split hands as well.
The Most Competent Strategy Out There
The most basic strategy for this blackjack session is not to go over 21. You are welcome! However, if you hold a hard hand of 13 and above, the best you can do is to stand. When your hard hand value is below 13, you can safely go hit and double hit. An exception is when having a 12 hard hand, and the dealer's visible card is 4,5 or 6, then, prefer to stand. For your soft hands, you will do well when hitting up to the card value of 17 and standing on 18 and above.
Well, there is not a recipe for success when you play at the blackjack sites for real money, but another tip or thing to consider is your split hands. The strategy you can follow is hit on small value split hands. For example, you get two cards of 2,2/3,3/4,4/5,5/6,6/7,7 hit and do not split. For this strategy to be successful, the dealer must hold a card with a value greater than 8. So, it basically tells you the smaller your split value and the higher the card value of the dealer you would be safe to hit. Otherwise, split your hand and stick to the basic rules for a hard/soft hand.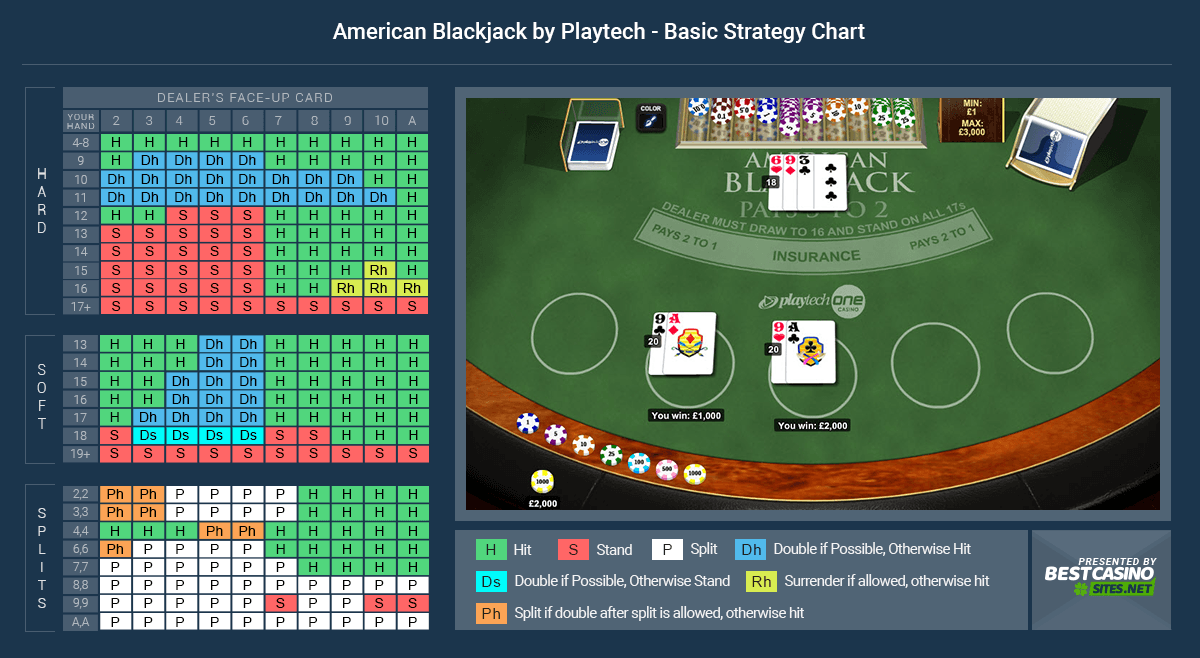 You can remember those rules and be sure to take the house edge down. However, if your memory is not your greatest asset, you can buy strategy cards that inform when to hit, split, stand and double according to your hand value and the dealer's one card value. Some local casinos even allow to bring the card crutch on the blackjack table and consult it. Though, the casino will always have an advantage over you. After all, it's how they make profits. In case that you are playing online at Gala casino, you can opt for the table and cards welcome package. The bonus will double your deposit amount of up to £100. However, to unlock the first bonus amount, you will need to wager 20% of your total deposit, and the rest of the sum will be paid after the instalments are wagered. You will also earn 5 Golden chips for 5 consecutive days to be used only on Premium Blackjack and Live Roulette. The wagering contribution of blackjack games is 50% according to the policies of the casino. Please, refer to terms and conditions for more.
American Blackjack Laboratory
Great! Since you have learned the basic strategy for a blackjack of 6 decks and dealer standing on soft 17s, it is time to get involved before bragging and showing off your impeccable strategic mind. Test out our theory and your freshly acquired knowledge in demo version below. It is free. No registration is needed.
Another benefit of the demo version is that you get to play the real American style, use fake cash and non-stop plays are allowed. So, you can get better and better without becoming poorer and poorer while you are in the process of learning. If you have stumbled upon this site and have come to play just because it is free, you are welcomed as well.
Final Evaluation : American Blackjack in the Blackjack Category
American Blackjack is an absolute delight in the world of table and card games. It is a user-friendly version compared to the European Blackjack. However, you may not fancy the 6 decks of cards or the inability to surrender and re-split cards or even make side bets. Maybe you are also quite unimpressed by the multi-hand version. That is why we recommend the simplest of all the blackjack games the Single Deck Blackjack Professional by NetEnt. The game owns one deck, one betting hand and RTP of 99.59% as well as exquisite graphics. On the other end of the spectrum, you should check out 6+1 Blackjack incorporating Poker side bets and a slightly smaller RTP of 99.51% if you fancy something different.
Single Deck Blackjack Professional
Rating:

4.78 /5

Powered by:

NetEnt

Play at:

Royal Panda Casino, InterCasino
Rating:

4.80 /5

Powered by:

Felt Gaming

Play at:

Mr.Green
Rating:

4.95 /5

Powered by:

Playtech

Play at:

Ladbrokes Casino
Blackjack Switch has 1 to 1 payout – in other words – you get what you paid for. Anyway, the game has all the extras you may wish for excluding the surrender option. Though, why would anyone want to surrender when return to player percentages are just 8 points below the 100%?! Nonetheless, if you would like to try out the American Blackjack for real this time discover, here and now, the super Gala casino. They have rather diversified promos and good loyalty scheme.