6 in 1 Blackjack Review – Side Bets Aplenty
There are many blackjack games out there that offer some kind of a side bet. Some of them even offer two or three. But there aren't a lot of games that give six different side bets to mix and match however you see fit. This is the main selling point of 6 in 1 Blackjack by Felt. The game is a standard 6-deck S17 blackjack variation, however, it comes with six different side bets that will award you prizes for various outcomes throughout the game. Read on if you want to find out more about the game and its bonus bets.
Down below, you will find our complete 6 in 1 Blackjack review. We will talk about its pros and cons, as well as the plethora of side bets. If you want to see how the game works, we have also embedded a video displaying it in full action. And to make it as complete of an experience as possible, we recommend you take a look at the basic strategy chart we've inserted further down the page. No matter if you like the game or not, make sure to read the review to its very end, as we have suggestions for you either way. We will talk about the best casino to play the game in and some other games to try if 6 in 1 Blackjack is not the game for you. If on the other hand, you want to know where you can play, see our list of the best blackjack sites for 2022.
The Game's Rules and Features
6 in 1 Blackjack in More Detail
| | |
| --- | --- |
| RTP: | 99.51% |
| Blackjack Pays: | 3:2 |
| Number of Decks: | 6 |
| Dealer Rule: | Stand on Soft 17s |
| Dealer Peek: | Yes |
| Insurance: | Yes |
| Surrender: | No |
| Split: | Yes |
| Re-split: | No |
| Double: | Hard 9-11 |
| Double After Split: | Yes |
| Hit Split Aces: | Yes |
| Side Bets: | 21+3 |
| Multihand: | Yes |
The core gameplay of 6 in 1 Blackjack is pretty standard. It is a six-deck blackjack variation, the dealer has to stand on all 17s, and you can only double on initial hard totals between nine and eleven. So far, so good, right? Well, this is where it gets hectic because we are about to talk about the side bets in 6 in 1 Blackjack. For your convenience, here's a quick list of them:
Perfect Pairs: This side bet is won when you get a pair of the same value on your initial hand. It offers different payouts when the pair is of the same colour or suit.
21+3: This side bet takes into consideration your initial hand and the dealer's up card. If they make up a poker combination, as described in the paytable, you win the associated payout.
Lucky Ladies: To win this one, you must have an initial hand that totals to a 20 or features at least one queen. Once again, there are variations, depending on the specific cards in your hand.
Lucky Lucky: If the value of your initial hand, combined with the dealer's upcard , amounts to 19, 20, or 21, you win this side bet.
Suit'em Up: This bet is won when your initial hand consists of two cards of the same suit.
Buster Blackjack: This side bet awards you whenever the dealer busts. Depending on different conditions of the bust, the payout will vary. Also, the dealer will play their hand regardless of you busting or not, so even if you lose your main bet, you can still cash out on the Buster Blackjack.
Ideal Basic Strategy for 6 in 1 Blackjack
Down below we have inserted a chart with the basic strategy for 6 in 1 Blackjack. If you follow it perfectly, it will decrease the house edge to just 0.49%. However, you should keep in mind that it only covers the base game and not the side bets. You're on your own for those, as it would be impossible to determine a strategy for them, considering the cards are shuffled after every round. Of course, you could play without them, but then the main selling point of the game has gone to waste.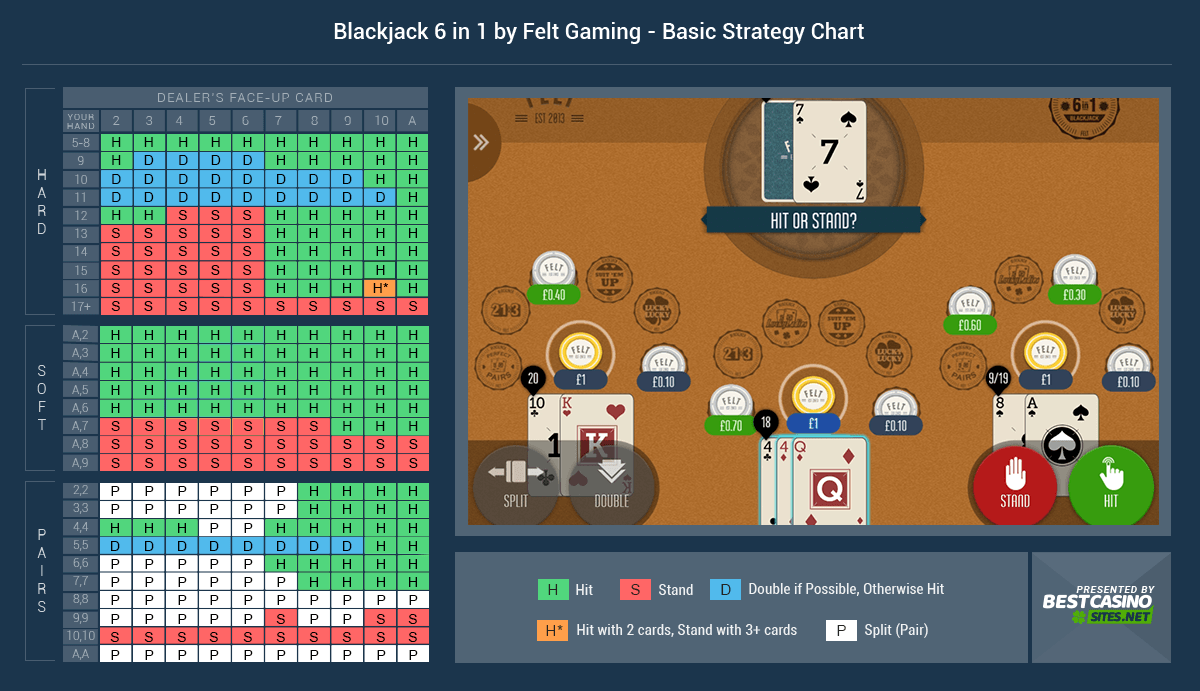 Following the basic strategy above, you will lower the house edge significantly. And yet, you should keep in mind that, as low as it may be, the casino will continue to have an advantage. Basic strategy doesn't guarantee you winning a hand and it certainly doesn't guarantee you a long-term profit on your bets. But if you want to gain the upper hand, you might want to consider playing with a bonus. The recommended Mr Green Casino offers a great welcome promotion, giving you the chance to receive up to £100 with 100 free spins, so it is highly recommended.
6 in 1 Blackjack Free Demo
We've given you the side bet rundown and provided you with a basic strategy chart. The rest is up to you. Unfortunately, we don't have a demo version of the game for you this time, but we do have a video of the game in action, which is the next best thing. Make sure to check that out and see if it's the game for you. And if you like the preview, you can find a demo version of the game over at Mr Green casino.
The benefits of playing a casino game in demo mode first are countless. We've already mentioned that you'd be wise to see if you like a game before you wager you cash on it. But demo mode also allows you to try out different betting strategies and practice playing with the basic strategy chart. It can only help you to learn the ropes with fake money before you sink any real coin into a title. That is especially true when the house edge relies heavily on your decisions in the game.
Final Words and Recommendations
6 in 1 Blackjack is fun to play when you get bored of the regular seriousness of blackjack. However, learning all the side bets can be a little daunting for a newcomer. Also, it could put off some seasoned veterans and blackjack purists. If you are either one of the three, don't fret, as we have some suggestions for other games to try. Blackjack Professional Series by NetEnt, for example, features only a single side bet and is much more focused on the core gameplay, which we find great for people who want to shake things up, but not too much. If you want to push it a bit further, try Double Exposure Blackjack Pro Series. If you are a hardcore purist, on the other hand, Single Deck Blackjack Professional is the game for you.
Blackjack Professional Series
Rating:

4.9 /5

Powered by:

NetEnt

Play at:

Mr Green
Single Deck Blackjack Professional
Rating:

4.9 /5

Powered by:

NetEnt

Play at:

Mr Green
Double Exposure Blackjack Pro Series
Rating:

4.9 /5

Powered by:

NetEnt

Play at:

Mr Green
If after seeing all the options out there, you still want to play 6 in 1 Blackjack developed by Felt Gaming, we recommend you head on over to Mr Green. The welcome bonus will allow you to claim up to £100 in cash. 100 free spins also come as part of that offer, if you are interested. You can meet the wagering requirement on table games, including 6 in 1 blackjack, though at a reduced wagering contribution of 5%. However, the game contribution becomes 10% if you play live dealer blackjack at Mr Green.