3D Blackjack Game Moves into Your Home – Complete Review
It is only 3D Blackjack game you will find! The table offers a classic design but a professional outlook. You can perfectly play with 3 hands and split once per hand. Additionally, this game is a suitable choice if you are still learning to play as it has simple rules. The dealer is not allowed to peek at your hand and stands on soft 17. 1x2gaming's production only employs fake wood due to 'environmental concerns'. The joke is on me. The minimum bet is 0.50p while the maximum one per hand is £150.
This review will take you on an inspiring journey of the 3D Blackjack game. We start off with game specifics as it is essential to know the number of decks and whether dealer stands or hits on 17s. Therefore, you can define your strategy. On the other side, did you think that blackjack's goal is to collect 21? Yes, you are correct. But it is not as simple as it looks like. Thus, we will provide you with the optimal strategy to improve your odds over the house edge and a free play to master your skills! Check out below! And if you are eager to start playing, we gathered the best sites for blackjack especially for you.
Table Size, Features and Number of Decks
3D Blackjack rules
RTP:
99.54%
Blackjack Pays:
3:2
Number of Decks:
6
Dealer Rule:
Stands on soft 17
Dealer Peek:

No

Insurance:
Yes
Surrender:

No

Split:

Yes

Re-split:

No

Double:

Yes

Double After Split:

Yes

Hit Split Aces:

No

Side Bets:

No

Multihand:

Yes
This new type of blackjack is of the American style play. Very friendly and generous rules for allowing you to create your own opportunities for a win. On the other hand, the dealer respects the fair game and does not peep for a blackjack. Usually, they hold one card up and one down, so you can pretty much base your strategy comparing your hand and their one card value. Another feature of the game is that the dealer would not draw any more cards if they have reached an amount equal to 17 or higher. Additionally, they only draw cards when you have made your mind about all your hands, so after your turn.
The game is played with 6 decks of 52 cards. Blackjack hands pay 2 times your bet value. Moreover, you can take insurance if you are suspicious about the dealer's wicked luck. The insurance will cost you half of the initial bet. If it turns out that you are not a paranoid maniac for your mistrusts, then you will be paid 2 times the insurance bet. Or else, you have taken the insurance for nothing, then the bet will be lost, and the gains will depend on your hand against the dealer's hand.
You can also split cards once. However, you are not permitted to hit on split aces as well as re-split already split hands. But you can hit, stand and double your split hands just be careful of getting busted. The 3D Blackjack is a multi-hand type of game with 3 betting hands at the same time.
Plot the Most Suitable Tactic
When you follow the most optimal strategy, your return rate is quite good over the long term. For each £1 000, you are supported to be paid £995,4 back. You may ask what strategy I can follow? If you have never seen a strategy chart in your life, you can find them on Amazon for all kinds of blackjack depending on whether the dealer hits or stands on 17 and the number of decks in the game. Or check the one we've prepared especially for you down there. Some land-based casinos allow to get the strategy chart on the blackjack table and get directions anytime. Although, you should try to remember these pieces of advice to maximise your winning chances and not to look like a rookie in the casino. Nevertheless, this blackjack variation is available in online casinos, so you can always pin our site and peak while playing.
Soft hands means an ace is one of your first two cards, and it equals the value of 11. Therefore, having an ace + a card holding the value of 2 through 6, you will be safe to use 'hit' and get a new card to enhance your hand. Look up the strategy chart. When the dealer has got a card value of 6 to 3 respectively, and you've got the soft combinations as above, you can double your bet. Soft 20 (Ace,9) always stands as well as 19 unless the dealer has got 6, then you can hit. If you have soft 18, double when the dealer has got from 2 to 6, hit if 9, otherwise stand.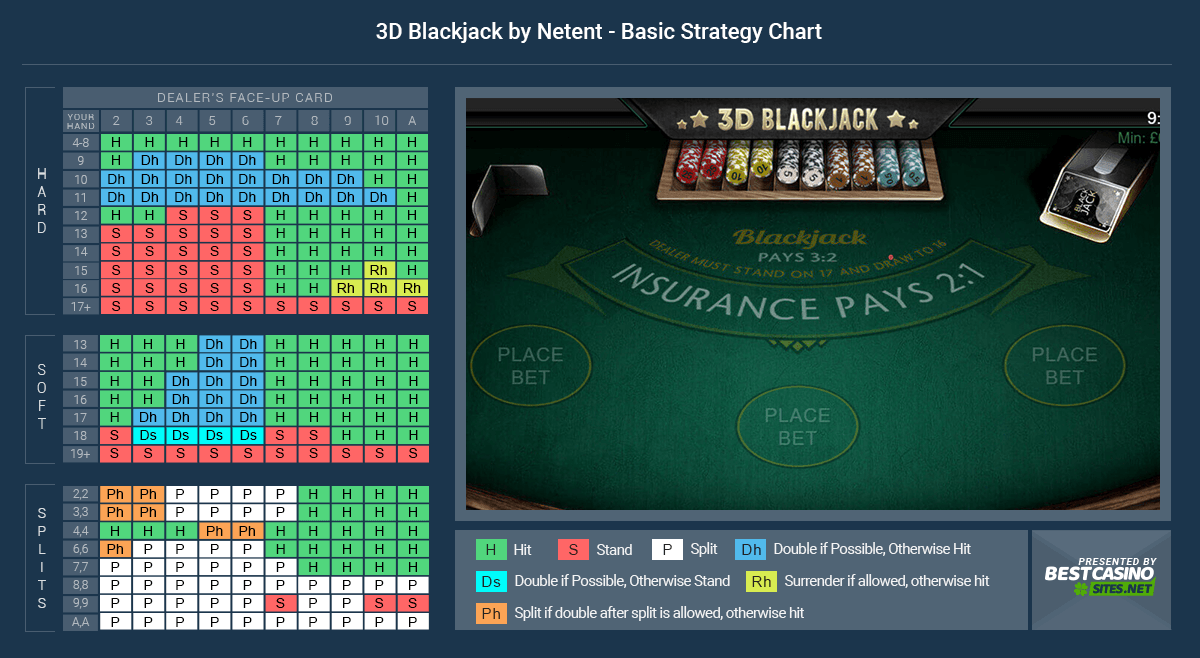 Hard hands do not start with an ace. Thus, the ace counts as 1 point when dealt. The best strategy for hard hands is to hit from 8 through 16. An exception is 11. You have got 11, then you are supposed to double. Thus, on 17 and above it's best to stand. In some cases, you can double your bet if the dealer has got a card from 2 to 9, but please refer to strategy chart for the exact match of hands.
Splits is always done if you have got a pair of 8s and aces. Never split a couple of 10s. Otherwise, hit on pairs of 2 through 7 and double whenever the dealer has got from 2 to 6, except for a pair of 4, double when the croupier has got 5 or 6. A pair of 5 gives you the right to double against the 2 to 9 value cards.
The only online casino that provides the game is BetVictor for now. The operator offers a Welcome Bonus of £70 available for slots (£20), table games (£10), live casino (£10) and instant wins (£10). There are different wagering requirements according to the type of game, but slots and instant wins require to wager your bonus 35 times while the other two categories demand for a wager of 60 times the £10 bonus. You can learn more about the payment methods and loyalty scheme here.
Counterfeit Cash. Free Play. Here ↓
The demo version below gives you an opportunity to try the strategy from the chart. Or else, you can play just for the fun of it. No need to get financially involved or to open an account. Moreover, you can practice as long as you wish. There is no limit to improving your freshly acquired knowledge.
You can experience the real 3D table of 1x2gaming software and check for yourself whether you like the game or not. Perhaps, the edges still look a bit rough. Or you found out that the game is not so entertaining? At least, you didn't waste your time in making an account for real, to have a look at it. Have you landed this page to play for free? Then, you are welcomed! If not, you can join BetVictor, get a bonus and play 3D blackjack for real money.
Quality Check and Other Products
The game itself does not possess any fancy side bets like 6 in 1 Blackjack, but it definitely offers the feeling of what a blackjack table would look like if you were not limited by your screen. Though it is a classic game, you can have a lot of fun. Another advantage is that the less betting hands have a table, it's better for your finances.
Rating:

4.8

Powered by:

Felt Gaming

Play at:

LeoVegas Casino
Rating:

4.9

Powered by:

Playtech

Play at:

Ladbrokes Casino
Rating:

4.9

Powered by:

Microgaming

Play at:

32Red Casino
Even so, if you would like something more exciting, try out Blackjack Peek – re-splits and spit aces hit admitted! Though you won't be able to find any side bets, and RTP is just a little bit lower than the 3D table. Apart from the side bets, 6 in 1 blackjack game gives an opportunity to double on hard hands of 9 and 11. The game type is similar to the European Blackjack as the dealer intrudes your personal space on the pretext of looking for a blackjack combo. If you don't really understand how Hi-Lo functions, then Hi-Lo 13 Blackjack is an easy-to-understand version including features of both games. Side bets have various odds, so you better check that out! The safest bet of the 3 of them seems Lo. After all, if you have decided to give a go to the 3D Blackjack, you can do it at BetVictor.