21+3 Blackjack Review – Rules, Features, and Side Bets Explained
When it comes to the base game of 21+3 Blackjack, you will not find any surprises there. It is a standard six-deck S17 game of blackjack. And while it does come with some not-so-popular features, such as hitting split aces, it is still quite basic. However, it also comes with a minor twist in the form of the 21+3 side bet. It will award you a different payout, depending on your initial hand and the dealer's up card. Of course, there is also a chance to lose the side bet, but we will discuss the specifics further down this page.
On this page, you will find our honest opinion about 21+3 Blackjack. In our review, we will do our best to analyse both its pros and its cons, as well as provide you with all the essential info about the game. If you want to see how the game plays, you can also check out our video preview further down the page. And if you like that, we have recommendations on the best casinos that offer the game. If you dislike it, on the other hand, you will find suggestions on other games to try near the end of this review. For the players that want also to know where to play, we prepared a nice guide to the best online blackjack sites in the UK.
The Game in Detail
21+3 Blackjack Details
| | |
| --- | --- |
| RTP: | 99.51%/ 92.86% |
| Blackjack Pays: | 3:2 |
| Number of Decks: | 6 |
| Dealer Rule: | Stand on Soft 17s |
| Dealer Peek: | Yes |
| Insurance: | Yes |
| Surrender: | No |
| Split: | Yes |
| Re-split: | No |
| Double: | Hard 9-11 |
| Double After Split: | Yes |
| Hit Split Aces: | Yes |
| Side Bets: | 21+3 |
| Multihand: | Yes |
The base game of 21+3 Blackjack is somewhat standard. It plays with six decks, the dealer must stand on soft 17s, and blackjacks pay 3 to 2. You are allowed to double on hard nine through eleven, doubles after splits are allowed, and you can hit split aces. No big surprises there.
Now, let us take a look at the side bet that gives this game its name. The 21+3 side bet will award you different payouts if your initial hand and the dealer's up card form a poker hand of three cards. The possible combinations that 21+3 will award are as follows:
Suited Trips: These are three cards of the same face value and suit. This pays 100 to 1.
Straight Flush: A three-card sequence of the same suit. It will pay 40 to 1.
Three of a Kind: Three cards with the same face value will pay 25 to 1.
Straight: A three-card sequence of mixed suits will pay 10 to 1.
Flush: Three cards of the same suit, no matter they value. This will pay 5 to 1.
As you can see, there are plenty of ways to win the side bet. And since they are not very common, they pay pretty well. But, enough about the rules. Let us look at the production value of the game.
The graphics are quite pleasant and non-intrusive. The game is in 2D and features some pretty oversized buttons in its UI, due to the fact that it is obviously developed with a mobile-first approach. When it comes to settings, there aren't a lot of them to play with, but there is one toggle that every blackjack game should have – you can make the game not ask if you want insurance. Most players that rely on basic strategy will appreciate that.
21+3 Basic Strategy
The basic strategy chart for 21+3 Blackjack is pretty much a standard one. It features a very easy soft totals section, due to the rule that you can only double on hard totals of nine through eleven, so it's very newcomer-friendly. The hard totals and pairs section is pretty much the same as with almost any S17 blackjack game out there. However, keep in mind that it does not cover the side bet, as the decks are shuffled after each round and there is no way to predict what cards will come up.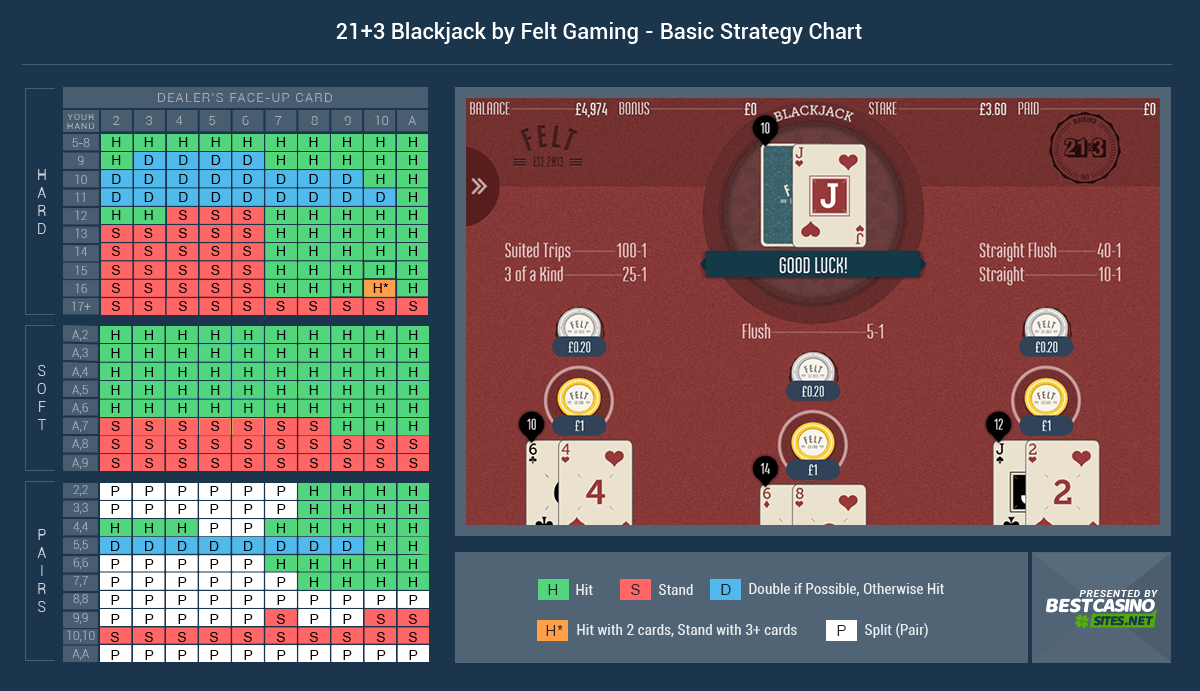 The basic strategy above will help you lower the house edge to just under half of a percent. However, keep in mind that it will not eliminate the casino's advantage. You will still be at a disadvantage in the long run. There is a way you can tip the scales, though, and that's by claiming a bonus to play with. For example, Mr Green offers a great welcome bonus pack and you can play a wide variety of games with it!
Video Preview of 21+3 Blackjack
We've gone over the game in theory, but words can describe only so much of the entire experience. Unfortunately, we cannot provide you with a demo of the game, but we can do the next best thing. Just below this paragraph, you will find a video preview of 21+3 Blackjack in action. If you like what you see and want to try the game in demo mode, you can do so if you head over to Mr Green casino. They've been kind enough to provide a "for fun" version of the game, so you can test it out for yourself.
The benefits of seeing the game in action, be it through a video like the one above or by playing a demo version, are countless. You can experience the game in its entirety without risking any of your hard-earned cash. This is extremely important when choosing a game to play, as the fun factor must be present before you bet any real cash and you cannot know if a game is entertaining without trying it. Furthermore, demo versions allow you to test out strategies and betting patterns without any risk, which is always welcome.
Conclusion and Other Recommendations
21+3 Blackjack is a pretty sleek game. It is extremely mobile-friendly, which makes it perfect to play on the go. The side bet, while present, won't interfere with the base game if you decide to play without it. However, the game is still not without its flaws. If you don't play much on mobile and you want some prettier graphics, you might want to take a look at NetEnt's Blackjack Professional Series. Or maybe one side bet isn't enough for you. Then, 6 in 1 Blackjack is the title for you. And finally, if you want to go back to the game's roots, then check out Single Deck Blackjack Professional – the purest blackjack experience you can get online.
Blackjack Professional Series
Rating:

4.9 /5

Powered by:

NetEnt

Play at:

Mr Green
Rating:

4.8 /5

Powered by:

Felt Gaming

Play at:

Mr Green
Single Deck Blackjack Professional
Rating:

4.9 /5

Powered by:

NetEnt

Play at:

Mr Green
If you decide that 21+3 Blackjack is the game for you after all, we regret to inform you that there aren't many casinos that offer it. We would recommend Mr Green, as it offers unparalleled user experience and safety. Its casino welcome bonus can reach as high as £100 with 100 free spins, and you can get it on your first deposit. Also, its playthrough requirement of 35x is pretty decent.
Frequently Asked Questions About 21+3 Blackjack
We've already discussed the rules, strategy and gameplay of this interesting blackjack variation, but still, there might be questions that can arise. Having in mind the curiosity of players, we've gathered some of the most frequent queries below, so make sure to check their answers for yourself!
What is 21+3 blackjack?
This is a variation of blackjack with various payout possibilities. Furthermore, you are allowed to double up on certain combinations but the thing which separates it from the other versions is the side bet. However, if you're new to the game, make sure to get acquainted with the 21+3 Blackjack rules.
How to play blackjack 21+3?
If you've already played blackjack, you won't have any difficulties when you sit on a table of this variation. The rules are simple and cards are calculated in the same way as with other versions. Apart from that, there are various 21+3 blackjack strategies which can help you along the way.
What means 21+3 in blackjack?
The name of this game comes from the side bet which you can place. It does come with its chances and enhanced payouts depending on specific combinations that can be achieved. However, the game is still not that popular across operators and if you find it difficult, there are other blackjack recommendations which are available.
Can I play 21+3 blackjack for free?
If a certain game is new and unknown, we always recommend to our players demo versions which can be quite helpful in such situations. However, this blackjack version is still not that wide-spread across operators with no demo versions, but still, you can find 21+3 Blackjack video previews, which can also be helpful.