21 Duel Blackjack – Unique Rules and Free Demo
This blackjack variation is the perfect pick for all of you looking for a fun getaway from the classic blackjack rules in the company of high-quality graphics and a real casino ambiance provided by the software gambling leader – Playtech. Communal cards, side bets, multi hand wagers, and loads of beneficial rule alternations are just a few of its most attractive assets. Keep on reading to find out more and give it a free try!
In the following review, we will give you a quick tour of 21 Duel Blackjack starting with a look at its basic rules and some how-to-play instructions. Then it's time for the perfect strategy and tips on when it's best to stand, hit, fold and how to make the optimal communal card selection. Right at the end, there is a free demo to try and practice what you've learned plus the best online casino recommendation if you feel like enjoying the game for real money. And you can also give a check to the best blackjack sites according to us!
The Key Rules and Features
21 Duel Blackjack Rules
RTP:
99.38%
Blackjack Pays:
1:1
Number of Decks:
6
Dealer Rule:
Stands on 17
Dealer Peek:

No

Insurance:

No

Surrender:

No

Split:

No

Re-split:

No

Double:

No

Double After Split:

No

Hit Split Aces:

No

Side Bets:

Yes

Multihand:

Yes
21 Duel Blackjack is played with 6 decks in both single and multi-hand mode. Even though the main object of the game and the card values match perfectly the ones of classic blackjack, everything else is quite modified and unique. The table features 3 "Ante" areas where you can place the desired bets starting from £1 going up to £300. When deciding on the amount keep in mind that as the gameplay continues you'll be required to place a second bet in the same initial volume in order to finish the round.
After all bets have been placed, the player is dealt one face-up and one face-down card including two face-up communal cards right above. Step one is to decide whether you would fold – give up your hand and lose the initial bet or you would continue playing. If you go for the second option, select which of the communal cards would make a better combination with your own face-up card and click on the right or the left card button. Your choice could automatically form a 21 result and will add that second bet we discussed previously. From here on, you can either hit or stand while the dealer chooses a communal card according to a special set or rules featured in the info game section.
Payout wise, the differences from classic blackjack keep on piling up as a three card 21 result is considered equal to a classic blackjack and both pay 1:1 on the Ante and the additional wager. To make it even more exciting, the game offers a side bet option. It is right next to the ante section and lets you bet whether the two communal cards and your first face up card will form a pair or 3 of a kind paying respectively 3:1 and 20:1.
The Ideal Strategy for the Gamble Duel
Now that you know the basic rules of 21 Duel Blackjack, it wouldn't be much of a surprise that its strategy card has a totally funky and unconventional look too. To obtain the highest RTP the game can provide follow these few basic instructions. The first step is deciding whether to fold or play and below we have listed the only few combinations when giving up on your hand is reasonable. If you choose to play, there are 2 things to remember! First, always choose the communal card which assists getting the highest two-card rank and second, it's advisable to hit 16 or less and stand on 17 or greater.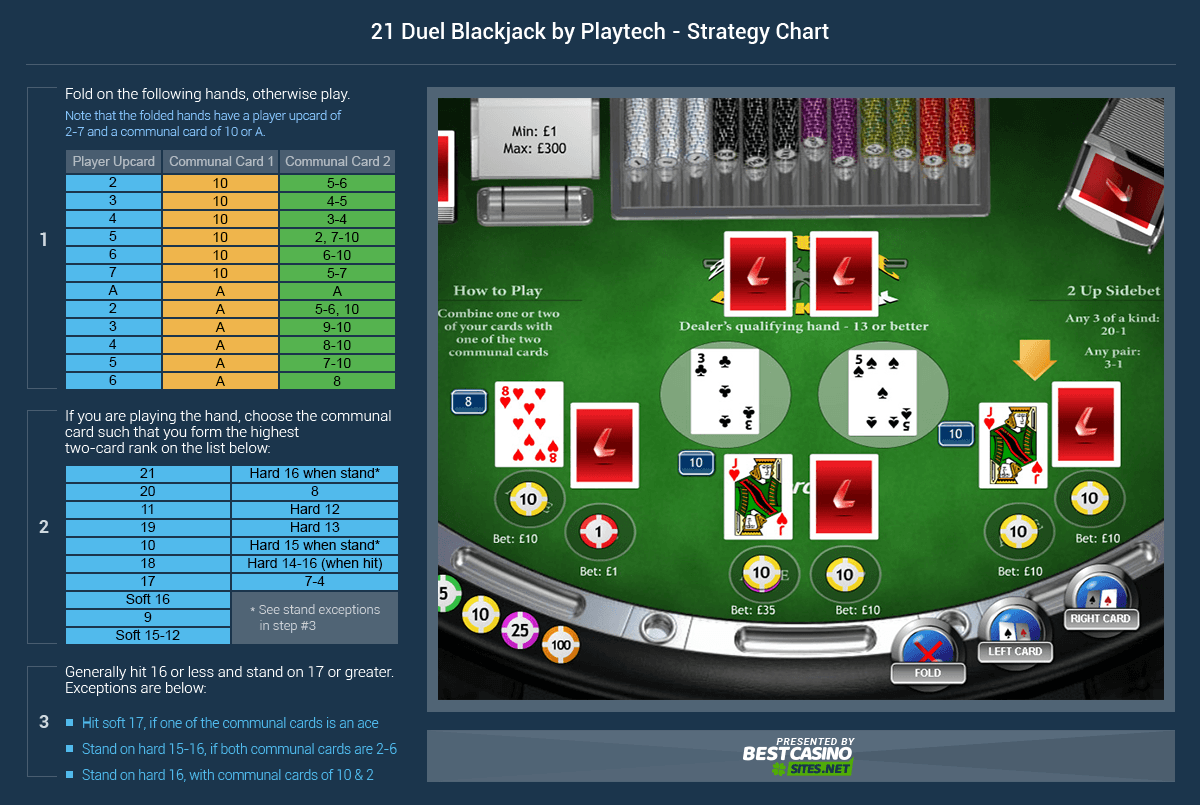 Experienced players know that even the most perfect strategy doesn't have magic powers to make the house edge completely disappear or to stop its influence in any way. What they do instead is look for a good welcome bonus that will give them an advantage when playing at the top sites for real money blackjack, for example. If you go for 21 Duel Blackjack we recommend the £600 exclusive bonus by Ladbrokes, a name that needs no introduction or our blessing. To find out more about this opportunity visit our full Ladbrokes casino review.
Test the Free Demo!
If all the rules and strategy combinations of 21 Duel Blackjack seem a bit confusing at first, jump right in and test the free game demo embedded down below. The gameplay is intuitive and easy to follow while eliminating all real money risks and providing a perfect match with the online casino game. Mainly because of its many deviations from the classic rules, it is surely an advantage to have a free practicing field where to train your brain of thinking fast under different blackjack rules.
The benefits of playing for free are various. The most obvious one is that the more you play, the better you will get at finding the perfect balance between strategy, rules, and your own gut feeling. When it comes to blackjack, everyone has its own style and intuition and practicing will help you find your way. It will allow you to know your limits, get to manage your cash credits wisely and eventually turn you into a real blackjack pro who plays for fun while winning greatly.
The Best Real Money Casino for 21 Duel Blackjack
Even though the game takes a bit of a practice to get used to its specific rules, once you do, it easily becomes the one that you'll keep coming back to. Players get to make a lot of decisions right from the start and can bet on up to 3 hands and 3 side bets while enjoying all the 2 communal cards. The excellent graphics and intuitive structure together with all rule deviations turn the fun factor way up but it wouldn't be fair to omit that they do also lower the overall RTP. Find three more blackjack variations including their short reviews and free demos in the table below.
Rating:

4.9 /5

Powered by:

Playtech

Play at:

Ladbrokes Casino
Rating:

4.9/5

Powered by:

Playtech

Play at:

Ladbrokes Casino
Hi Lo 13 European Blackjack
Rating:

4.9 /5

Powered by:

Microgaming

Play at:

32Red Casino
We are more than sure that 21 Duel Blackjack has managed to hold your attention while playing for free and if you stick with it in the long term, the next best move is finding a real money casino. As mentioned previously, our recommendation goes to Ladbrokes casino, a Playtech powered casino which will generously award you for choosing its secure and diverse online platform.