Reverse Martingale Roulette Strategy: Learn How To Win By Raising The Odds
Here is our guide to one of the oldest betting systems in the history of gambling. The Reverse Martingale roulette strategy, otherwise known as Paroli, is a high-risk game plan, which, if played right, promises big wins in the short term. Stick around to find out more!
Greetings to the United States!
Welcome to Our Reverse Martingale Strategy Guide
All Sites Licensed by the
UKGC
In order to fully understand what makes the Reverse Martingale strategy so interesting, you should ideally have some knowledge of the classic Martingale betting system that it originates from. And to make it easier for you to understand we are going to make a quick comparison between the two. The classic Martingale system is pretty simple in its nature. All you have to do is place an even money bet and spin the wheel. If you lose, you simply double the bet and play again. The idea is that, because these bets pay 2:1, you can make up all your losses by doubling the bet. It is not hard, however, to see that there are some serious flaws in the system. For example, tables have betting limits that would prevent you from indefinitely doubling your wager and even if there were none, no one really has an endless bankroll.
The Reverse Martingale system, on the other hand, takes into consideration the inherent house edge in the game of roulette and instead of trying to beat it, it offers a way around it. As you would have probably noticed, we said that it can give you the chance to make some good money in the short term. And that is exactly what this strategy does. Instead of doubling your bets when you lose, you do so when you win. Thus, you are essentially using the bank's money to place high-risk bets. Knowing when to walk away is the key here.
Why Use Reverse Martingale?
The Reverse Martingale strategy can be used in any situation and by players of all skills levels. It is simple to use, does not require any previous experience at the roulette table or at casinos in general, and you don't need to have a substantial bankroll in order to properly employ it. These are just a few of the reasons why it is so popular amongst roulette enthusiasts around the world.
How to Use the Reverse Martingale Roulette Strategy?
Having said all that, it is now the right time to introduce you to our step-by-step guide on employing the Reverse Martingale roulette strategy. Take a good look at the list below, take notes if necessary and we guarantee you that at the end of this article you will feel completely comfortable with using the betting system.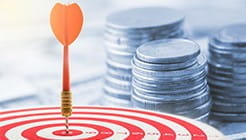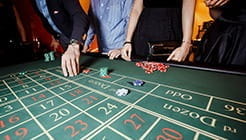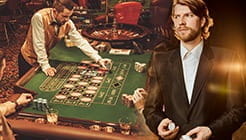 Step 1: Choose a Target Amount This is the simplest, yet the most important step of using this betting strategy. Decide the amount that you would like to win and once you reach the target, walk away from the wheel.
Step 2: Bet on Even Place relatively small wagers on even bets such are red vs black, odd vs even or 1-18 vs 19-36. The amount you bet will, of course, depend on the size of your bankroll.
Step 3: Double Your Bets Just like with the classic version of the strategy you will have to double the size of your bets. However, this time, you are going to do it when you win and not when you lose.
Step 4: Bet Again if You Lose As roulette is a game of luck, it is mathematically inevitable that you are going to lose some wagers. In that case, you will bet the same amount and not increase it.
Step 5: Walk Away Last, but not least important, you will have to repeat this process until either you run out of money or hopefully reach your target amount. Then, just walk away!
As we already said, the Reverse Martingale strategy will work equally well in all conditions and situations, as long as you have the bare minimum in your bank account. Simply follow our step-by-step guide that we've provided and enjoy the perks of the system.
The Role of the Paroli Betting System?
The logic behind the Paroli betting system is pretty simple. It is based on the assumption that both wins and losses come in sequences. Thus, it is a good idea to increase the amount you are betting once you start winning and decrease it when you run out of luck. For example, if you start by wagering a single unit, by the third consecutive win you would have gathered 7 units, thus covering any small losses that might have occurred. The Paroli betting system, therefore, is identical to the Reverse Martingale roulette strategy. In fact, you could easily say that nowadays they are simply different names that refer to the same thing. Taking a look at the Paroli system's history, you will see that it originated in Italy in the early 17th century and was first applied to an old game of cards called Basset. And even though that game is no longer played, the betting system lives on an is used by thousands of roulette players around the world. In the following table you will see a 5-round simulation of the Paroli strategy.
| Betting Round | Wager ($) | Odds | Results (in $) |
| --- | --- | --- | --- |
| 1 | 1 | 48.6% | 1 |
| 2 | 2 | 24.3% | 3 |
| 3 | 4 | 12.15% | 7 |
| 4 | 8 | 6.08% | 15 |
| 5 | 16 | 3.04% | 31 |
Even though the Paroli system is seen as a less risky alternative to the other progressive strategies, it is still a leap in the dark. You should never forget that in its very foundation is a simple assumption and not complicated and mathematically correct facts.
Advantages of Using the Strategy
Like with all of our guides to betting systems and strategies, we would like to take a minute and evaluate the pros and cons of playing the game this way. This way, you will be аble to see and decide for yourself whether this playing style suits your preferences or not. So, without any further ado here are some of the pros of using the Reverse Martingale strategy:
Ease of Use
Requires Limited Resources
Exploits Winning Streaks
Limits the Size of The Losses
Minimizes the Damage to Your Bank Account
Presents a Smart Way Around the House Edge
.
As far as one can see, there are plenty of positive aspects of using the Reserve Martingale strategy when playing roulette. It is no wonder then that there is strong support for this strategy amongst gamblers around the world.
The Cons of the Reverse Martingale
Betting strategies, like all other things in life, have their positive and negative qualities. Having discussed the pros and wanting to give you the full picture, it is now time to examine the cons of employing the Reverse Martingale betting system. Take a look at the following list to get a better understanding of what are the things to look for when using the strategy.
No Chance for Winning in the Long Term
Bad Luck Will Quickly Decimate Your Bankroll
Does Not Guarantee You Are Going to Win
Clearly, the advantages of using the Reverse Martingale system are far more than the disadvantages. This is one of the main reasons why so many roulette players employ it on a day-to-day basis. Nevertheless, take some time to consider and assess both sides of the argument, before deciding to use the strategy.
Adjusting the Reversed Martingale Strategy to Reduce Aggressive Gambling
Even though the Reversed Martingale strategy is much safer than the one it originated from, there is still considerable risk involved. And while gambling is based on risk in its very nature, we appreciate the fact that there are also players who shy away from big gambles and prefer to play it safe. If you are one of those people, you could try and alter the progression in order to lower the chance of any big losses. Alternatively, you could take a look at the rest of our roulette strategy guides and chose the one that suits your playing style best. If we were to recommend any low risk betting systems to start from, that would definitely be the D'Alembert roulette strategy.
Positive Progression Strategies Vs. Negative Ones?
The argument of positive vs negative progression strategies is as old as gambling itself, and there has always been strong support for both sides of the argument. The main reason for its existence is that there is an inherent house advantage in all casino games, and it cannot be beaten. Where these two approaches differ is in the way they attempt to tackle this issue. As you could probably guess by their names, the positive progressions rely on increasing the player's bet when on a winning streak, while the negative ones depend on the idea that you can't lose an endless amount of times and try to recover losses by increasing the wagers. Down below, you will see the most notable examples of each of the two schools of thought:
| Positive Progression Strategies | Negative Progression Strategies |
| --- | --- |
| Labouchere | Martingale |
| Reverse Martingale | Fibonacci |
| Contra D'Alembert | Grand Martingale |
| | D'Alembert |
You can see that there are plenty of options for those willing to try different betting systems on the roulette table. It is up to you to choose the approach that will suit your playing style in the best way possible, however, keep one thing in mind – the negative progression strategies, such as the Martingale roulette strategy are awesome when you are winning, but can go really bad, really quickly.
Is It Allowed to Use The Reverse Martingale in Casinos?
Using the Reverse Martingale strategy or any other betting system is completely legal and is allowed in every legitimate casino out there. Not only that, but most venues will also offer strategy cards to help gamblers and enhance their experience. The best way to get hold of them is to ask the dealer on your table. He or she should be able to sort one for you on the spot. And while on the topic of casinos, we thought it would be nice to give you our recommendations for the best online roulette casino sites for UK players.
Rating:

4.6/5

Powered by:

Microgaming

Play at:

LeoVegas
Rating:

4.7/5

Powered by:

Microgaming

Play at:

Griffon Casino
Rating:

4.8/5

Powered by:

Microgaming

Play at:

Mansion
These three titles represent the three most wide-spread types of roulette games out there – European, French and American. They have all been developed by Microgaming, which is one of the best software companies on the market. They offer RTPs of 94% and above, minimum bets starting from £1 and maximum wagers reaching up to £1000. Follow the links above to take a look at our reviews and enjoy a free-to-play demo of the games!
Where Else Is the Reverse Martingale Strategy Applied?
Like most betting systems, the Reverse Martingale strategy's applications are not restricted to roulettes only. In its very foundation, it revolves around betting on events that have a 50% to happen. Thus, you can see people apply the Reverse Martingale strategy in sports betting, Bitcoin Dice, Poker and even in crypto investments. So, if people in so many different spheres are making good use of it, then you should probably think about applying it on the roulette table!
Final Overview
Having reached the end of our guide to the Reverse Martingale strategy for playing roulette, it is now time to give you our final verdict. Like all roulette strategies out there, the Reverse Martingale has its fair share of weaknesses, as there is a relatively high risk involved and it offers no prospect for long-term winnings. Nevertheless, we believe that as betting systems go the Reverse Martingale strategy is one of the best options that roulette players have and is perfect for those of you who don't have much previous experience playing the game. Meanwhile, shall you wish to learn more about the positive progression strategies, you may also read our full Labouchere system review.
FAQ
At the very end of this guide, we thought to take some time and answer some of the most frequently asked questions on the topic of the Reverse Martingale roulette strategy. So, without any further ado, here are they: