Spanish Blackjack – The Game at a Glance
Being a part of Microgaming's portfolio, Spanish Blackjack is a game that all true gamblers highly appreciate. It features single-hand bets, 8 no-10s card decks, beneficial surrender and double down rescue options and a bunch of super tempting bonus payouts which don't require any side bets or additional costs. With its low house edge, this blackjack variation will provide all the fun and awards you could wish for! Keep on reading to find out more and test the free demo!
As the content table gives away, we will start this review by shortly discussing the essential rules of Spanish Blackjack, what are the regular and bonus payouts, and how the game differs from the classic blackjack rules. Step 2 will introduce you to the perfect strategy card and some valuable advice on how to use it in the most profitable way. At the end, we have the ideal opportunity for you to give the game a free try or just find the best casino for online blackjack and make some real money bets.
Rules Overview
Spanish Blackjack rules
RTP:
99.51%
Blackjack Pays:
3:2
Number of Decks:
8
Dealer Rule:
Hits soft 17
Dealer Peek:

Yes

Insurance:

Yes

Surrender:

Yes

Split:

Yes

Re-split:

Yes

Double:

Yes

Double After Split:

Yes

Hit Split Aces:

Yes

Side Bets:

No

Multihand:

No
Spanish Blackjack is а hole card game played with 8 card decks that don't feature any 10s in them. Bets start from £1 going up to £200 and are placed in single hand mode only. When it comes to the dealer, he must hit soft 17s and is allowed a peek if his first card is a 10-valued one. The unusual game rule is that in case of a blackjack-tie result, instead of а double push, the player gets to win over the dealer. Also, in the event of a poor hand, there are some favorable options that you can use to minimize or totally escape loses. Besides insurance, you could give up on your hand using the late surrender option or the double down rescue when you have already doubled but want to undo it and go back to the original bet.
All cards of the same denomination can be split and re-split 3 times per game which equals up to 4 hands in total. When splitting aces or two 10 valued-cards you are allowed a hit or a double down. There is a little trick, though – any combination of a following 21-result would lose against a regular blackjack by the dealer. The double down option is up on the counter on any number of cards, up to twice per hand and also after a split.
Along with blackjack and the regular winning hand payouts, the game also holds a good amount of bonus awards triggered by some specific hand combinations. For example, three sevens of the same suit plus a 7 face-up card by the dealer pay 50:1, followed by a 5-card 21-result or 6,7 and 8 of mixed suits with 3:2. For a full list of all payouts visit the game rule section in the upper left corner of the table.
The Perfect Strategy and How to Use it!
The many classic blackjack rule deviations of Spanish Blackjack transform its ideal strategy card just as well. As you can see from the chart below, it has been separated into two parts – strategy when the player has doubled and a separate one for when he hasn't. The great advantage here is that it includes side clarifications right next to the usual "Split", "Stand" or "Double" commands like stand on 3 or fewer cards, split unless suited 7s, and further more like these. This will generously contribute to your success especially when there is a chance to score one of the bonus payouts.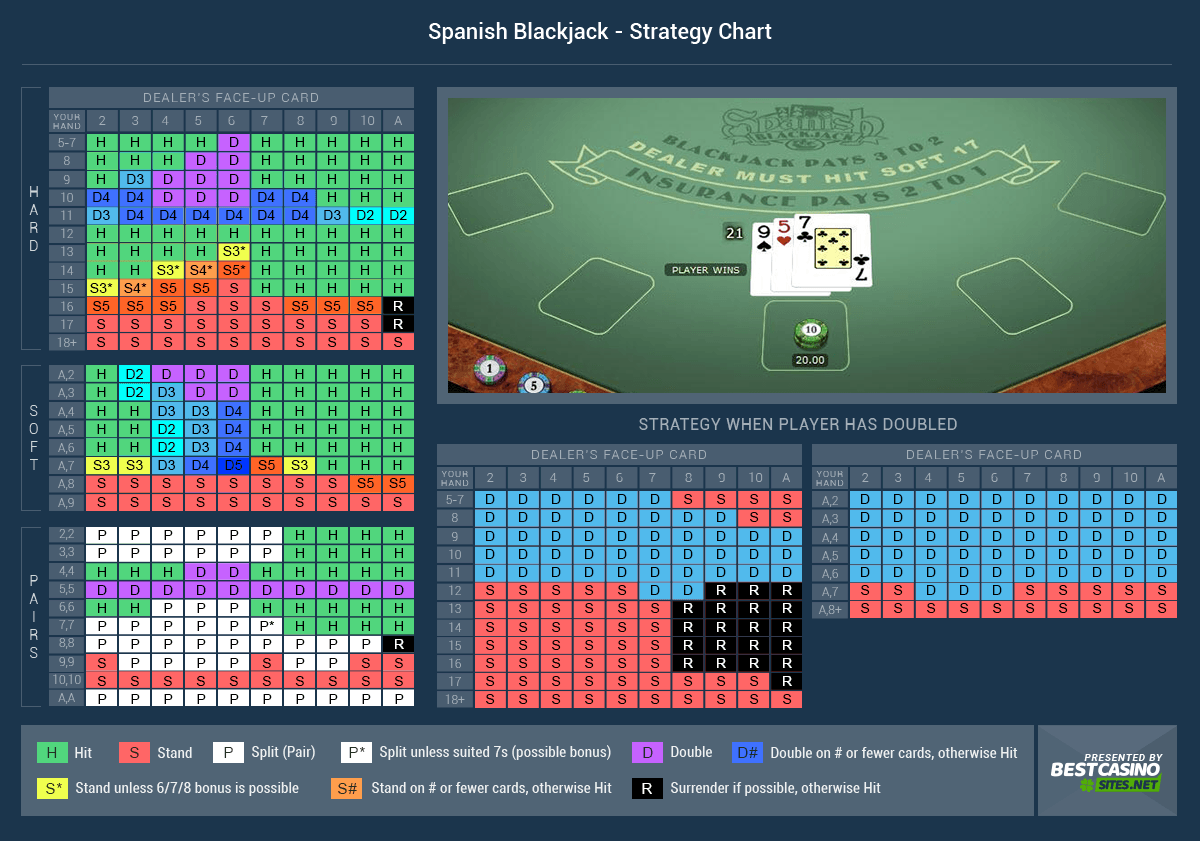 Even though the card's key role is to lower the house edge as much as possible, it will never fully disappear and will always affect the gameplay. This means you should never completely trust any strategy card as there is always a mathematical chance to lose even when playing according to the suggestions. What the player can totally control though, is his cash balance. It makes a difference if you enter the game with or without a bonus added to your first deposit, so keep an eye for good offers. The best offer for Spanish Blackjack comes from 32 Red Casino – up to £160 on your first deposit. For more information on how to claim that, read the full casino review right here!
Demo Game with Real Thrill
Now that we've cleared up the key rules and have provided you with the ideal strategy card, it's the perfect time for some free demo bets. Start the embedded free game below and experience Spanish Blackjack the same way you would as in any online casino but with no real money to be won or lost. The demo cash will let you encounter the game in its true colors while being safe and secure. Wonder no more and give it a try!
All experienced players know that demo games are not just for fun or killing time, they can do so much more! Most of all, a free practice session can be out of amazing benefit when you play online blackjack for real money. It will grant you the experience needed to start feeling secure in any specific rule variation or in any strategy card and learn how to find the perfect balance between all the above and your personal style and intuition. Our advice will be not to hurry and skip this important and absolutely free of charge part.
Spanish Blackjack for Real Money and Further Game Suggestions
Spanish Blackjack by Microgaming offers great advantages to the player kicking off with one of the lowest house edges – 0.38%. The pros keep on coming with the beneficial rules and modifications allowing the player to escape or at least reduce the risk of poor hand situations by using the surrender or the double down rescue options. The few imperfections worth mentioning are the missing 10s and the lack of multi-hand bets. Check out the table below for our further 3 blackjack recommendation!
Rating:

4.9/5

Powered by:

Microgaming

Play at:

32 Red Casino
Rating:

4.9/5

Powered by:

Playtech

Play at:

Ladbrokes Casino
Rating:

5/5

Powered by:

Playtech

Play at:

Ladbrokes Casino
If you choose to stick to Spanish Blackjack, after all, you will be in good hands. The game has plenty of amazing quality and quantity benefits that will transform your gameplay into a real casino experience. But here is our final tip, to make it an even more win-win situation, chose 32 Red casino for your trusted partner. This will guarantee you a stimulating £160 welcome bonus and a secure and carefree gamble time.