RP Affiliates Review – Lifetime Commissions on Offer
Affiliate programmes allow others in the iGaming industry to generate business for online casinos and earn an income through a revenue share while doing so. The majority of online casinos operate in this way and seek to establish long-term and trusted partnerships. This RP Affiliates review will look at the scheme that is offered by the RP Affiliates programme. We will consider the advantages of this and who may be able to benefit as a potential partner.
Top-Rated Affiliate Programme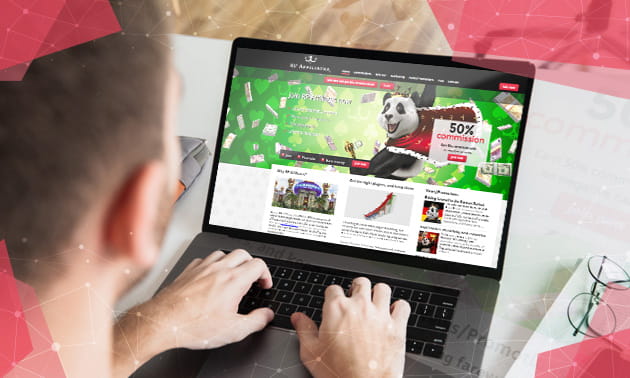 When it comes to any affiliate programme, it is important that there is support and a healthy revenue share on offer for potential partners. Having a revenue share that is too low detracts from any programme as often the work that is carried out to attract new customers is not rewarded.
From this RP Affiliates review, we are pleased to say that this is not the case. By directing customers to the Royal Panda Casino, partners are rewarded with a great revenue share and are also provided with outstanding support to help them achieve. This scheme is worthy of attention.
As we have already hinted at, the RP Affiliates revenue share is impressive. We will take a detailed look at this later on, but it is worth noting now that partners can be rewarded with up to 50% in commission. This is industry-leading.
Aside from the revenue share on offer, this RP Affiliates programme review will be looking at what else is on offer. This includes the bonus payments that are on offer for any RP affiliate, as well as considering the software used to power the affiliate scheme and who is behind the Royal Panda casino games selection.
RP Affiliates Overview – What You Should Know?
The RP Affiliates programme allows partners to earn a revenue share by directing customers to the Royal Panda Casino site. Partners then earn based on the number of signups and how much each customer spends. This affiliate programme offers lifetime commissions. Once a customer signs up, you carry on earning.
Given that an RP affiliate sends traffic to a trusted, well-established casino, the conversion rates have the potential to be great. The Royal Panda Casino has great signup offers for customers, and this can help. Here are the main advantages and disadvantages of joining the RP Affiliates programme:
RP Affiliates Advantages and Disadvantages
Top Revenue Shares
Lifetime Commission Payments
Best Casino Brand
Restricted Countries
Limited Payment Methods
Only One Currency
Perhaps the most impressive feature of this scheme is the revenue share. This can be as high as 50% and doesn't go below 35%. The percentage earned goes on performance, but all partners receive a 50% revenue share for the first two months.
Some may see only one casino brand to promote as a disadvantage of this programme, but in truth, the Royal Panda Casino is one of the best and the offers that it provides mean that partners have a great chance of converting and increasing their income. Those experienced in the iGaming industry can do very well here.
RP Affiliates Commission – Revenue Share & CPA
Given the levels of commission on offer, it is easy to see why RP Affiliates is classed as one of the best casino affiliate programmes on offer. All partners receive a 50% revenue share for the first two months. After this time, by generating up to €5,000, the commission is 35%, €5,001 – €10,000 is 40%, €10,001-€30,000 is 45% and anything above €30,000 sees a revenue share of 50%. The RP Affiliates revenue share is amongst the best in the iGaming industry.
There are also bonus payments for new depositing players each month. 10-24 sees a bonus of 5%, 25-49 sees 7.5%, and 50 plus sees a 10% bonus payment. There is also an RP Affiliates CPA option which the partner can discuss with RP Affiliates as these options are tailored depending upon experience. Another great positive is that there is no negative carryover so any negative balances are reset at the start of each month.
All Associated RP Affiliates Brands
| RP Affiliates Programme Brands | Main Highlight |
| --- | --- |
| 🏆 Royal Panda | Great Matched Deposit Bonus for New Players |
There are more than six brands associated with this affiliate programme, and each online casino is well-established and a strong performer in the world of online casinos. Each casino offers the same opportunity to earn a revenue share, making them equally attractive to potential partners. When it comes to selecting a brand to promote, it is important to have an understanding of what each casino is offering. After all, online casinos all seek to be unique in their market share.
The PlayAmo Casino brand is a strong offering and has a great range of games that makes it attractive to potential sign-ups. It is also known for how well it operates on mobile devices. Cookie Casino is great for those looking to promote the live casino experience, whereas Bob Casino has some of the best welcome bonuses, which helps with increasing conversion rates. With such a selection of brands, there is little doubt that potential partners can find one that suits them. Across the board, RP Affiliates games are of excellent quality.
Available Payment Methods
When it comes to selecting an affiliate programme to work with, it is important to consider the payment methods that are on offer. Partners need to see methods that they recognise and trust. They also need to know that the methods are secure. This all adds to the security of signing up for an affiliate programme such as RP Affiliates.
RP Affiliates deliver on this front. Although the choices of payment method may be limited, it features names that are respected in the iGaming industry and are industry standard. Here are all accepted payment methods by RP Affiliates affiliate programme:
Whereas other affiliate programmes have different minimum withdrawal amounts depending on the payment method that is selected, RP Affiliates have one standard figure, which is €100. This applies to all three payment methods. The programme only operates in Euros, so this may attract conversion fees depending on where partners are operating from.
Any commission due to be paid to partners is calculated on a monthly basis. Payments are actioned between 15 and 20 days after the last day of the month. No issues have been reported in terms of payments being made, and these are actioned in a timely manner.
What Software Does RP Affiliates Programme Work With?
The software behind the RP Affiliates programme comes from NetRefer, which is one of leading suppliers in the iGaming industry. NetRefer works with some of the biggest names when it comes to casinos and ensures that partners are easily able to track their conversions and monitor their revenue share.
Aside from the software that powers the affiliate programme, of equal importance is the software used for the Royal Panda Casino itself. RP Affiliates games come from software providers such as Microgaming and NetEnt. These providers are leaders in the iGaming industry and develop some of the best-loved casino games.
Conclusion: Why Choose RP Affiliates Casino Affiliate Program?
The RP Affiliates programme is one of the top-ranking programmes that exist. The obvious draw to this scheme is the highly competitive revenue share that is on offer. This guarantees new partners a 50% share for first two months and then anywhere between 35% and 50% after this time.
Alongside the revenue share, this programme provides other opportunities to earn bonus payments based on the number of first customer deposits that are made each month. Added to this that the programme offers lifetime commission payments, then it is clear that this scheme is a great choice with outstanding potential.
Up to 50% Up to 45% Up to 40%
For referral revenues above €30,000
For referral revenues up to €30,000
For referral revenues up to €10,000
As we have seen, with the RP Affiliates programme, you will be promoting one brand, namely the Royal Panda Casino. This is a great casino to be linked to and offers great potential for high conversion rates. If, as a potential partner, you'd be more interested in a scheme that has more than one brand to promote, it may be worth considering the Rovert Affiliates programme.
It has to be remembered that the RP Affiliates programme has no negative carryover. This isn't commonplace and so has to be seen as a positive here. Overall, this affiliate programme performs very strongly.
Popular Questions
That brings us to the end of our RP Affiliates review, and we have covered this scheme in great detail. However, we know that at times our readers still have some questions. We have covered the most frequently asked questions that we have received below along with some brief answers.