Rovert Affiliates Review – An Affiliate Programme with a Great Revenue Share
When it comes to online casinos and the iGaming industry as a whole, affiliate programmes are an essential part of growth. By becoming an affiliate with businesses such as these, partners have the opportunity to earn an income by referring new customers to a site. This Rovert Affiliates review will give an in-depth look at what is on offer from Rovert Affiliates: the advantages, the disadvantages, and an overall opinion.
Top-Rated Affiliate Programme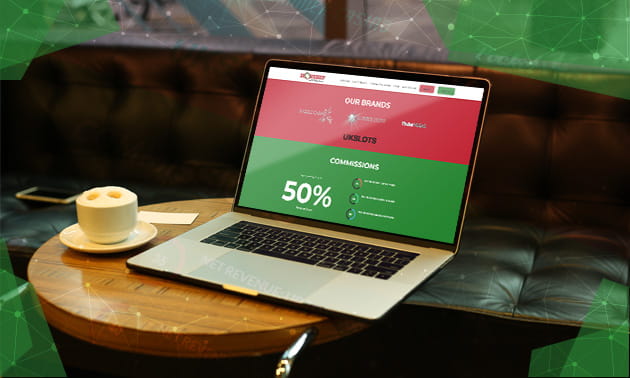 An affiliate scheme needs to offer what is sought by those looking to join to be attractive to potential partners. This includes an attractive revenue share. The Rovert Affiliates programme, as we shall see, succeeds in this area. It also needs attractive sites that convert. Glimmer Casino shows that it has this covered as well.
Beyond the Rovert Affiliates revenue share, this programme also offers great support as well as a whole host of tools that help its partners achieve success. This ensures that partners are promoting the casinos and gaming sites in the right way and building the brand.
In this Rovert Affiliates review, you will see how partners can achieve commission payments of up to 50%. This sees this programme as being one of the most generous that is out there and makes it very attractive to potential partners. The Rovert Affiliates revenue share is market-leading.
We will also be taking a look at what else is on offer from this impressive scheme, such as the payment methods and software that is used to power the affiliate programme, as well as that behind the Rovert Affiliates games at casinos that can be promoted.
Rovert Affiliates Overview – What You Should Know?
The Rovert Affiliates programme came into existence in 2018, and the brands that are available to promote have been online since 2013. The fact that there are three casino brands to promote means that this programme is suitable for potential partners who are already in the iGaming industry.
Having three different brands to choose from means that Rovert Affiliates has a range of choices when it comes to offering and promotions. Alongside this, the programme also offers generous tiers of commission, which means that efforts are suitably rewarded. Here are the main advantages and disadvantages of joining the Rover Affiliates programme:
Rovert Affiliate Programme Advantages and Disadvantages
Great Revenue Share
Variety of Payment Methods
Casino Brands to Choose From
Limited Currencies Supported
Casinos Restricted in Certain Countries
Bank Transfer Has High Minimum Withdrawal
One of the biggest plus points of this scheme is the revenue share that is offered. This programme offers any Rovert Affiliates the chance to earn between 35% and 50% of the revenue that they generate. This is dependant on how much is generated by the partner, and all efforts are rewarded well.
The key aspect is to have more than three top online casino brands to promote. This means that partners have a choice of sites and markets to promote. It is important that potential partners fully read the terms and conditions, but it is clear that these present great opportunities and fantastic earning options.
Rovert Affiliates Commission – Revenue Share & CPA
The Rovert Affiliates programme revenue share is amongst one of the best that there is in the iGaming industry. There is no Rovert Affiliates CPA option, but during the first three months, all partners automatically earn a 50% revenue share by using their link to attract new customers to sign-up. Another plus point is that there is no negative carryover. This means that any negative balances are reset at the start of each month and limits any losses of the earning potential. This makes this one of the best casino affiliate programmes out there.
Once the first three months have gone by, partners can continue to earn 50% by generating revenue worth more than £15,001. Earnings up to £5,000 attract a 35% revenue share, whereas earnings between £5,001 and £15,000 attract payments of 40%. These attractive revenue shares highlight why the Rovert Affiliates programme is so attractive and why it is so popular.
All Associated Rovert Affiliates Program Brands
| Rovert Affiliates Programme Brands | Main Highlight |
| --- | --- |
| 🏅 Dazzle Casino | A Rich Variety of Microgaming Slots |
| 🎲 Glimmer Casino | Great Welcome Bonus on Offer |
| 📱 Pocket Vegas Casino | Great Mobile Experience |
| 🎰 UK Slots | Top Slots Titles Gallery |
As we have seen in this Rovert Affiliates review, there are more than three brands that partners can choose to promote. If unable to make a choice, then partners can decide to promote all of them if they so wish. Dazzle Casino, Glimmer Casino, UK Slots and Pocket Vegas all attract the same revenue share, so partners have the same opportunity to earn 50% across the brands. Selecting all brands gives partners the chance to promote casinos that have different unique selling points and can lead to the best conversion rates.
Glimmer Casino offers the real chance for great conversion rates because of the welcome bonus that is on offer for new customers. That being said, all of the brands have something to offer. The fact that the Rovert Affiliates games that are on offer are amongst the best across all online casinos means that conversion rates are some of the best in the industry, and partners can be confident that they are promoting brands to be proud of.
Available Payment Methods
The Rovert Affiliates programme is well-established and trusted. Part of this trust is established by the fact that there is a wide variety of payment methods available to partners. This means that partners can select a method that suits their needs and the amount that they are looking to withdraw.
The likes of PayPal is the most well-known and perhaps most well-trusted payment method when it comes to operating online, although, with this, the minimum withdrawal amount is £250. The lowest withdrawal amount is Neteller at £100. Here are all accepted payment methods by Rovert Affiliates programme:
With the Rovert Affiliates programme offering some of the most trusted payment options that exist, partners are confident in the knowledge that their funds are safe and secure. The affiliate company pays its partners on the 15th of every month for any revenue that has been generated the month before.
The minimum withdrawal amounts vary between each payment method. With bank transfer, this is set at £500, UK BACS is £250, PayPal is £250, and Neteller is £100. Once payments are processed, they can take up to 10 days to reach a partners account, but payments are always made on time.
What Software Does Rovert Affiliates Work With?
For potential partners, part of choosing an affiliate programme is knowing about the software that is behind it. Rovert Affiliates uses the popular Mediacle Software Platform. This platform is respected throughout the iGaming industry and is known to offer complete solutions for affiliates and partners.
The casino brands themselves also have great software providers that are responsible for developing the games that are on offer. Across the Rovert Affiliates casino sites, there are games from the likes of Microgaming, NextGen, and NetEnt. These are reputable game providers licenced in the UK, showing that they are fair and secure.
Conclusion: Why Choose Rovert Affiliates?
The Rovert Affiliates programme has proven itself to be a reputable one and one worthy of attention from any potential partners. The revenue share on offer can be as high as 50%, and this makes the commissions industry-leading ones that are hard to beat throughout the affiliate market.
There is also a range of safe and secure payment methods on offer with this programme, meaning that partners can select one that they are most comfortable using. Added to this is the software behind the programme, and it is clear that the Rovert Affiliates programme is amongst the best that exist.
Up to 50% Up to 40% Up to 35%
For referral revenues above £15,001
For referral revenues up to £15,000
For referral revenues up to £5,000
The lack of negative carryover is also a great feature of the Rovert Affiliates programme. This is not a standard and so is a real plus point for this scheme. It is also good to see that the casino brands associated with the programme are all quality sites that convert well, and they all feature games from the top software providers.
The use of Mediacle makes the affiliate programme function well. The Galaxy Affiliates programme is another scheme that uses the same software and delivers well for all of its partners. This software sees partners getting the best results possible. Other great alternatives you could try are the King Billy affiliate programme and the Slotpartners programme.
Popular Questions
That brings us to the end of our in-depth Rover Affiliates review. We know that, at times, readers still have some questions. Below we have put together the most common frequently asked questions that we receive along with our answers that will clarify any queries that you have.