Buffalo Partners Review – Affiliate Programme With Wonderful Revenue Shares
Affiliate programmes are gradually taking their rightful place in the gambling industry, and we keep seeing the sector grow bigger over the years. The good thing about joining an affiliate programme is that you don't necessarily have to be a gambler or know much about gambling. Joining one means you will agree with your online casino partner that you will invite more players for them. Different affiliate programmes have their deals to offer. We will be considering that in this Buffalo Partners review.
Top of the Line Affiliates
25% – 50% Revenue Shares
Top Brands
Royal Vegas

Gaming Club Logo

JackpotCity CasinoLogo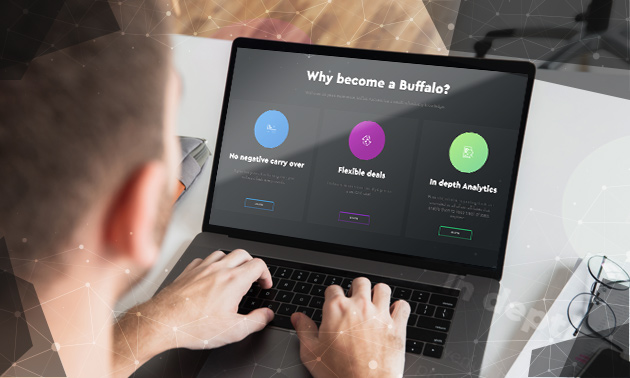 Buffalo Partners is one among the numerous online affiliate programmes; however, this one seems to stand out among the others. This article would pick out everything about the programme that makes it special. Looking for a casino that works with Buffalo Partners, then check out Jackpotcity Casino.
Featuring a large revenue share of 50% and a sub-affiliate of up to 5%, earning would not be much of a problem. As you read on, we will continue to highlight the most attractive features you stand to enjoy. There are so many areas to touch, the casino brands, payment options and many more.
First of all take a look at the enormous Buffalo Partners revenue share. Seeing an affiliate programme that offers to pay up to 50% is not something you see everywhere. You also have a wide range of options in terms of the casinos in partnership with Buffalo Partners.
In this guide, we would also elaborate on the payment options you can use in this programme. We have seen cases where players are unable to withdraw their money due to issues with payment options. Buffalo Partners provides a wide variety of options for you to receive your cash.
Buffalo Partners Affiliate Overview – What You Should Know?
We explained earlier that casino affiliate programmes involve bringing in more players for a brand while they pay you. How does it work? First of all, you agree to your affiliate partner's deal, as it varies; Buffalo Partners offer up to 50%. So when you bring in a new player, you begin to get your percentage share depending on how much they gamble.
Buffalo Partners came into the spotlight when it was established in 2014. Since then, the programme has dared to be unique among the others. If you don't know much about the affiliate business, Buffalo Partners is also suitable for you. Everything has its simplicity, which we consider as a major factor. Here are the main advantages and disadvantages of joining Buffalo Partners:
Buffalo Partners Affiliate Programme Pros and Cons
Presence of Sub-Affiliate
Many Casino Brands
Variety of Payment Options
Not Many Currencies Available
Sub-Affiliation Plan Not Available by Default
Lower Commission Rate After the First Month
The first and most prominent highlight of this programme is the generous revenue share; no one can overlook it. The numerous payment methods are also attractive with secure and user-friendly options like PayPal. Moreover, if you are someone that works with the reputation that an affiliate programme has, Buffalo Partners have a lot to show for it.
The Buffalo Partners affiliate works with over 10 casino brands. So if a potential invitee is giving you an excuse of not liking a casino brand, you can always find another one. Most importantly, we urge you to read the programme's terms and conditions before going all in; the offers are attractive.
Buffalo Partners Commission – Revenue Share & CPA
First of all, Buffalo Partners CPA is deal dependent, which is highly advantageous; meaning that if you are unsatisfied with the terms and conditions, you can try to strike a better deal with the programme. The revenue share deal is that you can earn up to 50% for your first month, while in the subsequent months, you will continue with commissions between 25% – 40%. It still seems to fail enough, in our opinion. Taking a closer look at the Buffalo Partners is still one of the best casino affiliate programmes that you will find around.
Interestingly, Buffalo Partners doesn't have negative carryover, so if by any chance you have a minus balance into a new month it automatically resets to zero. How does the Buffalo Partners revenue share system work? It is relatively easy. For subsequent months, you earn 25% for referring 0 – 10 people; between 11 – 40 people earns you 30%; next up is 35%, which you make when you refer 41 – 100 people; top-most on the tier is 45% which you get when you refer 100+ people.
All Associated Buffalo Partners Affiliate Programme Brands
| Buffalo Partners Brands | Main Highlight |
| --- | --- |
| 🎰 JackpotCity Casino | Top Jackpot Slots |
| 🥇 Gaming Club | Wonderful Casino App |
| 🏆 All Slots Casino | Variety of Slot Games |
| 👑 Royal Vegas | Gaming on the Go |
| 💎 Ruby Fortune Casino | Evolution Gaming Casino Games |
Buffalo Partners has many casino brands associated with it. In fact, there are over 10 online casino titles. If your potential referral refuses to join due to inconvenience with a certain casino, Buffalo Partners brings so many options to the table; you can always proffer a better option. Some of the most popular brands among the casinos are; Royal Vegas casino, All Slots Casino, and many more.
The popularity of these casinos is attributed to their outstanding services. They offer a variety of games to players and eye-catching offers, which would make your people interested in joining. By the way, you can check which are the best slot sites in 2022, together with the top live dealer casinos!
Surprisingly, each of the brands comes with the same revenue percentages, so there is no discrimination.
Irrespective of the casino the person joins, your revenue shares remain the same, so is your earnings. Each of them also possesses outstanding services regardless of the games they offer. The payment methods consist of multiple options. The casino brands also offer welcome bonuses.
Available Payment Methods
When we mentioned that you would never have issues with withdrawing your cash, we were no bluffing. Buffalo Partner has up to seven different payment options that you can use. You can use either Check, EcoPayz, PayPal, Neteller, Skrill, WebMoney, or Pay Spark. We love how everything spreads out so much.
A casino affiliate programme offering so many payment methods, this is not something that you see everywhere. Out of everything, our most recommended option is the PayPal. PayPal is arguable the best of all e-wallets due to the safe and secure space, especially. However, some small extra fees may apply to your transfers. Here are all accepted payment methods by Buffalo Partners:
Buffalo Partner makes use of the first ten days of every month for processing of payments. Depending on the time and the payment method you use, your payout should arrive in a few days. This casino affiliate does not impose any extra charges on your cash. We find this interesting and attractive.
Your respective payment method may still deduct their charges. PayPal still seems to be the fastest payment method of all. As long as your withdrawal is processed, payment should come within hours of completion. Of course, you can carry over your earnings to the next month, and you can also change your payment method later on as it is flexible. Buffalo Partners works with USD, GBP, EUR, and Swedish Kronor.
What Software Does Buffalo Partners Work With?
Surprisingly, Buffalo Partners doesn't work with any third-party software. The affiliate programme has its own specially designed and personalised software. It features an engineering quality that you won't see elsewhere. While surfing through their site, you will notice that the platform ticks all the boxes in performance and functionality.
So far, so good, the internally developed Buffalo Partners software is very reliable. We hope to see it integrated into the platform of associate brands in the nearest future. Buffalo Partners are trying their best to keep up with the customer's demands. It is equipped with the right tools for marketing, account performance, and progress calculation. It is an all-in-one package.
Conclusion: Why Choose Buffalo Partners Casino Affiliate Programme?
We are gradually drawing this Buffalo Partners review to a close. In our opinion, Buffalo Partners ticks all the boxes. First of all, the revenue shares; 50% for the first month to encourage affiliates, the 40% upper limit on subsequent months still beats some other affiliate programmes. Compared to others, this revenue is reasonable.
Many other factors should make you choose Buffalo Partners. The payment methods are also one of them. Nothing is more annoying than working hard with referrals, earning much then unable to process your payouts. This programme is not one that you will face such issues; with the multiple payment varieties and flexibility, you can always switch when you have issues.
Up to 50% Up to 35% Up to 30%
Over 100 Referrals
Between 41-100 Referrals
Between 11-40 Referrals
The fact that Buffalo Partners has many casino brands associated with it boosts its reputation. Normally, people love to check the number of casinos that a programme has for two main reasons. The first is that their potential referrals have different options to pick from; the second is that it shows that the brand has the right connections.
Besides that, there are no negative carryovers as a major eye-catcher. When compared to some other affiliate programmes like Dunder Affiliates that don't offer the feature, it is a major advantage. When there is no negative carryover, you begin the new month with fresh earnings rather than cover up debts.
Popular Questions
As we are concluding, we understand that the review was quite detailed and comprehensive. We also understand that you may have one or two questions budging your mind in regarding the Buffalo Partners. We have prepared this detailed FAQ section that provides an answer to everything.