Triple Magic Slot Review – Nice RTP, Simple Rules and Gameplay Without the Frills
Once upon a time, slots were very simple. There were Bar symbols, the number 7, a Wild here and there, and they all had to land in threes on a single payline. Triple Magic is Microgaming's representation of a time when people would travel to a casino to sit down and pull a lever out of hope that three of the same symbol would line up on the reels. When video slots were introduced, the same concept was there with a screen instead of physical reels. Triple Magic is your opportunity to step back in time and experience how video slots used to be done.
In this review, you will get a nice look at the Triple Magic slot. If you are someone who is into vintage-like slots, you will really like this. It's almost like sitting in a casino in front of a video slot from 20 years ago, but what's interesting is that Microgaming released Triple Magic in 2014. The gaming giant did this because the game is a tribute to the days of quick spins, single paylines, and few symbols that paid out a little money. You'll read about the fixed payline, Wilds, and overall gameplay so that you can form an honest opinion about this slot.
Experience it for Free – Play the Demo
If you really want to get a good idea of how Triple Magic works, you should try the demo game. Experiencing the game without having to deposit any real money is a great way to familiarize yourself with it before opening your wallet. You'll see how classic it really is and that the gameplay is extremely simple. The game has all the functionality of the real money game, so you know exactly what you're getting into if you decide to bet real money on this slot.
If and when you are ready to play for real money, 32Red Casino has you covered. The casino offers nice welcome offers. Sometimes they cycle out the offers, which means a new one will come about. They are a licensed and renowned operator, that also offers an amazing welcome offer of up to £150. The bonus cash is another way for you to add to your bankroll and have a good time. If you want to explore other options, you can refer to the best slot sites in the UK that we chose for you!
A Quick Look at the Game
Triple Magic is one of the simplest slot games you will ever encounter. You have Wilds, but there are no bonus rounds or free spins. There is no Gamble option or progressive jackpot. Multipliers are completely off of the table. What you have left is a 3-reel classic slot that is bare bones like they used to be. There is one fixed payline where you can land three of a kind symbols – and that's it. The RTP is high at 96.32%, but the game doesn't have the frills, mini games, and other features that a lot of slots out there have. That's because it was created to appeal to classic slot enthusiasts.
A Simple Paytable
Because this is a classic slot, the paytable is among the simplest you will ever see. You only have 6 symbols to worry about. They are the Star, Seven, Triple Bar, Double Bar, Cherry, and Bar. The only way you will win anything is if you get three of any of the symbols. The Star is Wild, but what's nice is that it's the highest paying symbol at x800, so Wild pays. From there, you can either play manually or automatically and wait for three-of-a-kind to land on that center payline so you can win some coins.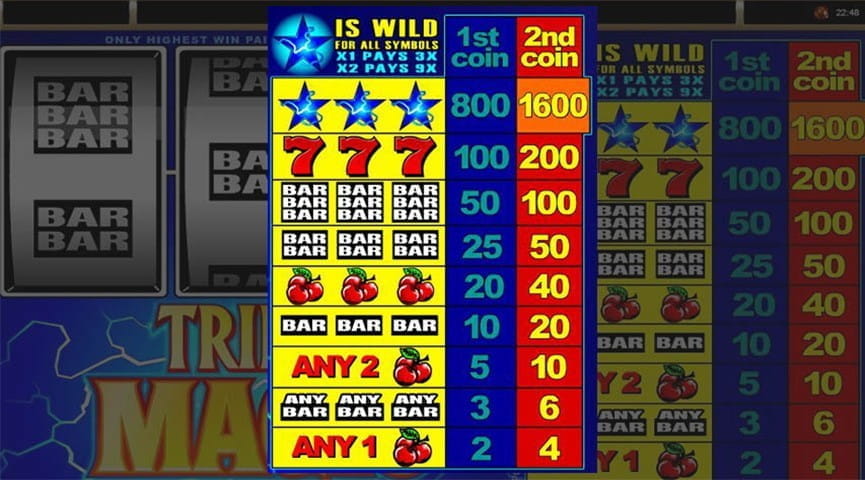 Advantages:
Simple gameplay
Easy Paytable
Nostalgic theme
Graphically sound
Autoplay function
Change coin value
Disadvantages:
No special features
Low max win
The betting range for this slot is very small. It starts at £0.25 and goes up to just £10, so this is a low limit slot that will let you stretch your bankroll a little. However, there are not a lot of coins to win with this game. The maximum win is 1,600. For this reason, the game is more for fun than it is a moneymaker, just as any slot game should be for fun. It's therefore the nostalgia with the perk of adding money to your bankroll when the single payline lands a winning combination.
Is Triple Magic Available On Mobile?
This slot is vintage in every way, despite it being only four years old. What it does is give you a taste of what video slots were like in the very beginning and that meant there was no mobile version of the game. As much as you'd probably like to be able to take the game with you on your mobile device, it's not happening unless Microgaming changes their mind about it. The possibility that the company won't change this game to a mobile-compatible game is there because of the classic feel this game brings. Still, you can check which are the best casino apps for iPhone, let's say, and choose something different there.
A Classic Conclusion and Some Recommendations
If you like this slot, you will like other slots with uncomplicated rules. One such slot is Neptune's Kingdom. It is somewhat more involved than Triple Magic, but it thrives on classic gameplay and good graphics. You have the 3 reels, but there are 5 paylines. The max win is 150x your wager. It is another one of those slots that allow you to sit back and relax while you play. Basically, the game keeps it simple. Other classic slots that keep it simple include:
Rating:

4.8/5

Powered by:

NextGen

Play at:

NetBet Casino
Rating:

4.4/5

Powered by:

NetEnt

Play at:

LeoVegas
Rating:

4.4/5

Powered by:

IGT

Play at:

LeoVegas
In the end, Triple Magic isn't an edge of your seat slot. Instead, it's the type of slot that you can sit back with. There is no pressure or no heavy anticipation for a bonus. The game is one that takes you back in time. With just one payline, no features, and a low max payout, there isn't much to expect except that high RTP that tells you that you are going to see some money back or maybe even some winnings. However, simplicity doesn't mean you should pass this slot by. If you want to move away from the hustle and bustle and step back into a simpler time, Triple Magic will help you do that. And if you really want wizardry in your games, you can also take a look at Magic Portals, a slot that definitely has what to offer.