Super Eighties Slot Review – Playing Rules and How to Win
The eighties sure was a great decade. Excellent music, wholesome and funny television programming, cool clothes, and so much more. You can now relive these times with this slot that was launched by NetEnt in 2013. It is a way to remember what life used to be like, all the while having an opportunity to win some money. The slot has 40 different win lines, so there are certainly plenty of chances available to do just that. You will find that there are a few special features to keep you entertained and motivated to keep spinning.
Reviews such as the one that you are about to read are helpful when you want to learn the inner workings of a new slot you are about to play. It is important to understand what is about to take place on the screen in front of you, or the fun factor is going to be lost on you. Sure, it is great to see your account balance increase, but it is even better to know why. You may not win, so you will also want to know why that is and what you can hope for on your next spin. Beyond this, there are some special features that we want to tell you about so that you can enjoy the experience even more.
Go Back to the 80s – Play This Slot for Free
As we mentioned, there are things you should know about this slot before you begin playing with your own cash. It will make the experience that much more enjoyable. Before everything else, we encourage you to play the demo version of the slot. It's free, and you can play it as often as you like. As you make a few spins, you will begin to see how certain symbols form the winning combinations that you need, while others will leave you lacking a bit. This will get you ready to eventually play for real money, should you choose to.
If you like the demo version as much as we think you will, it's time to play for some real money. You don't have to wager all that much money, and we will go over that in a bit. To begin, open an account at NetBet Casino. To entice you to do so, you can get up to 500 free spins upon your first deposit. Then, you can acquire the free spins with bonus code NBWELCOME500. This is a deal that you will want to take advantage of.
Let's Look at the Game – Winning Rules
As you can guess, this slot will take you back to the decade of the eighties. This is when the first mobile phone came out and the Walkman was also a feature hit. Of course, back then you had to use cassette tapes! Skateboards, high heels, and so much more is also on display here. To begin, just decide what to bet on your next spin. You will hit the spin button and watch the symbols move around. Pay attention to what happens so that you can see if you have any winning combination, or if a special feature has been activated.
Reading the Paytable
If you're ever curious how to form a winning combination, just click on the paytable and find out. This is where you can see each of the 40 pay lines. You will discover what symbols you need, and how many coins each winning combination will actually pay out. This will prove invaluable to you on your quest to master this slot. You don't need to memorize the different ways to win as this paytable is accessible to you at any time. Remember that all winning combinations take place from the left side of your screen moving to the right.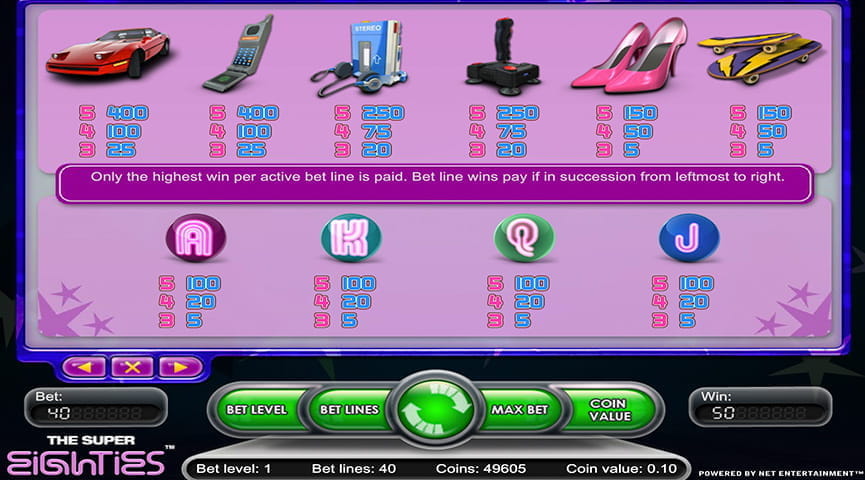 Advantages:
40 ways to win
Quick spin feature
Retro Theme
Free spins
Low minimum bet
Fun to play
Disadvantages:
No progressive jackpot
No bonus game
Every slot has certain betting limits and rules that you need to be aware of. You will want to know that this game is played with five different bet levels. Since there are 40 bet lines, that means you can bet up to a maximum of 200 coins on each spin. You can choose a coin value in the range of £0.01 to £0.50. With all of this information combined, we can tell you that the minimum bet for this slot is only £0.40. Even that can net you a sizeable win if you are lucky. If you are looking for even more potential in your future, the maximum bet is £100.
Special Features and Free Spins
If you are familiar with the idea of wild symbols, you will be happy to know that they are built into this slot. The symbol for this game is the wild 80s. If you see that, then you will notice that it can replace any symbol to help form the winning combination that you were lacking. This can really increase the odds of you winning on any given spin. If you are lucky enough to get three or more of these wild 80s symbols, you will receive a bonus win which is always nice!
Free spins are a possibility with this slot as well. When you see three or more scatter symbols appear on any given win line, your win total for that spin be doubled and you will also receive a minimum of five free spins. Get more than three scatters and you will receive even more free spins. What's even better is that all wins you get during the free spins round will be doubled. You can also earn more free spins before you are finished, so you could keep going for quite some time without having to place another wager if luck is on your side.
Mobile Version of Super Eighties
The mobile version of the Super Eighties is, in a word, epic. Catch the 80s pun there? You will be happy to see this slot appear on your smartphone or tablet. You will enjoy the background music as it transforms you back in time. The graphics are the same great variety that you will see on the desktop version, and the same special features have been built into this version that was made specifically for the mobile platform. You can play it anywhere you have an Internet connection, so download it today.
Before You Start – Consider These Other Great Slots as Well
With so many different ways to win, this slot is worth playing for that reason alone. You will also appreciate the theme and all of the work that went into this one. We have the NetEnt software to thank here and the masterminds behind it. Each of the symbols is truly representative of a part of 80s culture. You might even find that you are remembering certain events that you had long forgotten about. Don't forget that this slot also has an RTP of 96.5%. This means that you have a decent chance of winning some money, and we all like that. It is a slot that you can play over and over again and not worry about getting bored.
Rating:

3.9/5

Powered by:

NetEnt

Play at:

Casumo Casino
Rating:

4.3/5

Powered by:

Microgaming

Play at:

Griffon Casino
Rating:

4.4/5

Powered by:

Realtime Gaming

Play at:

Ladbrokes Casino
In the end, it is true that this slot does not have everything. Some players might be miffed about the lack of a bonus game, while others may not like the small maximum bet. We feel that this affects a minority of players, however, as this is a fun slot to play to break up the monotony that is associated with many of the slots in the online casino genre today. Give it a try and see what you think. If you want to play something a bit different, we would like to direct you to these other three slots that we have written about here.Also, check our best slot casinos for UK players page for more juicy materials on all things slots.