Sumatran Storm Slot Review – Can You Tame the Tiger?
You've probably heard about Siberian Storm, one of the most popular slots on the net. Well, now the veteran developers from IGT have decided to move on to a warmer climate. Sumatran Storm is a fairly unique title with a diamond shape of the playing area. There are no paylines here, instead you have a variation of the 243 Ways to Win format, where you simply need to have symbols aligned on neighbouring reels. However, there is a further advantage here – wins pay not only left to right, but also right to left. This brings the total number of winning combinations to 720. Let's see how this great system works out in practice!
As per our usual policy, we've covered everything you need to know about this game in the next sections of our review. Of course, you should start by sampling our free demo version just below. If you have any questions after that, then we can talk about the rules and the potential bonuses in the overview section. Even if you don't like what you see, don't be too quick to give up – you should take time to find just the right slot for your gambling night, so we've got several suggestions that might suit your tastes better at the end of our review.
Free Sumatran Storm Slot: A Demo Rumble in the Jungle!
Before you start learning more about the game, you should definitely give it a spin or two and see whether you enjoy it. Luckily, we have provided a free demo which you can play for however long you like. Free play slots are the best way to find the right game to enjoy during your free time. After all, the most important thing is having fun – and decent payouts, of course! So, prepare for a trip to the intense jungles of Sumatra! Furthermore, you can also give a check to the other slots that you can play for free.
The graphics in Sumatran Storm aren't overly spectacular, but they have a nice classic feel to them. The sound effects really do help in building the atmosphere – but the true highlight here is the unique layout and the 720 Ways to Win feature. If you are enjoying the payouts and the gameplay, then you should definitely try to play it for real money! Nothing can replace the thrill of the win, especially when you have to stare in the eye of the tiger to claim it. We've prepared a thematic casino suggestion for you – what better place to find a tiger than the lion's den in Ladbrokes Casino? On a more serious note, Sumatran Storm is a relatively rare slot, so out of our list of safe operators, this is the best casino that has it on offer.
Sumatran Storm Slot Overview
Sumatran Storm is a very unique slot game as it breaks the usual 5×3 format. You have the usual five reels, but the rows are not with equal width, but rather form a diamond pattern. This would be a bad thing if there were paylines in the slot, but here we have a modification of the well-liked 243 Ways to Win system. This means that matching symbols simply need to appear in neighbouring reels, and this is enough to form a winning combination. Here you have the added bonus of right-to-left wins (Multiwin Xtra), which actually increases the possible combinations to the impressive 720. Basically, this means that you have 720 paylines always active. The veterans from IGT have provided you with a straightforward interface that we have seen in many of their games, but it is somewhat lacking – for instance, you don't have any fast-play options which can be unnerving if you don't want to watch the visual effects.
Sumatran Storm Payouts and Symbols
This slot takes you on a trip to Sumatra, one of the most exotic places on Earth. The theme is a much warmer continuation of the freezing landscapes that we saw during Siberian Storm. You can find rare treasures in Sumatra and meet a ferocious tiger – an endangered species by the way, help spread the awareness for these wonderful animals! However, the highest-paying symbol is the game logo; five of those net you this slot's jackpot. You also receive payouts from the Scatter symbols who don't have to form a winning combination, but unfortunately do not trigger any special effects either. Instead, there is a special symbol – the Eye of the Tiger – which triggers the free spins in this game. With the tiger theme strong as it is, you should consider this animal your lucky charm here – a tiger's silhouette acts as a Wild symbol and appears stacked on the reels. Those are very useful when they come up in the long central reel, as a Wild there can increase your winnings significantly.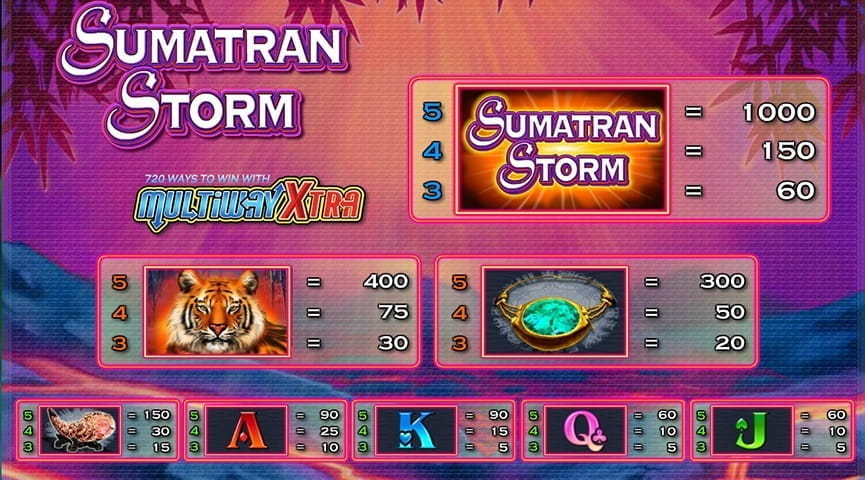 Advantages:
Multiway Xtra Win
720 Ways to Win
Unique Layout
Classic Graphics
Intense Sound Effects
Bonus Free Spins
Disadvantages:
Few Free Spins
High Minimum Bet
Sumatran Storm is very easy to play the game. Since there are no paylines, your bet is fixed at 60 coins. You simply need to adjust the size of the coins, and you're good to go. Most casinos allow for rather high maximum bets which makes the game a good pick for high-rollers, but there is also a drawback – the minimum bet is set at £0.60. This is actually rather steep and would be bad news if you're preparing for a long, relaxing night with a slot. Most games allow you to place 20-25 pence bets or even 1 penny for a single payline. Still, this is the price to pay for the more frequent payouts you get with the Multiway Xtra feature.
Sumatran Storm Slots Bonuses
Compared to the innovative base game, the bonus rounds here come out as somewhat dull. There are several special symbols, but the Eye of the Tiger is the most important. If you land those of all five reels, then you receive 5 bonus free spins. This is actually a rather small number, especially considering how hard it is to have the symbols on all 5 reels. The only good news is that there are a lot of stacked symbols in the game. This means that if you are really lucky, you can get up to 60 spins. Furthermore, the bonus can be retriggered during the free spins themselves.
In most cases, the bonus does not land often enough, and 5 spins don't pack quite a punch compared to other games. All to all, for all its hype the Eye of the Tiger, pales in comparison with the innovative base game. However, there is something that most people miss here. The upper limit of 60 free spins is very high, especially considering the frequent payouts. If you manage to trigger more than 5 spins, the bonus suddenly becomes immensely good. This can bring the expected RTP rate of the game up to 96.56%, which is in the high end for slot games as a whole.
Playing Sumatran Storm on the Go?
Mobile gaming is the future of the online casino industry. However, most operators have so many diverse slots in their catalogues that they haven't yet managed to make them all compatible with mobile devices. Sumatran Storm is not an old title per se, but it still hasn't gotten a revamp. It can start on some devices, especially tablets, but the experience isn't the same as with a game that has gotten a touch screen makeover. Still, it will probably get a look in sooner rather than later.
Final Verdict: A Worthwhile Adventure
Sumatran Storm is an original slot that sometimes tries to be too clever for its own good. The warm colour palette makes it feel different from its illustrious predecessor, Siberian Storm, but other than that, the two games are quite similar. The graphics are a little better during the Sumatran Storm, but the previous version is more streamlined and mobile-friendly. A rather thematic alternative would be another classic – the White King slot by the industry giants Playtech. IGT's Wolf Run meanwhile is another timeless classic that has earned huge popularity in land-based casinos. And if you are wondering where to play all of these nice pieces of art, you can refer to our list of the sites with the best online slots in the UK.
Rating:

4.5/5

Powered by:

IGT

Play at:

Spin Rio
Rating:

4.4/5

Powered by:

IGT

Play at:

Duelz Casino
Rating:

4.5/5

Powered by:

Playtech

Play at:

Ladbrokes
Sumatran Storm is definitely worth a spin or two, even though it is competing with a lot of hit slots running a similar theme. It manages to do a lot of things right and stands apart from the competition, though some more effort in revamping the classic Siberian Storm graphics would have been nice. All to all, if you like this sort of slots, then this is a good pick for you. It certainly looks and feels different from most of the things you have played, and offers a very strong base game with frequent payouts.