Sparks Slot Review – Playing Rules and How to Win
Sparks was launched back in 2015 and the game itself is a measure of creative license, complete with its neon lights and symbols. It is innovative, and it provides more than a few opportunities to win. With features such as win both ways and win one way, the slot redefines what it takes to develop a winning combination and add to your coin total. There are cloned wilds and much more to learn about, along with 20 win lines that add to the excitement. Each spin brings something new, and the theme itself and added sound effects make it worth playing more than a few times.
Because this slot is so unique, you will want to read this review in order to discover how the various symbols interact with one another in order ultimately form the winning combinations that you need. This is a neon-themed slot that is pleasing to the eyes and one that incorporates cloning wilds into the mix. In addition to the stunning graphics that you will grow to enjoy, the background music really adds to the overall ambiance and enhances the playing experience. While there seems to be an absence of any type of story line, this slot makes up for that with its special effects.
The Colours Are Mesmerizing – Play This Slot for Free
We do know that the details are important, but you will want to slow down for just a moment and learn how this slot works before you play it for real money. There are quite a few twists and turns along the way that makes this game different from others that you have played in the past. That is what makes each spin so different than the one before it. Before you lay down any of your own money on each spin, it would be wise to play the game for free first. That's right – free is the word of the day. You can enjoy the game the way it was designed, and not have to worry if you win or lose any money.
When you are ready to play Sparks for some real money, we want to tell you about the deal that Casumo Casino has waiting for you. If you deposit up to £25 when opening your account with them, they will then match that deposit Pound for Pound. This is a great deal because you are welcome to only deposit a small amount of money to take advantage of it. If you want to start with £25, that will instantly become £50 that you can begin to play with. To make it even better, they will give you 20 free spins once you make your initial deposit. The bonus spins can be played on the all-so-popular Book of Dead slot.
Let's Look at the Game – Winning Rules
There are 20 different ways to win with Sparks, but perhaps even more exciting than that is the feature where you can win both ways or one way. That is not nearly as confusing as it sounds. Whereas traditional slots only payout when a winning combination is found from the left to the right of the screen, this one will declare you a winner no matter which way the pay line is read. This is a great deal and adds to the odds of winning in the end. You also have wild symbols and expanding cloning wilds to add to the mix and which can create a winning spin just when you thought all hope was lost.
Reading the Paytable
The paytable is where you can learn how each winning combination is formed. It dictates the winning symbols that you need and how many coins you will receive as a result. You will want to pay attention to whether or not you are playing the win both ways or just win one-way mode. Keep in mind as well that only one win per pay line will be counted, but you can win on multiple bet lines. That is where you will really see your coin value begin to increase. You can hit the 'I' button on the left side of the screen at any time to access the paytable and take a look.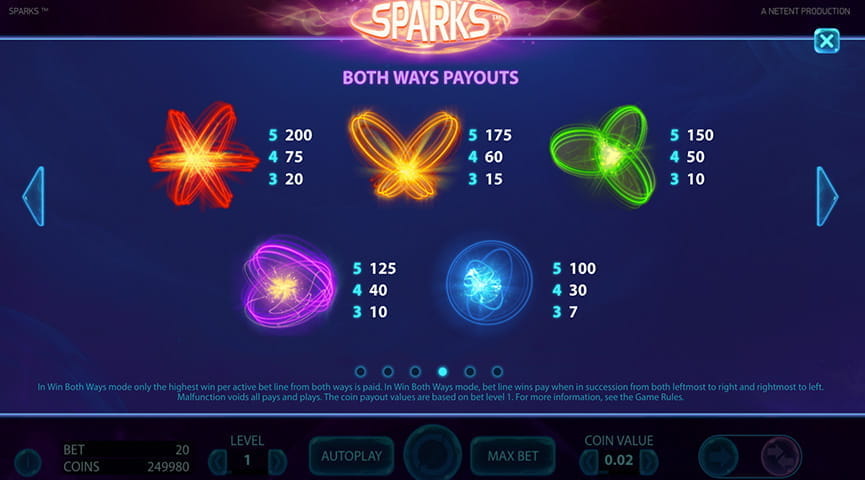 Advantages:
20 ways to win
Quick spin feature
Expanding cloning wilds
Free spins
Small minimum bet
Fun to play
Disadvantages:
No progressive jackpot
No bonus game
As with most slots today, you will need to adhere to the wagering limits that are built into the game. There is quite a range with this one and one difference that you might notice is that coin values go up to £2. This results in a higher than a normal maximum bet of £400. Of course, you do not have to wager near that much if you do not want to. Because coin values begin at £0.01, the minimum bet for this slot is just £0.20. Remember again that there are 10 bet levels and 20 differently pay lines, to go with the 8 different coin values that you can choose from.
Special Features and Expanding Clones
It is time to talk about some of the unique features that make Sparks so special. You can choose to win both ways as your mode of playing and when you do, the winning symbols will be read from left to right and from right to left. You can change your selection in between rounds if you choose to. There are also wild symbols to be aware of, as these can substitute for any other symbol other than the expanding cloning wild. These wilds will work to your advantage as they will become the symbol that gives you the highest possible win total.
While you won't necessarily find the free spins you may be used to with other slots, there are plenty of other features here to keep you occupied. Consider the expanding cloning wilds as an example. These will appear on either the 2nd or 4th reel and will substitute for all other symbols on the reel. This feature works in both modes – win both ways and win one way. They will expand up vertically to cover a complete area that will help you potentially hit more pay lines with your spin.
Mobile Version of Sparks
A mobile version of Sparks was launched not long after the desktop version and the results are spectacular. Your mobile device was made for a simple slot such as this one. You will enjoy the same neon colors and special effects that you have come to enjoy on your own computer. It is important to put your screen in its landscape mode as you play. This will help you to see all of the symbols as they spin on your phone or tablet, hopefully resulting in the winning combination that you were hoping for.
Before You Start – Consider These Other Great Slots as Well
At first glance, this slot might appear to be a bit too traditional. It lacks some of the bells and whistles that others might have, but the cool nature of the game more than makes up for it. Sometimes, simple really is better. With the two different playing modes to choose from, it is like playing two slots in one. The RTP percentage of 96.55 is also quite respectable, providing more than a fair chance of winning some of your money back. If you would like to also find your next favorite slot game, then you can take a look at our best casino slots list.
Rating:

4.7/5

Powered by:

Microgaming

Play at:

Royal Panda Casino
Rating:

4.6/5

Powered by:

Microgaming

Play at:

Griffon Casino
Rating:

4.6/5

Powered by:

NextGen Gaming

Play at:

Casumo Casino
Sparks does not have a bonus game, and free spins are virtually non-existent. That being said, there are still plenty of positive things to note that cause us to recommend this slot to our readers. It is a simple game that has a cool ambiance to it. Start by playing with the demo version and then move to the real money mode to try your luck. When you are ready for something different, we have three more slots reviewed here that are ready to engage you in even more innovative ways.