Space Invaders Slot Review – Playing Rules and How to Win
Almost anybody who lived through the 80s will remember Space Invaders. Now is the chance for old and new generations alike to relive this terrific video game by playing it as a slot developed by Playtech. This new version comes with 5 reels and 3 rows, combining to result in 10 different pay lines that you can win some money on. You will find that there is a low minimum bet attached to this slot, so almost anyone can enjoy playing it no matter what the level of risk that is taken. There are plenty of special features to talk about as well here.
This review is written with the sole purpose of giving you all the information that you need to enjoy playing Space Invaders the slot. It is based on the same video game theme that made it so popular. This includes the same pixelated graphics, so keep that in mind. This is one game where the low graphics quality actually enhances its appeal. If you don't know what we are talking about, talk to someone who used to play Atari video games! There are some great sound effects built into this slot at well. To learn all of the finer details, we encourage you to play the demo version. That is where you can really explore that various way to win with this slot. After you read everything on this page, you can also take a look at the UK slot sites that we recommend.
Zap the Spaceships – Play This Slot for Free
We understand that you might want to win some serious money, and those times will come, but for now it is important to learn about the details that make this slot so special. There are some different weapons that you need to learn about, and the fact that reels are in constant motion are rather special as well. You will see all of this and more in action as you play but we advise you to fly low and to wager few in the beginning. All of this fun is yours without even having to risk big money, after all.
When you are ready to play for some real cash, we want to encourage you to consider placing your initial deposit with NetBet Casino. Use the bonus code NBWELCOME500 that can give you up to 500 free spins on your initial deposit. You will need to play a certain number of times before claiming the prize money, of course, but this is a great deal that you will not want to pass up.
Let's Look at the Game – Winning Rules
With 10 different ways to win Space Invaders, there are plenty of opportunities to add to your bankroll. The game itself is quite simple, as you are trying to zap invaders from outer space out of the sky. As you might suspect, if you can do that you will win. What can be simpler than that? Of course, there are certain combinations that you will be looking for. This is, after all, a slot and not a video game. Remember that winning combinations will appear both ways for this slot. That is an added bonus and is something different than you might be used to. You will also have a chance to add some wilds to the equation, but we will talk about that in a moment.
Reading the Paytable
The paytable for this slot is relatively easy to figure out. Once you look at it you will be able to determine how many coins you can win with any of the ten possible combination. Remember that you can only win once on any given pay line, but the slot will take the highest win and give it to you. In addition, you can win on multiple pay lines during any one spin. When that happens, your wins will be added together and you will then be given the total number of coins won.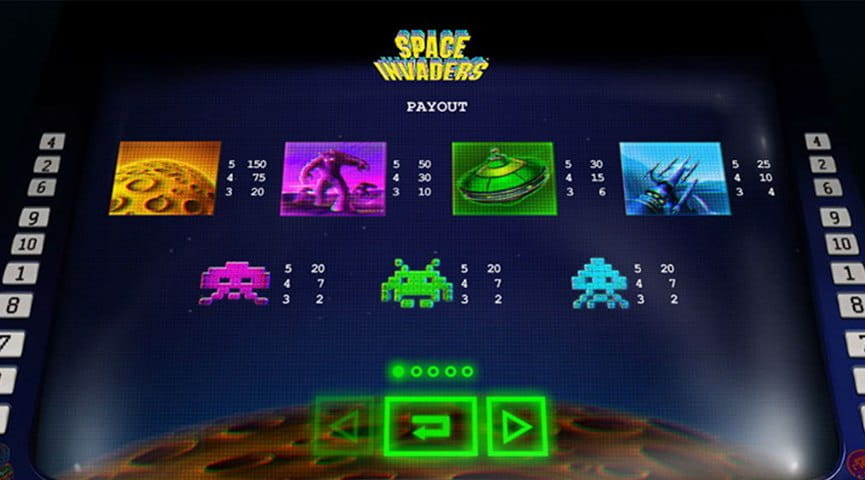 Advantages:
10 Win Lines
Quick Spin
Win Both Ways
Earn Re-Spins
Small Minimum Bet
Old-School Look
Disadvantages:
No Free Spins
Few Features
There are some limits to your bet that you will want to be aware of. If you are the type of player that does not like to risk much money on any one spin, you will pleased to note that the minimum bet for this slot is only £0.10. That will give you a lot of plays without much risk to speak of. If you would like to try for some more winnings, you can bet up to £24 with the knowledge that you can possibly win up to 150 times your initial bet. In other words, there is a quite a range here that you can play with.
Special Features and Re-Spins
When you are playing this slot, you will notice that the reels begin moving. That means that there is a weapon sliding underneath them, which is similar to what fans of the video game might remember. This weapon has plenty of ammunition, but that only benefits you if it can shoot under reels two or four. When this happens, you also might end up with a winning combination made possible by a wild symbol. If this happens, you can double the total of coins that you won. This is a feature that you will want to make note of because you want that weapon to begin firing for you.
Another special feature to be aware of while playing Space Invaders is the free re-spin. This is activated when you have an UFO symbol land on the same reel with a weapon. When this happens, you will not only get a free additional spin, but you will also receive up to nine additional wilds. This re-spin can continue for as long as you keep hitting the same combination. Those re-spins are a great way to add to your win total without having to risk any additional money. The bet that you originally laid down will still be valid for the re-spin.
Mobile Version of Space Invaders
You can also play Space Invaders in its mobile form. To do this, just download your favourite casino onto your smartphone or tablet. Playtech developed a mobile version of this slot that looks great. You will enjoy the same great features, and the sound effects will be there as well. You will find yourself wanting to play this slot whenever you find that you have a moment to spare. You can play either the free or real money versions, so keep that in mind the next time you have some time kill between appointments.
Before You Start – Consider These Other Great Slots as Well
While this game might not have all of the bells and whistles that other slots today have, the sense of nostalgia more than makes up for it. The premise of the original video game was incredibly simple, and so is this slot. We find that this is a breath of fresh air. There is not a great deal that you have to be concerned about when you spin away with this slot. If the weapon fires, you are about to be in luck. The RTP is over 96 percent, so that is a good threshold that should encourage you to give it a shot for yourself.
Rating:

4.5/5

Powered by:

Microgaming

Play at:

Ladbrokes Casino
Rating:

4.7/5

Powered by:

igt

Play at:

LeoVegas Casino
Rating:

4.4/5

Powered by:

igt

Play at:

Mr Green Casino
While this slot might not be for everyone, we do feel that it is worth a try. We can't say that the theme is unique, as it is based on a video game made popular decades ago. That being said, it will create great feelings in all who play it. If you don't know what we're talking about here, consider playing the demo version to find out. Once you do, we are confident you will give it a try in its real money version. After that, give one of these other three slots that we have reviewed here for you a try. They are each unique and provide a new theme for you to enjoy.