Secrets of Christmas Slot Review – Playing Rules and How to Win
Its name gives the theme of this slot away. It does not have to be the holiday season for you to enjoy this slot, as its fun nature is contagious the whole year long. You will watch as Jolly Old Saint Nick makes his run through the reels, hopefully forming more than a few winning combinations for you in the process. There are bonus features, free spins, and much more to see on this slot that has 25 different pay lines. You will enjoy the animations on this slot and the storyline is pretty special as well. With more than 350,000 coins available to be won with each spin, it is time to learn how to play this one.
There are some special features available with this slot, so we have written this review to help you better understand how the game is played. With a theme based on the Holiday season, you will see gingerbread houses, candy canes, wreaths, and so much more. They all work together to hopefully make Santa Clause happy and in a giving mood. You might be encouraged to go ahead and play for some real money just to try your luck but consider taking a moment to play the demo version first. This is a great way to test out some of the features before you spend any money.
The Holiday Season Made Festive – Play This Slot for Free
It is only natural with a slot with as fun a theme as this one that you would want to dive right in and begin playing. While we applaud that holiday spirit, we feel that a more prudent course of action would be to take time to enjoy the free version of Secrets of Christmas first. This is where you see the same great animations as the real money version, all without needing to use any of your cash. You will be able to experience the same features and learn how the various bet lines work. This will get you ready to play for real money in due course.
Casumo Casino has a great bonus opportunity that you will want to take advantage of when you are ready to begin playing this slot for real money. They are going to match the first deposit that you make up to £25. If you just want to start with £10, that is fine as well. You will see your account balance double up before you even start. What's more is that Casumo Casino will also give you some free spins when you first open your account with them. This will get you in the holiday spirit as you start playing this slot!
Let's Look at the Game – Winning Rules
There are a lot of ways to win this slot, but you need to know the rules to figure out how you have done with each spin. With 25 different fix bet lines, there is quite a lot to look at after each spin. To begin, you will want to decide on how much you want to bet. This will help determine how many coins will be added to your account balance after each winning spin. We will tell you about the minimum and maximum bets for Secrets of Christmas in a moment. After you spin, look at each of the bet lines and the combination of symbols that are lined up there to determine if you have won.
Reading the Paytable
Nobody expects you to memorize all of the various ways to win with this slot. In fact, the developers themselves probably couldn't recall everything, so neither should you. This is what the paytable is for. You can access this information at any point. It will detail each of the 25 bet lines and tell you how many coins you will win for each symbol combination. There are several pages to this paytable so that you can learn about the pay out levels for each of the special features as well. This really makes the game more enjoyable because you will know what to be on the lookout for after each spin.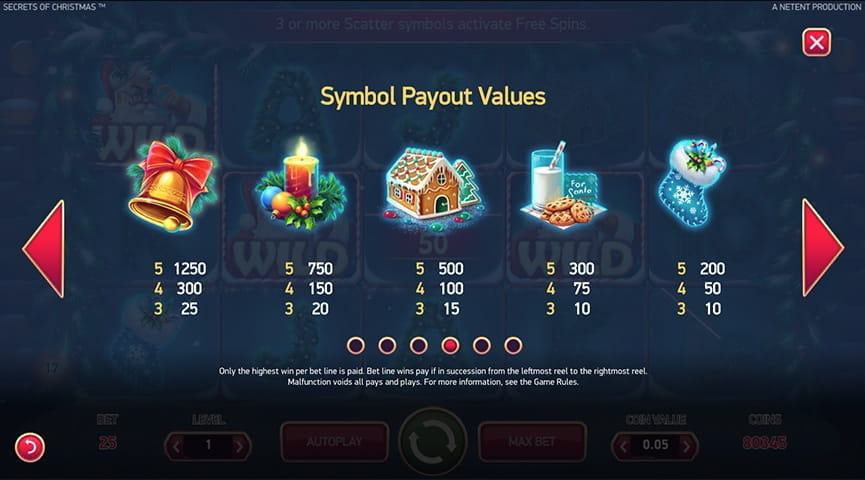 Advantages:
Enchanting Theme
Different Features
Bonus Game
Free spins
Small Wagers
Fun & Interesting
Disadvantages:
No Progressive Jackpot
Limited Extra Features
As you consider what bet you want to make for the next spin of Secrets of Christmas, there are some limits that you want to have in mind. First, understand that there are 10 bet levels for this slot. The coin values range from £0.01 to £0.50. This means that almost any level of player will find a bet that they are comfortable with. If you only want to risk a small amount of money, the minimum bet is £0.25. If you want to go a bit higher, and you enjoy risking some more money, you can bet a maximum of £125.
Special Features and Free Spins
This slot helps you to enjoy one of the most special holidays that we celebrate each year. In the process, there are a few special gifts and features that you will want to be aware of with this slot. One of those is the wild reel. You will find that these can cover the entire 2nd and 4th reels. The wilds will stay there until your free spins come to an end. There are also several different wild symbols in the form of candles and bells. If you get these, they will substitute for any other symbol. This will hopefully result in the winning combination that you need.
Secrets of Christmas is also quite liberal with its fee spins. You can receive between two and ten extra spins depending on how many scatter symbols you end up with. The giving continues with the multiplier effect. You will receive two times your original bet on any wins you accumulate during your free spins. Remember that the bet you had made that activated the free spins will remain for the duration of this round. You can really add to your coin total with this special feature.
Mobile Version of Secrets of Christmas
If you are playing this slot during the holidays, you are likely busy and on the go. That might remove you from the home for extended periods, but you can still play the mobile version of this slot on your smartphone or tablet. The graphics are great, and the sound effects will put others around you in the holiday spirit as well. You can choose to just play the demo version, or you can go for some real money. You will notice that all of the same features are still active in the mobile version, so you will not be missing out on anything. The impeccable gaming is as usual granted by NetEnt, which is (surprise, surprise) a leading game provider.
Before You Start – Consider These Other Great Slots as Well
At first glance, this seems like just another typical slot that has five reels and three rows. However, closer examination reveals just how unique this slot actually is. There are a number of symbols that invoke thoughts of the holiday season. You will enjoy the storyline, and this theme makes it fun to play any time of the year. You will also find that the RTP percent is well over 96. This will bring you a fair chance to win some money as you play. And in case you want to find out also other casinos that can offer you rich game catalogues, you can refer to our page dedicated to the best slot sites in the UK.
Rating:

4.6/5

Powered by:

IGT

Play at:

LeoVegas Casino
Rating:

4.6/5

Powered by:

NetEnt

Play at:

NetBet Casino
Rating:

4.3/5

Powered by:

PlayTech

Play at:

Mansion Casino
With 25 bet lines and such a cool theme, we feel that Secrets of Christmas is a great addition to the NetEnt brand of slots. The maximum bet might be a bit low for some, but even that brings an opportunity to win 350,000 coins. This is more than enough to keep most players excited about their prospects. You will want to play this one time and time again. When you are looking for something new, consider trying out one of the other three slots that we have reviewed here for you.