Rock'n'Roller Slot Review – 96.16% RTP and a Rocking Good Time
Rockn'n'Roller is a brilliant retro-style slot from Playtech with an Elvis Presley theme. Prepare to be hurtled back in time to the golden age of Rock and Roll, the 1950's. Elvis was the king, and his number ones could be heard on jukeboxes in diners all over America. This slot definitely pays the King of Rock and Roll justice. 96.16% is a comfy RTP to play with, while still leading you to some high payouts. If you want to flash the cash, you could stand to win £3500 on a single spin! We can just hear him saying his famous quote in his Mississippi drawl: Thank you very much!
If you want to have a go before laying all money out on the table, help is at hand. You can practice on an available demo, with zero cost to yourself. The gameplay is exactly the same, there is nothing to lose! On the other hand, you won't be able to keep what you win either. When you are familiar with the paytable and symbols, you're set for the real thing. So, put on your blue suede shoes and get ready to say 'viva las vegas'!
Test the Waters on Demo Mode
Regardless of your gambling level, we would not encourage you to jump headfirst into any casino game. You are here to have fun and win some money back for your investment. There is no better way than to play a game you are familiar with. The best way to do so? Practice on a demo version at your designated casino and see how the slot's features work. Once you know, you can go ahead and see how much luck you've brought with you to each spin.
Elvis was no stranger to the home of the casino. Rumour has it, he played an incredible 837 consecutive sold-out shows! He really was the king of Las Vegas. Luckily, it won't take you anywhere near that long to win big in this Elvis themed slot! When you're ready to put your money where your mouth is, you can't go wrong heading over to Casimba Casino. It offers a jaw-dropping offer for new customers, which includes 100% up to £200 to play with on your first deposit. If that is not enough, you could also grab up to 50 free spins, which can really make your bankroll count! What's more, you can get 50% up to £50 on your second deposit.
Overview of the Game
In true Playtech style, this a simple and easy to play casino slot. The rock and roll theme will really get your feet tapping. All the information you need to play is on one screen, so there's no going back and forth during gameplay trying to keep track of where your bankroll is going. The paytable is clear and easy to understand, so you will always know what the symbols are worth.
Like many classic slots, there are 3 reels and 5 paylines. You can play on 1 to 5 paylines and adjust coin value per spin. On the screen, you will see four easy to use buttons. On the left-hand side, you can toggle your coin value. In the middle, underneath the reels, is where you will find buttons named 'bet one', 'spin', and 'bet max'. Use these to easily choose how many paylines you want to bet on.
Understanding the Paytable and the Symbols
It is easy to refer to the paytable during gameplay, so you don't need to worry about memorising how much every single symbol is worth. In keeping with the game, the symbols are musically themed. The most valuable symbols are the platinum disks. Three of these on any payline could win you from 625 to 700 times your coin value. Three gold records will earn you 150 times your bet, while any three disks will give you 100 times your bet.
Otherwise, three guitars are worth 50X, three harmonicas 40x and three drums 25x. You will frequently land on any 3 instruments, which will keep you ticking over with a respectable 5 times your coin value. Likewise, landing on blanks will earn you twice your coin value.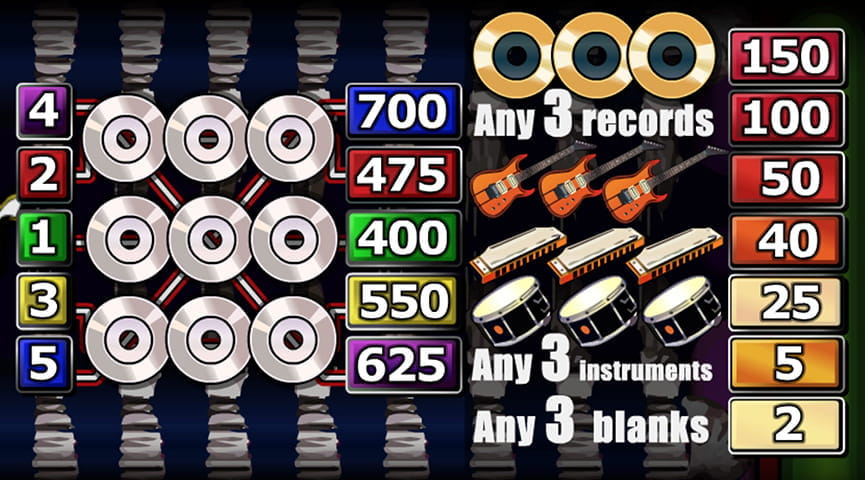 Advantages:
Rock and Roll Theme
Simple Gameplay
Win on Any 3 Blanks
Big Wins
Blanks Pay Out
Disadvantages:
No Autoplay
Unavailable on Mobile
No Bonus Rounds
Coin values can be set as low as £0.01 or as high as £5, depending on how you prefer to play. If you play on just the one payline you can bet as low as £0.01 per spin, really letting you go nice and steady to extend your bankroll. If you want to go for those big max wins, set the maximum coin value to £5 and you can bet as much as £25 per spin. There are no free spins or bonuses, but there are so many ways of winning. There are frequent low wins of 2 times your coin value, but the big jackpot win is a huge 700 times. That means that you could stand to win up £3,500!
What Special Features and Bonuses Does Rock'n'Roller Offer?
Rock'n'roller belongs to the ranks of old school slots, that do not sell themselves on bonuses and free spins. Instead, their forte is their simplicity. There are loads of ways to win in Rock'n'Roller. You can get lots and lots of small wins, due to the 3 blanks feature. If you land on 3 blanks, you can win 2X your bet. This might not be the most exciting feature in the world, but it will help you to keep on top of your bankroll. After all, you'll want to hold on to your money to reach those big wins.
We found that the slot did not pay out as regularly as we would have liked. The blank wins really helped to keep our wallet from getting too light though. It would have been a lot more fun to hit a few bigger wins. On the other hand, we didn't hit too many dry spells either. Rock'n'Roller might have a rebellious theme, but the gameplay is a bit tame. When it comes to betting, it doesn't always pay to be too rebellious though. All of those little wins can add up to a big sum. It may not be as thrilling a ride, but it could set you on the road to victory.
Is There a Mobile Version of Rock'n'Roller?
Unfortunately, this slot is not available to play on mobile devices at the moment. Being a fairly old slot, we don't think it'll be coming to your phone any time soon. This is no reason not to play it on your laptop though, so if you've got a wifi connection, you're golden. If you're peachy keen to play some mobile slots on the go, you can find some incredible games at LeoVegas. They have over 400 games to choose from and a great app. New players could receive a bonus of up to £300 and up to 30 bonus spins!
In Conclusion – and Some Recommendations
If you enjoyed this slot and are after another with a vintage theme, why not try Super Nudge 6000. This NetEnt slot has the appearance of a 1960's casino slot, with all the classic fruit and bell symbols you know and love. It boasts simple gameplay, sleek graphics, stacked symbols and the opportunity for a bonus. Another great musically themed slot is NetEnt's Guns N' Roses slot. We scored it an amazing 5 out of 5, because it has a great RTP of 96.98%, great payouts, and a really cool theme. There is also a bonus wheel feature and stacked wilds. Rock on!
Rating:

5/5

Powered by:

NetEnt

Play at:

LeoVegas
Rating:

4.7/5

Powered by:

Playtech

Play at:

Ladbrokes
Rating:

4.7/5

Powered by:

NetEnt

Play at:

LeoVegas
Overall, we really enjoyed playing Playtech's Rock'n'Roller slot. There are a few flaws – for instance, the lack of a mobile version and no autoplay or quickspin features. There are so many new slot games these days that have these features though, so if you want something a bit more up to date, head over to our selection of the best mobile casinos and slots. If you want an easy to play, no-frills slot with a cool theme, Rock'n'Roller has everything you need. Some more frequent high payouts would be nice, but we can't complain about the RTP of 96.16%. This is a slot worthy of the king of rock and roll himself. Viva Las Vegas!