Robin Hood Shifting Riches Slot Review – Playing Rules and How to Win
The notion of the rich needing to provide for the poor has been around for quite some time. Robin Hood, of course, pioneered this noble concept. Now, it is your turn to help distribute the wealth with this fun and innovative slot by NetEnt. It contains 5 reels and 3 rows, making way for 20 different ways to win. You will find that there is a nice range of bets to placed, so you don't have to risk too much money if you don't want to. There is also the patented Shifting Reels feature that has been built into this slot. You really must see this in action, so continue reading to learn more.
Robin Hood Shifting Riches is a lot that contains many twists and turns. This review is designed to let you know how the slot works and what you need to see on the reels in order to win some coins. The theme is contagious. It is also highly innovative, which can be expected from NetEnt, of course. Right down to the symbols that appear to come to life right before your eyes at certain points during the game. The background music will transform you to much a simpler day and age. To learn the finer details of the slot, you will want to play the demo first. This is where you can explore the different features and examine the various winning combinations found in the paytable.
Spread the Wealth – Play This Slot for Free
You might want to know all of the details about this game first, but this is a slot that you really just need to start playing to appreciate. It works like a traditional five-reel slot, but there are so any variables that make every spin exciting and enjoyable to watch. There are money bags to be had and shared around. Get one of these and you will see your coin totals go through the roof (ok, not literally, but you get what we mean!). The best way to appreciate all that Robin Hood Shifting Riches has to offer is by playing the demo version of the slot first. You can play as often as you like, all without spending any money.
If you want to enjoy some of the riches that this slot has to offer, you will want to play the real money version at some point. To get you started on the right foot, you should consider opening a player's account at Videoslots. You can unlock up to £200 and 11 wager-free spins. You can choose the amount of your first deposit and they will match it. This is a great way to begin playing this slot because you will double your account balance prior to taking even one spin. The casino will also give you some free spins with no wagering requirements. You can, of course, take a look also at the other impeccable slot sites in the United Kingdom.
Let's Look at the Game – Winning Rules
As mentioned, you will find 20 possible bet lines to win with this slot. This might seem like it can get rather confusing, but it is really easy once you get the hang of it. Your fist task will be to decide how much you want to wager on each spin. We will talk about the minimum and maximum amounts later on in this review. That information will help you to make your decision. You will then give the reel a spin and see where the symbols end up. You might even find out how to activate a special feature or two, and that will just make the occasion all the more special.
Reading the Paytable
If you want to see all of the possible winning combinations available in Robin Hood Shifting Riches you will just need to view the paytable. You can access this in either the free or real money versions by clicking on the button on the bottom left of the screen. You will find that there are about six different windows, each informing you of the possible number of coins you can win should you achieve the correct combination of symbols or features. You will want to refer back to this screen often. Remember that winning combinations on this slot are read from the left side of the screen, moving to the right.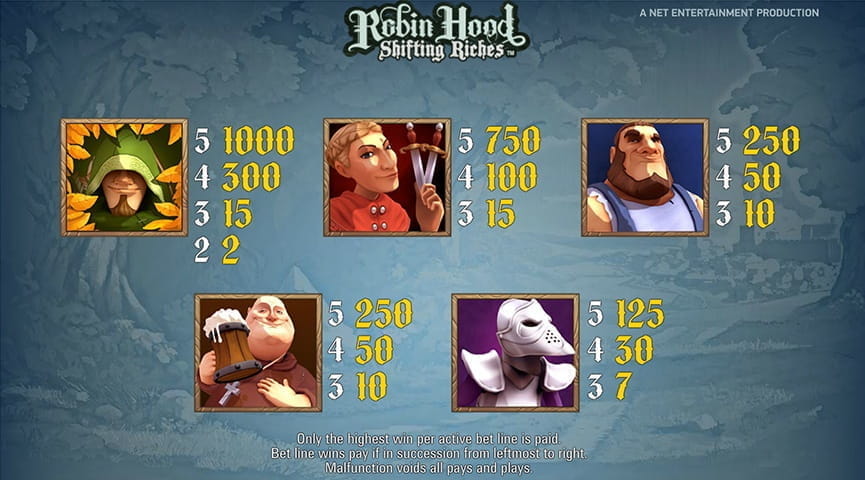 Advantages:
30 Ways to Win
Quick Spin Feature
Free Spins
Multipliers
Small Minimum Bet
Catchy Theme
Disadvantages:
Can be Confusing
Lack of Bonus
As mentioned, there are some betting limits with this slot that you will need to adhere to. If you do not want to risk much money, you will be pleased to find out that you can wager as little as £0.20 on each spin. If you want to try to win a bit more money, then you can bet as much as £100. The choice is always up to you, and you are welcome to adjust your bet with every new spin. You will choose between 10 different bet levels. You can also choose the value of your coin. Choices are 1, 2, 5, 10, 20 and 50 cents.
Special Features and Free Spins
This slot has shifting reels, which is a feature not seen in any other slot that we know of. In fact, we notice that the feature name itself has received a trademark, so that should tell you how special it is. You will notice this feature is activated every time that you win on a line. The reel will actually shift one whole position to the left. If you keep getting winning combination, the reels will keep on shifting. For every shift, you get a new multiplier up to a maximum of five. This is a great way to have some fun and really add to your win totals.
There are also money bags in this slot, and those can lead to free spins. In fact, you will receive 10 free spins if you happen to end up with four money bags in your chest. For every extra chest that contains money bags, you will receive 10 more free spins. When you begin your free spins, a character will be chosen. This character then functions as your extra wild symbol throughout the free spins round. It will then replace all other symbols for as long as your free spins last, with the exception of the free spins symbol of course.
Mobile Version of Robin Hood Shifting Riches
If you are hoping to play this slot on your smartphone or tablet, you are in luck. NetEnt has developed a wonderful mobile version of Robin Hood Shifting Riches. The animations appear in vivid colour, and you can easily see all three rows with each spin, as long as you turn your mobile device to it landscape position. This means that you do not have to worry about being in front of your personal computer to play this slot when you are in the mood. As long as you open an online casino that offers mobile support, you will be in business.
Before You Start – Consider These Other Great Slots as Well
This is one of the more innovative and creative slots that we have reviewed recently. The theme is based on a fairy tale that many wish would come true. The characters will take on a life of their own with each and every spin that you make. With a low minimum bet, nearly any level of player can get involved with this slot and feel comfortable with the risk they are taking. The RTP is quite high at 96.80 per cent, so we feel that players have a good opportunity to win some money.
Rating:

4.8/5

Powered by:

IGT

Play at:

Videoslots
Rating:

4.7/5

Powered by:

Ash Gaming

Play at:

Mansion Casino
Rating:

4.6/5

Powered by:

Novomatic

Play at:

NetBet Casino
Reviewing this slot was fun. We did not really find anything wrong with it, even though some players will undoubtedly wish that they could wager more money per spin. There are plenty of special features to build up the excitement, and the free spins are handed out quite regularly. Give the demo version a try for yourself. If you agree with us, you'll be playing for real money in no time at all. When you are ready for a change, consider trying out one of the other three casinos we have reviewed for you here. They are each creative in their own way.