Party Line Slot Review – Classic 3 Reel Slot with an RTP of 96.74%
Are you ready to get the party started? Put on your party clothes, shake up a cocktail and play with Playtech's Party Line casino slot will make you want to get your glad rags on. This game is a retro slot game with a colourful party theme. There is plenty to celebrate with an RTP of 96.74%. Will luck be on your side? If fortune is in your favour, you could stand to win up to 4000 times your coin value. If you're a high roller this is big news, as you could win a huge £20,000! If this puts you in the mood for celebration, read on.
In this Party Line slot review, we will get down to detail and tell you everything you need to know about Party Line. It's a simple 3 reel slot, but with the right knack, you can play it to your advantage. We think there's plenty to get festive about with this deceptively diverse slot. You can play low, play high, whatever your heart desires. You can turn a profit by accumulating lots of small wins. If you prefer a more extreme game, you can even play big to hit the jackpot. Find out all about the paylines, symbols and how much you can bet. We're sure that you'll want to throw a party of your own with the winnings you could make!
How to Play Party Line?
We want your party to go off with a bang and not a whimper. That's why following the rules of slots is essential before starting to play them. Knowing the paytable and all possible features that can occur during gameplay is always beneficial – this way unpleasant experience is minimised. We also advise you to go through the technical details of the slot by checking its volatility and return-to-player rates.
When you're prepared to go all out, we have a trusted online casino recommendation for you. Duelz Casino is offering a very attractive welcome bonus for new players. You could receive a bonus of up to £100, plus 100 free spins. This is an incredible offer, that could give your bankroll a massive boost, allowing you the chance to win even more! Duelz has a wide variety of different slot games to offer – from classic 5 line slots to progressive and multispin slots.
Game Overview
Next in our Party line slot review, we'll have a look at the details which make this game exciting. All of the information you need to play is on one page, so it's simple for you to keep up with your betting. The party theme is really vibrant and energetic, giving the game a happy atmosphere. Unfortunately, there are no quick spin or autoplay options. This is a small drawback, as you press the same button can get a little repetitive. It's not a big enough issue to dampen the party though! There are 3 reels and 5 paylines. You can bet as low as 0.01 coins per spin if you play on one payline. If you want to amp up the volume, you can also bet as high as £5 per pay line, resulting in a bet of £15 per spin! You won't find any bonus rounds or free spins here. Neither will you find, scatters, wilds or a progressive jackpot. Party Line proves that you don't need any of these bells and whistles to have fun, or to boost your wallet. However, if you want more diverse action, don't hesitate to check the top online slot sites in the UK!
Guide to the Paytable & Symbols
The paytable is really easy to refer to when you're in the middle of playing, as everything is on one screen. We think that this is a great feature that can be overlooked nowadays, particularly in slots that are confusing and overcomplicated. All of the symbols are party themed. The most valuable symbol is the party hat. If you land on 3 of these playing on all paylines, you could win 4000 times your coin value – an enormous £20,000 on just one spin! Playing on all 3 paylines, you will need 3 of each of the following symbols to win. In descending value, there are saxophones, pianos and boomboxes. Next, there are coloured cocktail glasses. There are red ones, blue ones and yellow ones, with red being most valuable and yellow being least valuable. You can still win if you land on any combination of coloured glasses, and this could be worth up to 15 times your coin value.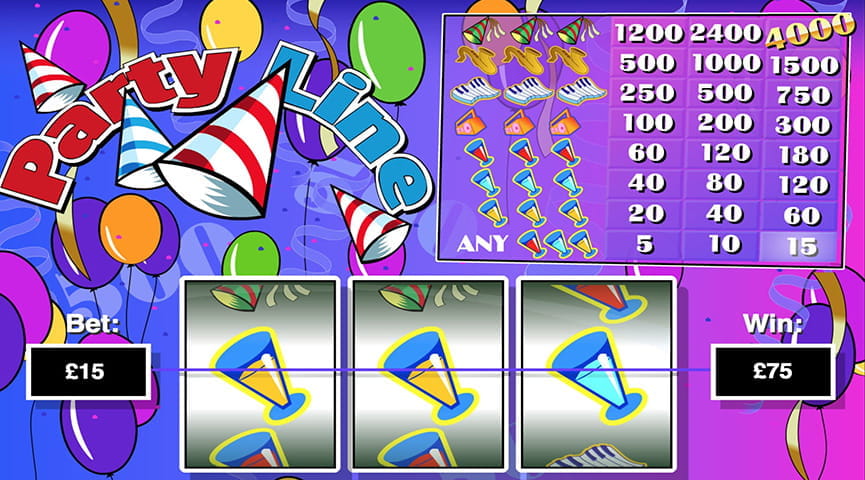 Advantages:
£20,000 win per spin
Simple Gameplay
Colourful Theme
Clear Layout
Engaging Gameplay
Disadvantages:
No Bonuses
No Mobile Version
No Free Spins
The lowest you can set a coin value to is £0.01, though as you have to play on all three pay lines the minimum bet per spin is £0.03. This is a great slot to pass some time on, as this low bet range means you can play your bankroll out until the end of the night! You can max out the coin value at £5, so £15 per bet and this is when you stand to really make the big money. When you hit this, it's time to have a real-life party of your own!
Does Party Line Have Any Bonus Features?
Unfortunately, Party Line seems to come from a more innocent time, long, long ago. Nowadays we want bonus after bonus, extra rounds and free spins. There is no beating around the bush. You will not find all of these bells and whistles in Party Line, but Fortune Hill can compensate. Instead, the real bonus is right in front of your nose. This is not one of those ten a penny retro-style games. Neither is it one of those poor imitations of an arcade game you played as a child, only serving to tarnish the memory. No, this is the real thing. If it were a physical thing, I can imagine finding it in a dusty old attic and taking it on Antiques Roadshow. In this modern hipster age, it is the real needle in a haystack – genuine vintage.
Mobile Options
As it is now quite an old game, there is no mobile version of Party Line slot. This shouldn't discourage you from playing this game though, as it's great fun on your desktop computer or your laptop. There are of course newer and better slots to play on the go. If a mobile slot is what you're really after, we have plenty of help for you. Whether you want the best casino app or are looking for a mobile slot to suit your tastes, we've got you covered. Head over to our dedicated page for mobile casino sites, where we're sure you'll find everything you're looking for.
Is The Party Over? Or Has It Just Begun?
Playtech's Party Line slot hasn't exactly kept up with the times. We would like to see some more interesting returns from the game. A scatter symbol or a wild symbol would be a great way of livening things up and improving the player's chances. If you are after a more modern colourful game, Playtech has many more modern slot games. They have really capitalised on their highly successful Age of Gods series, which now has seven different titles! We really like the Age of Gods Fate Sisters game. It's a 5 reel, 25 line slot featuring free spins, a progressive jackpot and it's available on your phone!
Rating:

4.8/5

Powered by:

NetEnt

Play at:

Mr Green Casino
Rating:

4.5/5

Powered by:

Microgaming

Play at:

Playzee Casino
Rating:

4.9/5

Powered by:

NetEnt

Play at:

Casumo Casino
Initially, we were unimpressed by this slot. After a little while though, we were surprised to find ourselves warming to it. It isn't the most exciting or remarkable slot game by any means. However, it is simple. Everything you need to know is on one page, so you don't need to keep flitting back and forth between the reels and the paytable. Without random bonuses and free spins to divert your attention, you can actually keep track of how much you are betting. The game is easy and logical and completely stripped back to what slot machines exist for – making bets. Of course, you can always head over to the best casino sites in the UK for more diverse slot action!