Pamplona Slot Review – Playing Rules and How to Win
While many people might have running with the bulls on their bucket list, few are actually daring enough to actually make the journey. That's ok, because now you can go to Pamplona in spirit as you play this innovative slot launched by IGT in 2013. You will not find flashy graphics or animations with this one, but you will find plenty of chances to win. In fact, there is an impressive total of 1,024 fixed bet lines built into this slot, so you will stay busy trying to spot potential wins after each spin that you make. Running with the bulls has never been so fun!
Getting through a bull run takes a bit of skill and a lot of luck. So it is with this slot as well. There are some finer details of this game that we think you will want to know about prior to playing it. That is why we have written this Pampolona slot review for our readers. We will detail what the various symbols you will encounter in this game mean, and we will let you know how to play and to spot a win when it comes up. You will also read about the different special features that we feel make this slot worth playing!
Go To Battle With the Bulls – Play This Slot!
Pamplona slot is a game that you really need to see. It contains an amazing structure and features that you can and will eventually be playing for real money. The advantages are many and we will try to give you all the details in our review. You will be able to spot many of the different ways to win, as well as take advantage of previewing the special features that can really win you serious money once you start playing. This is a great way to gain a better understanding of the game.
Running with the bulls can get you quite far in our opinion. When you are ready to try to win some money to compensate you for your efforts, you will want to head over to Casumo Casino. It is here that you will get a welcome bonus offer on your first deposit. In fact, you will double your initial deposit of up to £25. This is an excellent way to get some additional cash that you can use to play quite a few spins of Pamplona. In addition, the casino will give you some free spins that you can use right away on certain slots as well.
Let's Look at the Game – Winning Rules
Go ahead and open up this slot and you will notice that it has a traditional feel to it. It has the five reels and three rows that you are probably used to. Upon closer examination, you will notice that there are 1,024 different pay lines. That is a great feature because it adds to the excitement and anticipation that you will feel with each new spin. You will begin playing by determining what you want your bet to be on your next spin. Once you set that, you can click the spin button and then watch as the bulls hopefully give you what you need for a win.
Reading the Paytable
Some of our readers might be wondering right about now how they can possibly handle 1,024 different pay lines. You do not need to worry about that, as the lines are calculated automatically. However, you will want to know what you are looking at and how many coins you can win with each symbol and winning combination. For that, you simply need to take a look at the paytable. Here is where you will be able to spot all of those many pay lines, along with what symbols you need to be a winner on any one of them.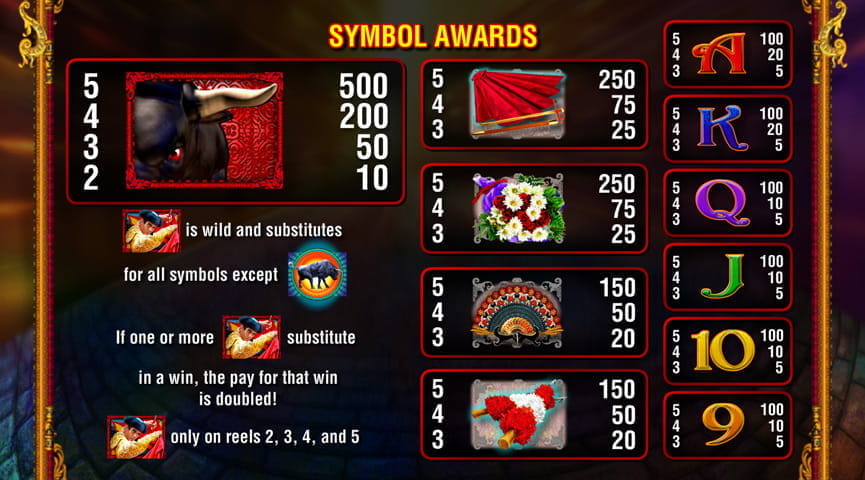 Advantages:
1024 ways to win
Quick spin feature
Good bet range
Free spins
Expanding Wilds
Fun to play
Disadvantages:
No progressive jackpot
Few bonuses
Playing Pamplona is actually quite easy. You need to start by deciding on your bet. The choice here is up to you, of course, but you do need your wager to fall within a certain limit. For this slot, you can bet as little as £0.50. This is just enough for most players, keeping in mind that you can win quite a bit even with a minimum bet. If you want to go for even more money, you will want to risk a bit more. With Pamplona, you can bet as much as £250 on any spin. Keep in mind that you are able to change your bet with each new spin as well.
Special Features and Free Spins
With this slot, there is the El Toro Bonus that we want to tell you about. This bonus game can be activated when you end up with three El Toro (bull) scatter symbols. They can appear on any of the reels, and this will lead you to the free spins round. You will get a multiplier effect on those free spins during the bonus round, so that is something to look forward. For example, you can get five free spins and an attached multiplier of 20. You are in control of how many spins and the multiplier that you get.
Let's say that you decide you want 15 free spins. That will give you quite the opportunity to add to your coin total, all without having to wager any additional money. With those 15 free spins, you will get a multiplier of 10. Even if you just win a few of those spins, you can end up with quite a bit of cash being added to your account balance. Keep in mind that you can also get more free spins during the bonus round by landing three or more scatter symbols once again. This feature can only be activated three times.
Mobile Version of Pamplona
When you are ready to play this slot, you don't want to feel confined to your desktop computer. You might be waiting for a meeting to start. Having a few minutes to spare, you can easily get in a few spins of your favorite slot. Thankfully, IGT has developed a version of this slot that is meant just for the mobile platform. The reels easily fit on the smaller screens associated with smartphones and tablets. Just tilt the screen to landscape mode and you will be on your way to some great spins in no time at all.
Before You Start – Consider These Other Great Slots as Well
The graphics associated with this particular game are not the greatest. We will give you that. They are a bit outdated and static. That notwithstanding, there are still some great features built into this one that we feel make it worth playing for at least a few spins. The RTP is over 96%, which we feel is more than adequate to level the playing field a bit. You will love the background music as well. That really helps to set the mood as you go after the bulls and the prizes!
Rating:

4.6/5

Powered by:

PlayTech

Play at:

Ladbrokes Casino
Rating:

4.4/5

Powered by:

Microgaming

Play at:

Grosvenor Casino
Rating:

4.4/5

Powered by:

Microgaming

Play at:

Playzee Casino
We do notice that the bonus round is really just another way of offering free spins. Some players would have liked to have seen something different there, but we like the fact that you are in control over how many spins you get based on the multiplier that you choose. That adds a fun element to the slot that is not evident in many others. Give this one a few spins and see what you think. After you have done that, take a look at these other slots that we have recently written about for you. They are each unique in their own right, so they are worth a few spins as well. However, should you look for the best slots out there, we encourage you to go through the slot selections of our top 10 UK slot casinos!