Ocean Princess – The Slot with an Incredible RTP
Welcome to our Ocean Princess slot review! With an RTP of 99.07%, Playtech has brought us a slot that is absolutely unmissable. Retro sea-themed graphics give this unusual slot a quirky look. Ocean Princess is unique with its simple but strategic gameplay. You'll want to familiarise yourself with the paytable, as with the hold feature there are plenty of choices for you to make. This makes Ocean Princess a diverse game, great for risk-takers and those who want to hold on tight to their bankroll. So what are you waiting for? Grab your finest set of speedos and take the plunge!
All the information on this page will allow you to understand how the Playtech-powered slot game is played and what we really think of it, you can even try your luck with a free to play demo version at a casino of your choice, before spending real money. This will allow you to witness first hand how the slot works, how long it takes to trigger the bonus features, and just how easy it is to unearth some big cash in the bonus game.
This game can be a bit of a head-scratcher, but luckily help is at hand. Be sure to read over the paytable carefully, as this game has two simple rules. Firstly, you will spin on the first reel only. After that, you can choose to hold 1, 2, or none of the reels, while the rest spin. With some tactics, you can choose between frequent wins and high payouts. Dip your toes in with the free demo below, before diving into the deep end!
Play Ocean Princess Slot for Free
Get to grips with the tactical gameplay before you part with any of your own hard-earned cash with the demo game where this option is possible. The hold mechanic lets you choose between winning big or winning frequently. This way you can decide what kind of player you want to be without losing a penny. Splash the cash or play all day – the demo gameplay is exactly the same as the one for real money, so you can hone your technique before depositing.
If you enjoyed playing the demo version (where available), why not play it for real. We recommend The Sun Vegas Casino, where you can claim an welcome bonus of 100% up to £300. There are many more fun slot games on offer there too.
Ocean Princess Slot Game Overview
Ocean Princess is an underwater odyssey ruled by a beautiful blonde mermaid and her blue fishy princess pal. The text and graphics are clearly laid out. The background is a calming and deep ocean blue. On the left side of the control panel, you can adjust your bets from £0.01 to £5 per line. As there are 5 rows, multiply this number by 5. If you make a bet per line of £5, playing one line, your total bet will be £25! The Bet One button lets you choose how many lines you want to play on. You can bet on up to 5 lines. This means that you can increase your total bet up to £125!
Game Paytable and Symbols
The nautical theme continues in all of the symbols. There are colourful starfish, crabs, seahorses, anchors, and turtles. You can see how much these are worth by looking at the payable. The symbols' values are colour-coded, from red, yellow to green. Their value also depends on what shape they are. The regular symbols descend in value in this order – starfish, crab, seahorse, anchor.
There are also two types of special symbol. There is a wild symbol, which is the crown belonging to the ocean princess herself. You'll be lucky to land one of these, as the crown can stand in for any other symbol, increasing your chances of a win. Not only this, but they are also equal to the value of the bet itself – so you can't lose! If you are fortunate enough to get 3 crowns, you stand to win 1000 times your line bet.
There are also the turtle symbols, which might not be high in value, but are definitely your friends. They are scatter symbols, which means that you will always win something if you see a turtle. One turtle is worth 1 times your line bet, 2 turtles are worth 2 times your line bet and 3 turtles are worth 5 times your line bet. These aquatic dudes will keep you afloat and make sure your game goes swimmingly.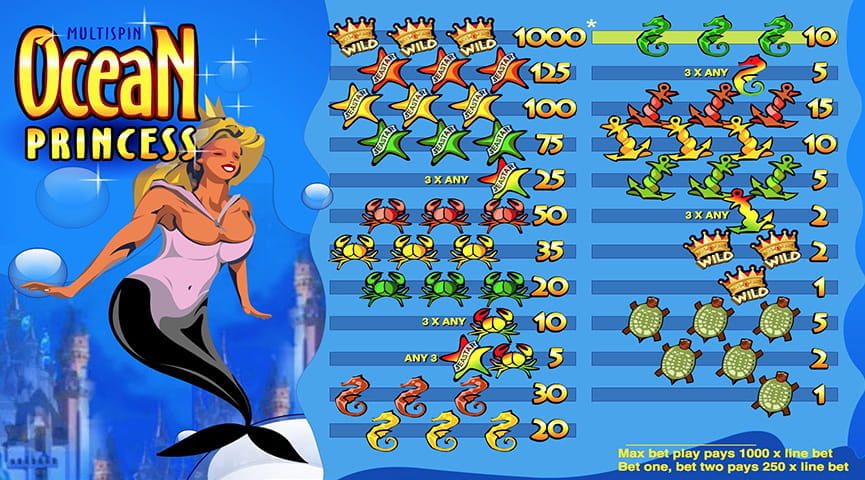 Advantages:
Tactical Gameplay
Wild Symbol
High RTP
Choose Your Symbols
'Slot Hold' Feature
Nice Graphics
Disadvantages:
Poor Graphics
No Auto Play
Making The Best Of The Hold Feature
Ocean Princess is a deceptively simple game to play. There are no bonus rounds in which to rake in the coins. Instead, the fate of your bankroll lies firmly in your hands. Using the Hold feature, you can decide how much risk to introduce into the game. For instance, if you want to make sure you have a steady trickle of winning bets, you'd do best to aim for the common low-value symbols when picking which reel to hold.
The anchors land frequently, so these are a pretty sure bet to pick, but won't give your wallet a very big boost. The red seastars are very lucrative, but your odds of landing three of those aren't so high. So you see, this unusual slot does require some thought if you don't want to see your bankroll washed away. Try and find the sweet spot, and of course, those turtles will give you a helping hand.
Ocean Princess Mobile Version
Our Ocean Princess slot review might disappoint you right now… the game is sadly not available to play on mobile, and as it's not a recent slot, it doesn't seem like it will be coming to mobile any time soon either. Despite this, with such a high return to player, it is completely worth your while to play it at your computer or laptop. It is the ideal slot for whiling away a lazy Sunday, especially when you can bet as low as a penny to spend your bankroll all day or as high as £25 for some quick wins.
Conclusion and Other Recommended Slots
While Ocean Princess does not boast bonus rounds and modern graphics, it is certainly worth investing some time and effort into getting to know it. Once you have figured out how to play the multispin feature to your advantage, you are sure to be raking in the winnings soon. An RTP as high as 99.07% is almost unheard of, so we definitely won't be turning our noses up at that. On the positive side of things, without so many flashing lights and spinning bonuses, the gameplay is methodical and easy to play. It might be old school, but why fix what ain't broke?
Rating:

4.6/5

Powered by:

Microgaming

Play at:

Betway
Rating:

4.6/5

Powered by:

NetEnt

Play at:

LeoVegas
Rating:

4.5/5

Powered by:

Playtech

Play at:

Ladbrokes
In our opinion (and as we showed you in our Ocean Princess slot review), this is a great slot for those players who want to be in complete control of their options, letting the small wins keep your bankroll ticking over. If you're looking for something with bigger payouts and some more features, check out some of our recommended top slots for UK players.