Nrvna Slot Review – Playing Rules and How to Win
We can almost guarantee you that Nrvna is unlike any other slot that you have played in the past. It is truly an out of this world experience that we think you will really enjoy. It was launched in 2016 and employs a hyper modern theme to it that is combined with a new age feel that will leave you mesmerized. There are 5 reels and 3 rows incorporated into the design of this slot, along with 30 different ways to win. You will also have the opportunity to win some free spins and to activate the Nrvna wheel feature if you have the right combination of symbols.
If you really want to learn the finer points of this slot, you will want to read through this review. The theme alone makes it worth playing, as you will feel as if you have been blasted to a galaxy far away while feeling completely at peace about the entire situation. The background music will put you in the playing mood, and there are plenty of different ways to win so you will always feel some anticipation with each spin. To begin the learning process, we want to encourage you to play the demo version a few times. You will also want to examine the paytable and determine what winning combinations you would like to see show up as you begin playing for real money. Another possibility that we want to give you, is to enjoy the best slot sites that we reviewed and can wholeheartedly recommend as well.
Blast Into Space – Play This Slot for Free
The finer details will come later in this review, but for now we want to emphasise something. The slot will give you all of the different symbols in action and you will see how they can work together to result in a winning combination for you. You will also learn about the Nrvna wheel and how that special feature can be activated. You can do all of this without risking too much money in the process though. We advise you to start with low wagers and eventually to climb higher.
When the time comes to consider playing for real money we can give you few tips. You do not have to play with much, remember, as there is a low minimum bet associated with this game. We will talk about that more later. For now, you will want to make your initial deposit at Videoslots Casino. They offer up to £200 on first deposit along with 11 wager-free spins. We are talking about a great deal here.
Let's Look at the Game – Winning Rules
With 30 different bet lines to be concerned with, there are many ways to win. This combined with the unique look to this slot might make the game confusing at first. We assure you that this feeling will pass shortly after you have completed your first few spins. You will begin by deciding what amount of money you wish to bet. Remember that the choice there is entirely up to you. It is possible to change your bet with each and every spin, so keep that in mind as well. Once you've set your bet, spin the wheel and see what symbol combinations you end up with.
Reading the Paytable
The pay table is where you can learn how many coins you can win with each bet line that you hit the correct number of symbols with. This is how you can find out your total winnings as well because you are able to add up the wins from multiple pay lines. Remember that winning combinations are the symbols that appear from left to right and not the other way around. You can look at the pay table at any time by clicking on the information button that is always located on the left corner of your screen. This is a great way to add enjoyment to the game as you anticipate each spin to come.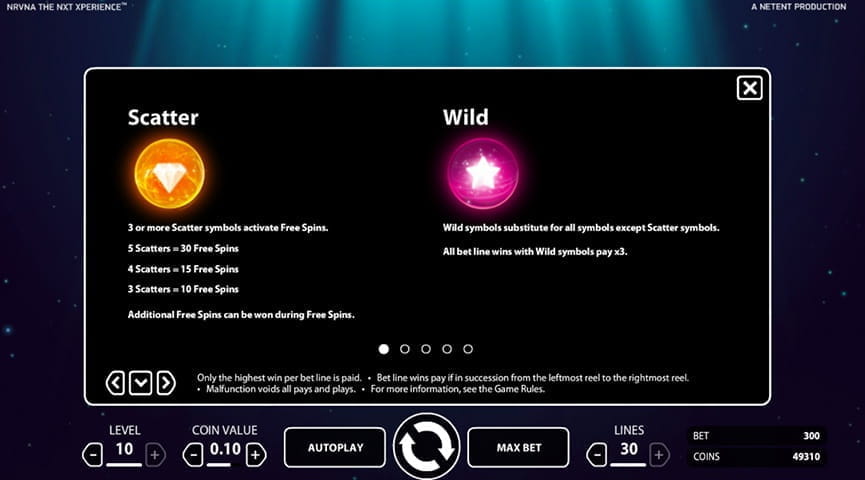 Advantages:
30 Win Lines
Quick Spin
Free Spins
Multipliers
Small Minimum Bet
Catchy Theme
Disadvantages:
Complicated
Lack of Bonuses
As with most any slot, there are limits to what you can bet. Let us talk about the minimum bet for Nrvna first. Amazingly enough, this is one of the last remaining 'true' penny slots on the market. That's right – the minimum bet is only £0.01. This means that almost anyone can spin away freely without worrying about the risk. If you want to risk a bit more to win some more, you can bet up to a maximum of £150. The coin values for this slot range from £0.01 to £0.50.
Special Features and Free Spins
You can earn free spins with this slot when you find three or more scatter symbols on the reels after a spin. This will activate a certain number of free spins depending on the number of scatters that you actually ended up with. Three scatter symbols give you 10 free spins, while you will get 15 free spins if you had four scatter symbols. Get five scatter symbols and you will actually receive 30 additional free spins. This is a great way to rack up some serious winnings, so be on the lookout for this feature to be activated.
When you are in free spins mode, you will notice the Nrvna wheel is activated. This is a wheel that has two sperate rings attached to it. One carries a multiplier effect of between 2 and 10. The other one will give you additional free spins depending on the number attached to it. This is similar to the wheel of fortune wheel, and the result of each spin will help determined how long the round actually lasts for you. The multiplier effect is a great addition here. Keep in mind that you cannot change your bet during the free spins round as it will stay the same as your initial wager.
Mobile Version of Nrvna
Even though this slot consists of 4 rows, NetEnt were still able to create a mobile version that works. You can play this game on your smartphone or tablet, no matter where you might be. This is a great added bonus, as the slot itself contains so many great features that add to the playing excitement. You might have a few minutes to kill between appointments, so this is a great way to pull out your phone and enjoy yourself while you wait. Remember to turn your screen sideways so you can see all four rows!
Before You Start – Consider These Other Great Slots as Well
This slot looks absolutely gorgeous when played on a mobile device. Thankfully, NetEnt has developed a version just for that platform. The three rows play well on the smaller screens but do remember to tilt your device to its landscape mode. You will find the same visually stunning graphics and electric music that is present in the desktop version, along with the features that have made this slot so popular. With 30 different ways to win, this is a great way to have some fun while you are away from the house.
Rating:

4.5/5

Powered by:

NetEnt

Play at:

Mr Green Casino
Rating:

4.6/5

Powered by:

IGT

Play at:

Videoslots
Rating:

4.3/5

Powered by:

Microgaming

Play at:

777 Casino
While we admit that Nrvna appears a bit cluttered and confusing at first, we find that it really grows on you. It is easy to learn, and it is so unique that you can't help but look forward to the special effects that occur with each spin. Even the name is so unique that your friends will wonder what in the world you are playing and having so much fun with. Remember to try out the demo first before playing for real money. When you are ready to move on, we have reviewed three more slots here that we think that you will really enjoy as well.