Neon Staxx Slot Review – Playing Rules and How to Win
Neon Staxx by NetEnt has a fun neon look that all generations of slot players will enjoy playing. This game has 5 reels and 4 rows, providing a respectable total of 40 paylines for players to benefit from. All levels of players are accommodated by this game, as spins can be had for as little as 20p and as much as £100. To play this slot, you will want to know about the SuperStaxx feature. This is a special symbol that will appear on the reels from time to time. These can also lead to free spins, which add yet another way to win in the end.
Similar to our Couch Potato online slot review, this review is meant to give you the complete rundown you need before playing Neon Staxx. The slot itself is based on an 80s retro theme that creates a fast-paced and exciting playing environment. You will want to turn up the sound as you play this slot, as it comes complete with an electronic synthesizer playing in the background. With the demo version, you can sample all of the features before you start playing with real money. Take a look at the paytable and see all of the many ways that you can win. We feel it is best to try out the slot before you take the next step, so enjoy!
Get in a Retro Mood – Play This Slot for Free
We will get to all of the necessary details of this game here shortly, but first, let us talk about the demo version. It is here that you can learn exactly how to play the slot, from its SuperStaxx feature to how to earn free spins and everything in between. Because the demo is meant to give you the same exciting feeling as you would have if you were playing with real money, it is definitely a great way to get introduced to the game. There are many levels and paylines to consider, so take your time and get familiar with the inner workings of Neon Staxx.
When you have sufficiently wet your feet with the demo version, you might be ready to move onto playing for some real cash. NetBet Casino is a great place to do just that, and they will give you up to 500 free spins on your first deposit with bonus code NBWELCOME500. It is important to mention that you do not have to deposit a large amount in order to get the spins. It is always better to get a little something for free than to get nothing at all! Of course, your choice is not limited, and you can explore some of our other trusted UK slot sites.
Let's Look at the Game – Winning Rules
There are 40 different ways to win this slot. While that might seem like a bit much to wrap your head around at first, the game is surprisingly simple in its approach. You set your bet, spin the wheel, and then you win if the same symbols appear on one of the paylines from left to right. To add to the excitement, there are also some special wild and scatter symbols added to the mix. These will double as any character that you need in order to complete a win. To get free spins, the Neon Staxx feature has been added.
Reading the Paytable of Neon Staxx Slot
With this slot, it is pretty simple and straightforward to determine how many coins you will receive after each spin. You will need to have three or more of the same symbols along a stable payline in order to win. At any time during the game, you just click on the information button and you will be able to see exactly where those paylines are. There are times when you are extra lucky and get the requisite number of identical symbols on more than one payline. When that happens, you can add up all of the coins to get a combined total for your win.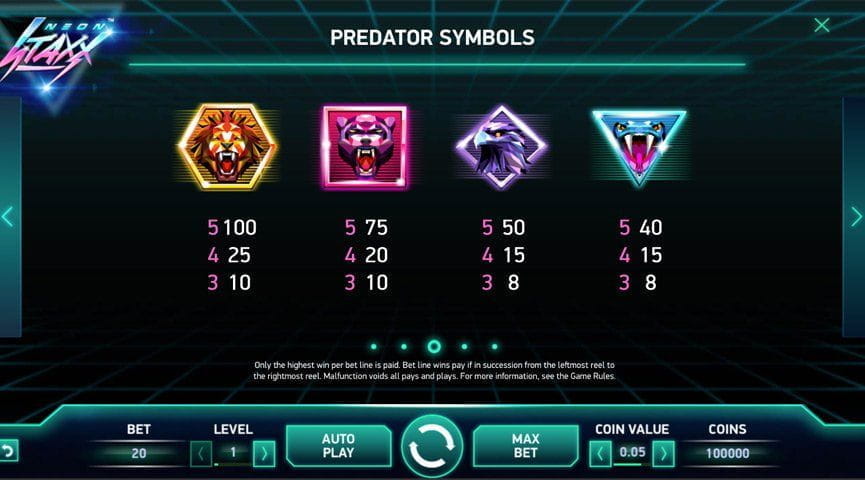 Advantages:
40 ways to win
Quick spin feature
Use spacebar to spin
Check your game history
Small minimum bet
Fun to play
Disadvantages:
Can be confusing at first
Lack of bonus chances
With Neon Staxx, you easily adjust your bet up or down. You simply need to change the bet level and coin value indicators that are easily located on your screen. You can choose from a bet level of one to ten, while the coin values range anywhere from £0.01 to £0.50. You will simply need to use the bet level to determine how many coins you want to bet based on the value that each coin will be worth. The minimum bet for this slot is £0.20, while that can be increased all the way up to £100.
Special Features and Free Spins
If you like to earn free spins, this is the right slot for you. In fact, the possibility of earning free spins is built right into the game with the unique Super Staxx feature. Hit the right combination of symbols by getting a Super Staxx and you could get as many as 20 free spins. When playing for free money, that can be really exciting! There are also wild and scatter symbols added into the mix on some of the reels, allowing you to make up for a lack of identical symbols.
When playing this slot, you may find that you get 3 or more scatter symbols showing up on any of the 5 reels. This is a great thing because free spins will be activated when this happens. For 3 scatter symbols, you will find yourself with 10 free spins. That goes up to 15 free spins for 4 scatter symbols and 20 free spins with 5 scatter symbols. As mentioned, the Super Staxx feature can be activated randomly at any time. When it is, identical symbols will be stacked up on your screen, giving you yet more free spins.
Mobile Version of Neon Staxx
Even though this slot consists of 4 rows, the developers were still able to create a mobile version that works. You can play this game on your smartphone or tablet, no matter where you might be. This is a great added bonus, as the slot itself contains so many great features that add to the playing excitement. You might have a few minutes to kill between appointments, so this is a great way to pull out your phone and enjoy yourself while you wait. Remember to turn your screen sideways so you can see all four rows!
Before You Start – Consider These Other Great Slots as Well
This is a traditional 5 reel slot that comes with 4 rows. The look and feel of the game will have you going back to the 80s, and that cool factor alone makes it worth playing. The retro-oriented graphics are more exciting than many other slots on the market today, and the added sound effects create even more appeal as well. With an RTP of 96.9%, there are some good opportunities out there to make real money with Neon Staxx. As there are more than 40 different ways to win, we feel this slot is worth playing.
Rating:

4.8/5

Powered by:

NetEnt

Play at:

888 Casino
Rating:

4.3/5

Powered by:

Microgaming

Play at:

Betway
Rating:

4.4/5

Powered by:

Microgaming

Play at:

Betway
When it is all said and done, Neon Staxx is a worthwhile addition to the slots genre in online casinos. It has a unique theme that will help players escape boredom, and there are more than a few different ways to win. This helps to build up the excitement. This is a relatively low limit slot, so you won't get rich here. That being said, this is a slot that you should consider playing when you have time. If you want to move out of the 80s, consider some of the other slots we have listed here as well. If you are interested in more slots, you can check some of the newest slot games that are available at the newest slot sites in the UK.