Lucky 8 Line Slot Review– Everything You Need to Know About This Retro Slot
The original Lucky 8 Line was launched in 1989 as a physical video slot machine, only to be made available online by NetEnt as a vintage slot that can be played from your PC. When made available for desktop computers, nothing changed about the look or feel. It's a very simple classic slot that doesn't have all of the frills associated with other slot games, aside from multipliers that can go as high as x1000. If you like it basic without any of the extras, then this just might be the game for you.
On this page, you'll find what you need to know about this classic. If you ever played the physical slot machine, then you know what to expect. However, the internet version gives you a bit more help and understanding as to how the slot works and what to expect when it comes to winnings. If you've never played it, you are in luck because you will get all of the information you need before you lay down real money on the game. In other words, you get to make an informed decision before you make your move.
Free Demo Play – Get a Feel for the Game
When playing the demo game gives you the chance to experience the slot, without spending your own money. But you will find that it's very basic. It is just as no-frills as the actual real money version of the game. There are no bonuses or free spins, just symbol combinations that win coins. It's all about the coins because they translate into money and you can win up to 64,000 of them. That is some serious cash. When playing the demo, however, you are given test cash that provides the opportunity to learn about the game and how often it hits, which is rather often. The more it hits, the more fun it is.
If you want to play for real cash, Royal Panda Casino is one that carries this game. For new players, Royal Panda offers a welcome bonus of up to £100 if you make a deposit between £10 and £100. Of course, this is subject to how you make your deposit and other rules on Royal Panda, but that is a lot of free cash to put down on the slot, especially as you are getting used to the game and meeting wagering requirements that will allow you to cash out your winnings.
A Look at the Game – Features, Rules, and Paytable
The game features are rather basic. You can bet a single line or bet all 8 lines. If you click the "Bet Max" button, all of the lines are selected for you and the game will go ahead ad spin. If you want to turn on autospin, you can do so by clicking "Auto" at the bottom of the window. Lucky 8 Line can be set to do 1,000 auto spins, which is one of the highest auto spin allowances in online slots. If you click the wrench at the bottom of the window, you can set the game the way you want it, including fast play that makes the reels spin faster.
A Glance at the Paytable
Looking at the paytable, it is very simple to follow. You have fruits, numbers, and other symbols that, when landed in combinations of three, will award you coins. The paytable tells you how many times your stake you will be awarded. For example, three sevens will give you 200 times your stake. Land nine sevens on all three reels and you earn 1,000 times your stake. There are many opportunities to grow your money with this slot, despite it being a classic that isn't as visually appealing or as busy as some of the slot games that are out there.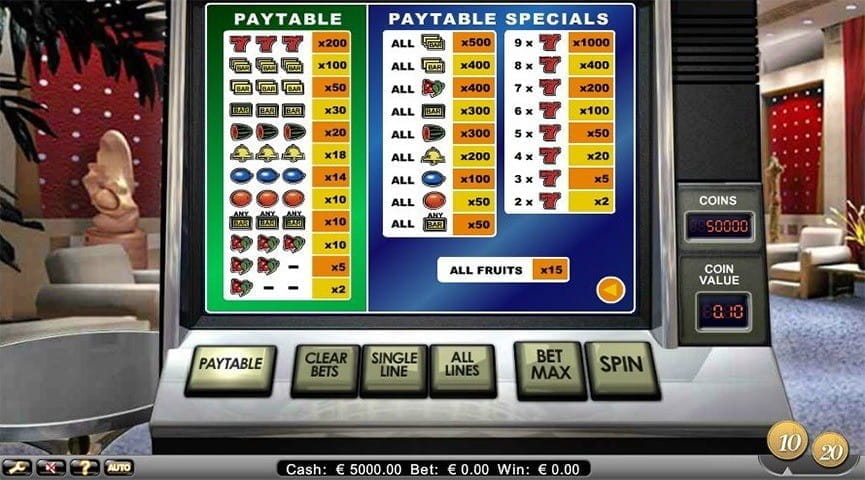 Advantages:
Simple gameplay
Simple paytable
Win up to 64,000 coins
Many Combinations
All fruits have value
7s land easily
A single stake per spin can range from £0.10 to £12.80. There are no bonuses or free spins, just symbol combinations in groups of three with the exception of the sevens, which can appear on all spots on the reels at one time. The absence of bonuses and free spins enables the game to hit more in basic play, which also reduces the learning curve for players. Look at the paytable and it is clear. From there, all you have to do is set your bet and manually or automatically spin the reels. You can sit back and watch or click away.
Will There Be a Mobile Version?
So far, there is no mobile version for Lucky 8 Line, but, of course, that doesn't mean that it will always be that way. NetEnt is a major casino gaming company. They have many slots that are available for mobile. However, it might be that NetEnt wants to stay with the retro and very classic feel of this particular slot. After all, it was one of their first when the company started developing video poker games. Nonetheless, demand might win out. NetEnt hasn't said either way. In the meantime, you can play on your desktop computer.
A Final Word and What We Recommend
This is a nice retro slot game that is enjoyable to play, taking a lot of anxiety out of waiting for bonus rounds. If you like this game, then you will really like Starburst. Instead of three reels, it has five. Wilds also expand to expand your winnings, but the learning curve isn't very high. Starburst is also mobile-friendly, unlike Lucky 8 Line. You can find it at 888 Casino. If you want free spins, which isn't offered by Lucky 8 Line, you can try Cops N Robbers, which is a five-reel slot game with 20 pay lines and the ability to win up to £500.000 at NetBet. Some other slot game recommendations are listed below. And in case you are a lover of certain games, you can check our guide about the best 5-reel slots.
Rating:

4.4/5

Powered by:

Microgaming

Play at:

Hippodrome
Rating:

4.3/5

Powered by:

Microgaming

Play at:

32Red
Rating:

4.4/5

Powered by:

Microgaming

Play at:

32Red
If you love retro slot games, then Lucky 8 Line is going to be for you. You can sit back and watch the gameplay and not worry about bonus rounds or other actions. Then again, there are some great online slots out there if you like more active play, free spins, and bonuses. Just keep in mind that Lucky 8 Line has massive payout potential with a very small learning curve. It's a game that can play itself so you can enjoy the rewards. Don't let the classic graphics and basic gameplay fool you into thinking that this slot doesn't have a lot to offer.