Jungle Games Slot Review – Playing Rules and How to Win
With Jungle Games by NetEnt, there is a great deal to take in. The animated theme is fun for young and old players alike. The game itself has 5 reels and 3 rows, so it looks like a traditional slot. The four different bet levels mean that there is a maximum of 20 pay lines that you can look for winning combinations on. With a low minimum bet, even players who want to risk only a small amount of money on each spin are more than welcome. There is the pick and win feature. This is a nice addition as you can choose from either free spins or a bonus win.
We have written this review in order to give you all of the details that you need to enjoy this slot and feel confident in your playing ability. This is a fun slot that has many twists and turns. You will not only enjoy the theme, but also the background music and animations. The various symbols bring life to the casino, complete with a variety of winning combinations that will constantly keep you on your toes. To learn all of the details, it is best to first play the demo version of Jungle Games. This is a way to explore all of the various features before you begin playing for real money.
Look Out for the Animals – What to Expect
While the details are certainly important, we want to begin this review and to tell you a bit more about Jungle Games briefly. It is produced by NetEnt, an impeccable software provider. You will find a tonne of features and bonus opportunities here, but we recommend you to learn how the slot really works with small wagers. It's better to know the tricks before to bet big. You should explore the pay tables and figure out exactly what combinations you need in order to win in the end. And, of course, we will help you with it.
All in all, you do not have to play for much, as the choice is up to you. This slot has a very small minimum bet, so you can have a great time playing without risking much money at all. To begin, go to NetBet Casino. They will give you up to 500 free spins, as long as you make an initial deposit of at least £10. This is a great deal.
Let's Look at the Game – Winning Rules
With a total of 20 ways to win with Jungle Games, there is plenty to talk about here. Even with all of these ways to win, the slot is actually quite easy to figure out. You will need to first decide on your wager, after which you will spin the wheel and see what symbols come your way. You will want to read the pay lines from the left side of the screen to the right. Beyond the typical symbols that can appear, you may find a wild character or two appear from time to time. These can substitute for other symbols and result in a winning combination for you when none existed prior to that. You may also win free spins, so be on the lookout for that as well.
Reading the Paytable
To determine if you have a winning combination after any given spin, you simply need to know what the paytable says. This is accessible to you at any time by clicking on the button that is located on the left side of your screen. It is there that you can see each of the 20 win lines. If you have a winning combination of symbols, your player's balance will increase. In fact, the number of coins that you bet will be multiplied according to the information found on the paytable. If you used a scatter symbol to win, your total will be paid out after increasing it by a multiplier.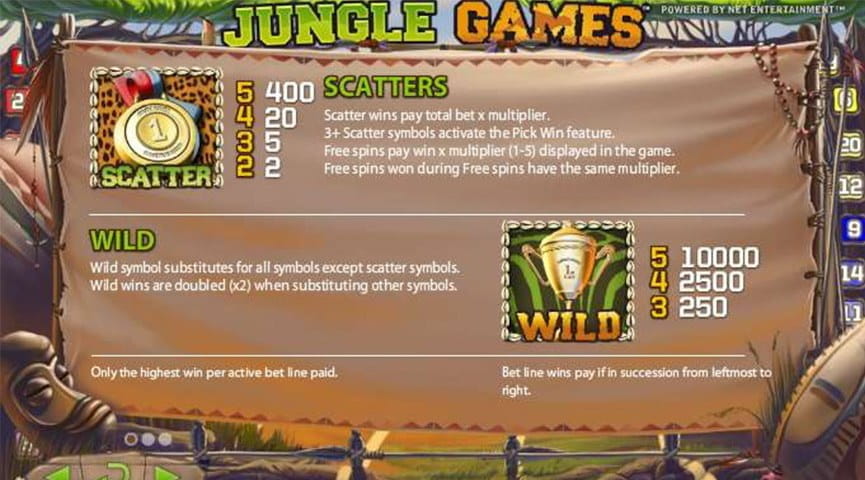 Advantages:
20 Win Lines
Quick Spin
Choose Your Bonus
Free Spins
Small Minimum Bet
Interesting Graphics
Disadvantages:
No Jackpot
Only 4 Bet Levels
There are some limits to your bet in this slot that you should be aware of. First, understand that there are only four different bet levels, and then you must take into account your chosen coin value. You can choose a value from £0.02 up to £0.50. This means that you can bet anywhere from £0.40 to £40 on any given spin. The maximum bet is a bit lower than you might see with other slots, but those wins can quickly add up if you hit a multiplier. These limits are also appealing to those players who do not want to risk much money with each spin.
Special Features and Free Spins
There is a pick win feature built into this slot. This will be activated when you are fortunate enough to click a scatter symbol. That will tell you the number of free spins that you are been awarded. The spins are to be played in the same round that they are activated, so they will be spun at the same level as your original bet. You will be able to multiply each win by five during the free spins round, so this is a nice added bonus.
You should also know about the Bonus Win feature in Jungle Games. This is different than Free Spins and you can choose it when you click on a scatter symbol as well. Your bonus win will tell you how many bonus coins you can possibly win. These two features combined add a bit of excitement to each spin. You can also see the possibilities for each when you look at the pay table. It is important to remember that winning combinations appear from the left to the right of screen, and you must activate each feature as it appears after each spin.
Mobile Version of Jungle Games
This slot is also available in a mobile version. This is great news for players who like to spin away at their favourite online casinos, but they do not like to be forced to sit in front of a computer to do it. You will find that all of the same animations and features are available on the mobile version of Jungle Games. You will be able to receive free spins, and the bonus win feature is there as well. The graphics are fantastic and are high quality, even when viewing them on a smartphone. You will just want to turn your device so that it puts the screen in landscape mode. This will allow you to more easily see all 3 rows and the respective symbols.
Before You Start – Consider These Other Great Slots as Well
This 5 reel slot is a bit on the traditional side, but the graphics are modern and visually appealing. We love the animated theme that has gone into the development of this game, and the background music and sound effects add additional appeal as well. The RTP is nearly 97%, which means that there are ample returns possible when playing for real money. Speaking of which, there are 20 different ways to win, so that is pretty special as well. And if you want to check more options and more UK slot sites we will guide you through everything!
Rating:

4.8/5

Powered by:

Microgaming

Play at:

LeoVegas Casino
Rating:

4.6/5

Powered by:

NextGen Gaming

Play at:

Leovegas Casino
Rating:

4.4/5

Powered by:

NetEnt

Play at:

LeoVegas Casino
In conclusion, this is a slot that is worth playing. The animals are a nice touch, and they each seem to bring a special personality to the game that is lacking with many slots out there today. If you aren't convinced, give the free version a few spins before deciding to play for real money. We also encourage you try one of the other three slots that we have listed here. Each is unique and creative, and they can be found at a casino online. Read the reviews and see what you think.