Jackpot Jester Wild Nudge Slot Review – Playing Rules and How to Win
The court jester always makes everyone laugh, and that now comes to the casino with this innovative slot from NetGen. Launched in 2015, this is a sequel to an earlier slot with a similar name. The first thing you will notice when playing this slot is that it does not look like other slots, in that it only has 3 reels. Add that to its 3 rows and you will feel like you are in a traditional casino on the Vegas strip. You will also notice that the symbols are based largely on fruits and numbers, just like the slots of old. With only five bet lines, there is not a lot of ground to cover here, but there are some details to go over. That's why it would be for the best if you stay with us until the end so we can show you the game's pros and cons
There are some creative additions to this slot, even though it looks like old traditional one armed bandits. Because of that, you will want to read through our Jackpot Jester Wild Nudge slot review in order to learn all that you need to know so that you can get the maximum enjoyment out of this game. We have played the game many times, so we understand what each character and symbol means, and we understand how to explain the jackpot feature to you. Now, there is not a progressive jackpot with this slot, but the grand prize here is definitely worth talking about.
Get Ready to Laugh – Play This Slot for Free
There is a great way to learn all about the various features associated with this slot without ever having to spend any money. All you need to do is access the demo version and you will be up and playing in no time at all. This free version is every bit as exciting as the original desktop version that you will soon be playing for real money. It is a great way to just relax and enjoy the look and feel of the slot. The sound effects are great fun, as they replicate the feeling of being in a Vegas casino.
Since a chance at winning the jackpot is what you really came here for, you will want to play this slot for real money at some point. If you are ready, meaning you understand the rules of the game and how it is played, you can head over NetBet Casino. We mention this particular online operation because they will give you a bonus on your first deposit that you make with them. This means that you can receive up to 500 free spins. This will certainly add to the excitement as you begin playing video slots and Vegas games. However, if NetBet Casino isn't quite what you prefer, make sure to check the other suggestions at our top UK slots websites!
Let's Look at the Game – Winning Rules
This slot only has three reels and three rows. This makes it a bit easy to digest, particularly when taking into consideration that it only has a total of five bet lines as well. However, do not let its simplicity fool you. There is a lot going on behind the scenes that can make you a winner and multiply the number of coins that you have rather quickly. You will want to begin by deciding your bet. Choose carefully because you do have to bet a certain amount if you hope to have a chance of the jackpot feature being activated.
Reading the Paytable
The paytable for this slot is very handy. Basically, you are looking to get certain combinations of fruits and numbers. Getting the Jester is also a big bonus in certain situations. You will want to know how many coins you get for those winning combinations, and the paytable is where you can get that information. Unlike most slots online today, you do not even have to pull up a separate screen to access the paytable with this one. You can just look on the right and left the side of the main playing screen to get all of the information you ever wanted to know without having to click any button. This can simply be seen from the screenshot we've attached below along with pros and cons of the game itself.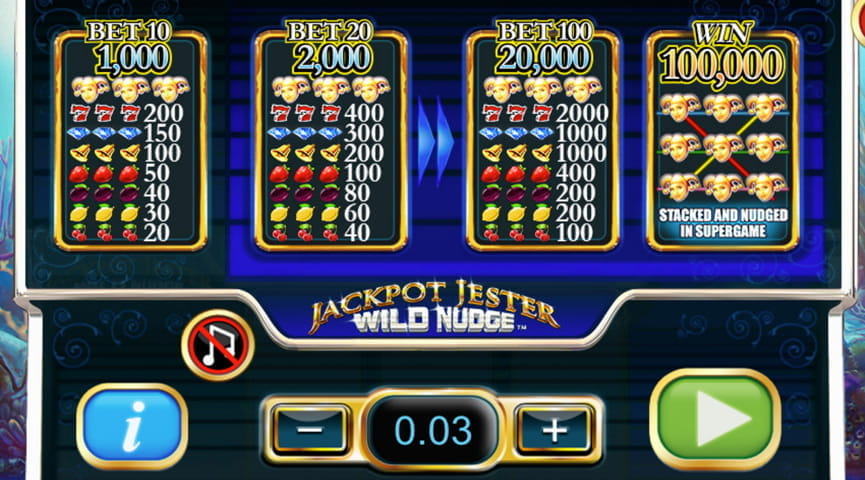 Advantages:
5 ways to win
Quick spin feature
Good bet range
Jackpot
Expanding Wilds
Fun to play
Disadvantages:
No progressive jackpot
Simple Graphics
Betting with Jackpot Jester Wild Nudge is rather easy. There are several different coin values, ranging from £0.01 to £1. This makes the minimum bet only £0.05, which is going to appeal to many players out there. While the minimum bet will not make you eligible for the jackpot, it will provide you with a more than decent return on your bet should you hit the right combination of symbols. You can also bet up to a maximum of £150. This will not only make you eligible for the coveted jackpot, but it will also give you a chance to increase your account balance quite quickly on any given spin. We know that you might be quite interested in knowing more about the special features so check them in the paragraph below!
Special Features and Free Spins
One of the main special features with this slot is the Super Game. This is where you will eventually get access to the jackpot as well. Keep in mind that you will need to have bet at least 20 coins in order to see the Super Game be activated, so some players may not like that aspect of it. At the same time, the potential win is quite big for those who are willing to take the risk. Each time you end up with a winning combination in the main game will increase the number of credits you have the Super Game Bank.
As its name implies, there is also a wild nudge feature in this slot. Whenever the wild symbol shows up in a stacked format during the Super Game, you will win big. If you end up with a stacked nudge on all positions, you will win the jackpot of 100,000 coins. If you have bet the maximum on that particular spin, you will be in for quite the payday.
Mobile Version of Jackpot Jester Wild Nudge
The simple format associated with this slot makes it almost idea for the mobile platform. The developers at NextGen Gaming agreed, which is why you can now play this game at any time right from your own tablet or smartphone. You will easily be able to see all of the reels, but it is always recommended that you play the slot in your device's landscape mode. You will be able to activate any of the features built into Jackpot Jester Wild Nudge when playing on your mobile device, along with being able to hear the cool sound effects as well.
Before You Start – Consider These Other Great Slots as Well
It is true that the graphics built into this slot are not the most creative. In fact, they are rather traditional in scope. At the same time, this might be appealing to many players because of the memories it will invoke. There are also some cool special features that make the game exciting, not to mention the possibility of the jackpot that is always lurking there in the background. Ok, so the RTP is a bit low at 95%. That still provides a decent chance of winning back some money for the house, and there are many different ways to do just that.
Rating:

4.9/5

Powered by:

NetEnt

Play at:

888 Casino
Rating:

4.9/5

Powered by:

NetEnt

Play at:

Casumo Casino
Rating:

4.5/5

Powered by:

SG Interactive

Play at:

LeoVegas Casino
There are not any free spins to speak of with this slot, but the minimum bet is set low enough that this does not really matter. Give it a few tries and see what you think. While this might not turn into your favourite slot of all time, it will encourage you to come back from time to time just to see what happens. When you are ready to move on to something with a few more special features and excitement, there are three more slots we have reviewed for you here. Go ahead and read through our thoughts and give one or all of them a try.