Hitman Slot Review – Playing Rules and How to Win
Modelled after the hit movie of the same name, this is a slot that is full of action and intrigue. It was developed by Microgaming in 2007 and became an almost instant hit because of its many bonus features and thought provoking symbols. Because of its age, the graphics are a bit lacking and there is not any animation to speak of, but that should not prevent players from having a good time with this one. It is also any easy to manage slot with only 15 pay lines, which should allow everyone to easily figure out how the game works.
The developers behind this slot used their imagination and creativity to create quite a few features that aim to entertain players as they spin away. That being said, there are some details you will want to read about prior to playing. This will help you to better enjoy the story behind the game, and it will help you know what it takes to be declared a winner at the end of the day. There are quite a few symbols used by this slot, each one based on the tools of the trade that a hitman would actually use.
Become a Special Agent for Hire – Play This Slot for Free
Let us begin this review by talking about the demo version of Hitman. This is where we think you should start learning to play this slot, as there is no risk involved. At the same time, just playing this slot is fun so you need not worry about going for real money right away. When you play the free version, you will see the full slot in action, right down to the special features and background music. This enables you to focus more on each spin and determining how each of the symbols in the game can potentially win you some money down the road.
Actual hitmen do not work for free, so you will eventually want to try and win some money for your efforts with this slot. This is understandable, so head over to Grand Ivy Casino when you are ready to begin playing. This is the casino that we think you will enjoy the most with this slot because they are offering a substantial bonus when making your first deposit with them. You can receive up to £100 in cash as a reward for completing a wager, in addition to a number of wager-free spins that they will also give you on your first deposit.
Let's Look at the Game – Winning Rules
This is a traditional-looking slot in that it has 5 reels and 3 rows. That will be familiar enough to most players. The symbols, of course, are different. There are also some unique special features that you will want to know how to win if you are fortunate enough to have them activated. With this slot, you have 15 bet lines to take into consideration. While that is not a lot, it is more than enough to produce some great wins if the symbols align in the right way. You will start by deciding on your bet. Once you have placed that, you just need to hit the spin button on the lower right side of the screen to watch the action unfold. Since you might be interested in knowing more about the payouts, we've provided more information below!
Reading the Paytable
If you look at the lower-left corner of the playing screen, you will see a button labeled 'Vew Payout'. This is a handy screen that you will want to access often, as it contains the paytable. This is where you will see the 15 different bet lines that are built into Hitman. You will also be able to determine the coin value attached to each winning symbol. When it comes to the special features that are included in this slot, you will also be able to read and learn about them here. Remember those winning combinations with this slot are to be read from the left side of the screen to the right. You can also see the advantages and disadvantegs of the slot we've listed next to the paytable.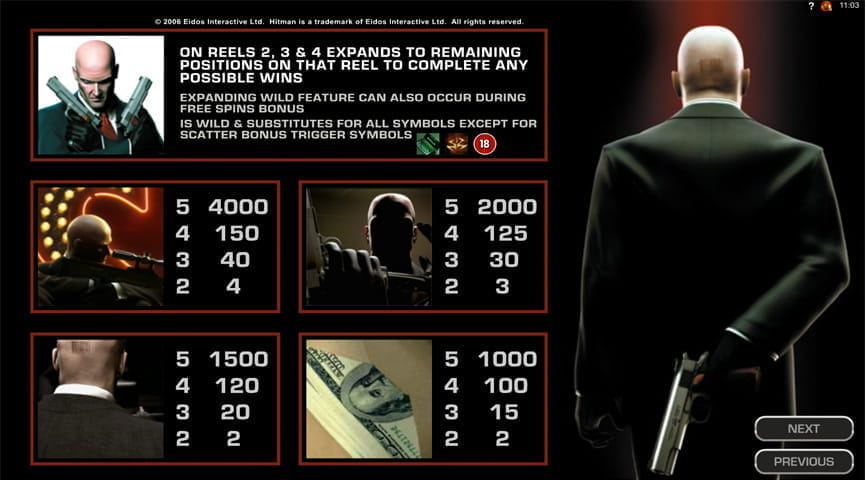 Advantages:
15 Ways to Win
Quick Spin Feature
Good Bet Range
Free Spins
Bonus Game
Fun to Play
Disadvantages:
No progressive jackpot
Few features
Now, let us talk about bets. You will need to wager some money at the outset of each spin – unless you are playing the demo version of course. The minimum bet on Hitman is £0.15. This will get you a more than decent chance to win some money without having to risk much money at all. We feel that nearly every player will be more than pleased with this minimum amount. Beyond that, you can increase your bet up to £150 if you wish. This will give you an opportunity for a bigger win, which is appealing to some players.
Special Features and Free Spins
Just as you might expect with a name like Hitman, there is a contract bonus built into this slot. This is an innovative feature where a great deal of killing will occur right from the outset. To activate this feature, you will need to get the laptop symbol to show up anywhere on the reels three through five. When that happens, a bunch of nefarious looking characters will show up. You need to choose which one of them to kill, knowing that each one has a certain bonus cash value attached to them. You will also need to select a weapon in order to determine the multiplier for this bonus opportunity. Furthermore, below you can see screenshots from Hitman's gameplay.
We don't want to forget to talk about the free spins. You will have plenty of chances to get some with Hitman. The free spin symbol in this slot is signified by the red number 18 symbol. When you get three of these to appear on reels three through five you will be rewarded with an impressive total of 18 free spins. The fun keeps coming, as you will also have all wins doubled during the free spins round. You will also notice that the expanding wilds feature will stay active during your free spins, and you are also able to win more free spins.
Mobile Version of Hitman
As soon as the game's developer, Microgaming, realized that this slot was going to be so popular, they began working on a mobile version. We are pleased to report that it is a winner as well. You can easily gain access to Hitman on your smartphone or tablet and enjoy the same great features that have made the desktop version such a hit. This means that you can play the game whenever you feel like it, and that means even more chances to win. Just put that screen of yours in landscape mode so you can see all of the reels.
Before You Start – Consider These Other Great Slots as Well
We have not even begun to touch on some of the other great features built into this slot, such as the insignia bonus and the expanding wilds. While we admit that the graphics may not be the crispest and most creative we have seen, these special features really make this slot worth playing. You will find that each new spin brings the potential of another big win. You will want to keep playing just to see what action lurks around the corner. For even a wider variety of slots, you can also go through the list of our best UK slots websites.
Rating:

4.6/5

Powered by:

Microgaming

Play at:

NetBet Casino
Rating:

4.3/5

Powered by:

SG Interactive

Play at:

Grand Ivy
Rating:

4.5/5

Powered by:

NetEnt

Play at:

Mr Green
The only thing really missing with this slot is a progressive jackpot, but those are hard to come by these days anyway. With an RTP of just under 96%, some players might wish that was a bit higher. That being said, we think there are plenty of ways to win with this one. You will want to give it a few spins to check it out for yourself. That is for sure. When you are ready for a new adventure, there are three more slots that we would like to direct you to here. These are each creative in their own right, so give them a try when you have a chance.