Gunslinger Reloaded Slot Review – New and Improved Bounty Hunting
Gunslinger is quite an established slot game by Play'n Go and at the end of October 2018, it was upgraded with a modernised and polished sequel. As with its predecessor, Gunslinger Reloaded has numerous highlights and attractions for online gamblers, such as its Bounty Hunter bonus feature, free spins bonus, beautifully illustrated Wild West-themed art style and much more! Gunslinger is back and better than ever!
In this Gunslinger Reloaded slot review, we will be breaking down and thoroughly evaluating each element of this slot game. We already have some experience with the game and have carefully gone through all the special bonus features of Gunslinger Reloaded. We'll be looking at whether there is a free demo version, what are the specifics of the bonus rounds and the availability of a mobile version. At the end, we will give you our overall conclusion and whether we'd recommend the game or not.
Gunslinger Reloaded Demo – Test the Game for Free!
Before we get into the nitty-gritty, you may be asking yourself whether there are any free slot demos of Gunslinger Reloaded available. After all, you might have trepidations of throwing money at a game you've never played. We are happy to report that there is a demo version of Gunslinger Reloaded which you can easily play, right here, on our website. It gives you the ability to bet coins and experience every single feature that you would have if you bet cash on the game.
If you're satisfied with the functionality of the game and ready to engage with it on a monetary level, then we can happily recommend some casinos that provide a platform for Gunslinger Reloaded. A great operator to choose from would be Spinit Casino, which, on top of having Gunslinger, also provides you with an amazing welcome bonus of 100% match up to £200 along with 200 free spins, as well as other bonus funds with every subsequent deposit. In total, you have the chance to earn £1000 as welcome bonus cash, which you can spend happily spend on Gunslinger. Some players, though, prefer to have a bit wider range of options. If you are among them, you can see our page where we gathered the best slot sites in the UK for 2022.
Overview Of Gunslinger Reloaded
Gunslinger Reloaded is a Western theme slot game that really outshines its predecessor in simply every way, but especially in its presentation. It has a gorgeous, detailed 2D art style, with animated slot symbols that react when they match up. Not only does it have an auto-play feature, but the feature itself has multiple settings. One is the ability to set how many coins you bet on a spin; to automatically stop auto-spin if you win a bonus, jackpot or free-spins; if your balance increases or decreases past a certain point or if a single win exceeds a certain amount of coin value.
You have the options to mute or unmute the sound, auto-adjust a bet, toggle on fast play or adjust it so you spin by pressing the space bar. The slot itself features 5 reels and 3 rows with 25 paylines. You have bonuses such as the Bottle Spins free spin feature which you earn by landing whiskey bottle scatter symbols on reels 2, 3 and 4. You also have the Shoot The Card bonus which is earned by getting a straight flush and can net you a jackpot and the Bounty Hunter bonus which you get by landing on three Wanted Posters. And if you are a fan of this type of games, you can give a check to the other 5 reel slots that we love!
Paytable and Symbols of Gunslinger Reloaded
The bounty hunt symbols are the Wanted Poster ones which trigger the Bounty Hunt bonus when you land three of them and have the potential for a really high payout. The bottle saloon symbols will win you free spins if you get three of them, the cowboy symbol is the Wild and substitutes bonus, free, spin and scatter symbols. The white horse is the scatter win symbol and the wins here are multiplied by the total bet staked and are added to the payline wins. Earning 5 wild symbols rewards you 1000.00 coins, making it the highest paying one.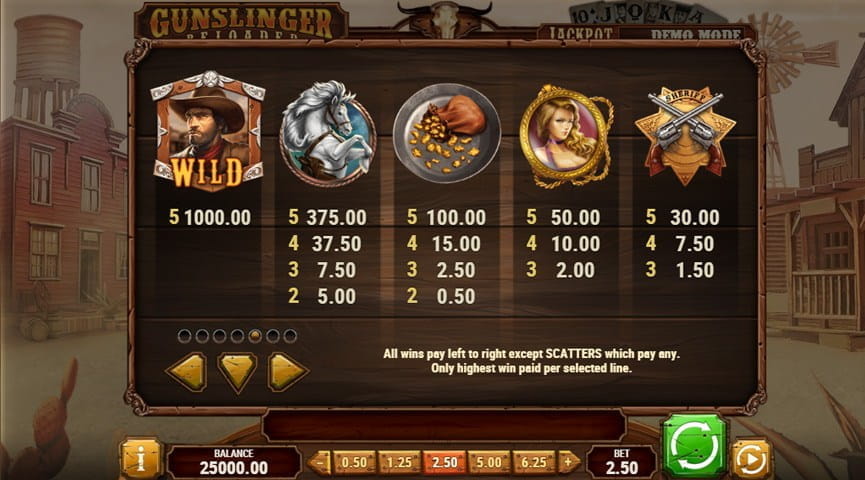 Advantages:
Bounty Hunt Bonus
Coin Multipliers From Bonus
Free Spin Bonus
High Paying Wild Symbols
Decent Betting Range
Beautiful Art Style
Disadvantages:
Becomes Tight After Long Sessions
Bit Complicated For Beginners
With the white horse symbol, landing the maximum of 5 will earn you 375 coins. The golden nuggets symbol will reward 100 coins if you earn 5. The blonde woman symbol gives you 50 coins if you land all 5. And the sheriff symbol gets you 30 coins if you land 5 at once. As far as the betting range is concerned, the minimum you can bet is 0.25 coins and the maximum you can bet is 100 coins. This is a pretty good range and we can say that it should satisfy most players out there. The maximum win you can earn is 125,000 coins and there is a progressive jackpot in the form poker card symbols where if you land a certain amount of them, you get the chance to win the jackpot.
Discover Intriguing Bonus Rounds!
In this section of the review will go into more depth on the abovementioned bonus rounds. The free spins bonus round is very straightforward when it comes to triggering it-you land three whiskey bottle symbols – you have to pick and shoot one to get the free spins. Wins will also be doubled during the feature, except for wins from bonus games. Landing 3 wanted poster symbols will get you to the Bounty Hunt bonus. Select an outlaw from the poster and chase him throughout the city. You are rewarded with a coin multiplier if you successfully apprehend the criminal at the end, along with other coin rewards as you chase him.
Being that you only need to land on three consecutive symbols on what is a 5-reel slot, it's not too difficult to trigger aforementioned bonuses. When trying out the game on the demo version, we got the Bounty Hunt bonus after 5-6 spins. The bonus round has interactive sequences where you have to shoot things like knives, whiskey bottles etc. which doing so rewards you with coins and defeating the outlaw at the end rewards you with a coin multiplier. By choosing a more dangerous outlaw at the starting portion of the bonus round, you get a higher coin multiplier if you take him down successfully.
Play Gunslinger Reloaded On the Go!
We are happy to report that the game works as a charm on mobile devices and you can play it both on your smartphone and tablet. All the options you would find on the desktop version are present here as well, with the core difference being a more simplified UI for mobile users. For example, you have only the spin button presented in the centre of the screen, whereas other features and adjustment have to be accessed through the menu settings. Overall, playing Gunslinger Reloaded on your phone is just as stellar of experience as it is playing it on your computer.
Conclusion: Final Overview and Alternative Slots
At last, we've arrived at the closing section of our review. Here we will give our overall conclusion towards Gunslinger Reloaded, as well as recommend any similar types of slots or alternatives, in case you didn't like Gunslinger Reloaded. The first and most obvious choice is the original Gunslinger but considering the fact that Reloaded is simply an improved and polished version of the old one, going back to it may seem redundant. If you crave for more Wild West-themed slots, then Golden Colts is also a great recommendation.
Rating:

4.7/5

Powered by:

Play 'N Go

Play at:

Netbet Casino
Rating:

4.6/5

Powered by:

NetEnt

Play at:

BetVictor Casino
Rating:

4.9/5

Powered by:

NetEnt

Play at:

888 Casino
Gunslinger Reloaded is a great and enjoyable slot for you to spend your time on, that improves on its predecessor in absolutely every single way possible. It has a gorgeous Western art style and presentation, front-loaded with lots of great bonus rounds (especially the Bounty Hunt bonus). There are just numerous elements to keep you coming back over and over again to Gunslinger Reloaded and it is a slot that we can heartily recommend to all of our readers!