Ghost Pirates Slot Review – How to Play and Win
NetEnt released Ghost Pirates back in 2016 and it was instantly a hit. This is one slot that seems to have it all. There are killer graphics, a fantastic theme, eerie background music, cool symbols and so much more. The storyline will keep you entertained, and the 243 different ways to win will leave you mesmerized. No, that was not a typo. Instead of the traditional pay lines you might be used to, this game was created using win ways, and there are 243 of them to be exact. That means we have some work to do in this review to get you up to speed before you play, so let's get started.
The review that you are about to read is designed to give you the information you need to really enjoy playing Ghost Pirates. We will talk about the various characters that make an appearance in this slot, while also touching on the theme that makes the game so special. Each spin brings a new opportunity to invoke one of the features built into the game, so we will cover that as well. There is a lot to go over but let us just mention that this is why demo games were created. You have 243 different ways to win. You can't learn them all, but you can make a dent by playing for free first.
Play with the Pirates – Enjoy the Demo
Because this game has so much going for it, you might find it confusing at first to determine just what is happening with each spin. This is why you will want to play the demo version, as you will enjoy the same great animations and symbols but without needing to risk any money in the process. You will be able to take your time to explore the 243 different ways to win. With five different bet levels on top of that, there are quite a few different combinations that you can play for. Playing the free version first will help you prepare to wager real money when you are ready.
Playing just for fun is great, but you might also want to put some real money behind each spin at some point. If you feel confident that you understand the slot well. Consider depositing some money at NetBet Casino. They will not give you free money, instead, they will give you up to 500 free spins bonus. You can then begin playing the slot and try to add to your experience and knowledge about how to play it. This is a great way to get started so give it a shot. Remember, you can deposit any amount you like, even if it is as less as £10.
Get to Know the Rules of Ghost Pirates
There is a Wild Joker symbol in this slot that can come in quite handy. It will replace other symbols on any given row, possibly giving you just the combination that you need to have a winning spin. Speaking of spins, you can earn some free ones by getting three or more scatter symbols. These scatter symbols need to appear in a row from the left to the right. When this happens, you will be assigned a multiplier that will be paid out during your free spin if you should be so lucky.
Look at the Paytable
The pay table for this slot is actually quite interesting. With 243 different ways to win, there is quite a lot to look at. Before each spin, you will decide if you want to bet on 3, 9, 27, 81, or 243 win lines. This determines how much your actual wager is for each spin. If you want to see how to win on each pay line, click on the pay table and you will be shown all of the details. Betting one coin at the first bet level, for example, will allow you to play on one active reel and gives you three different ways to win. Bet 25 coins, and you will be active on all 5 reels.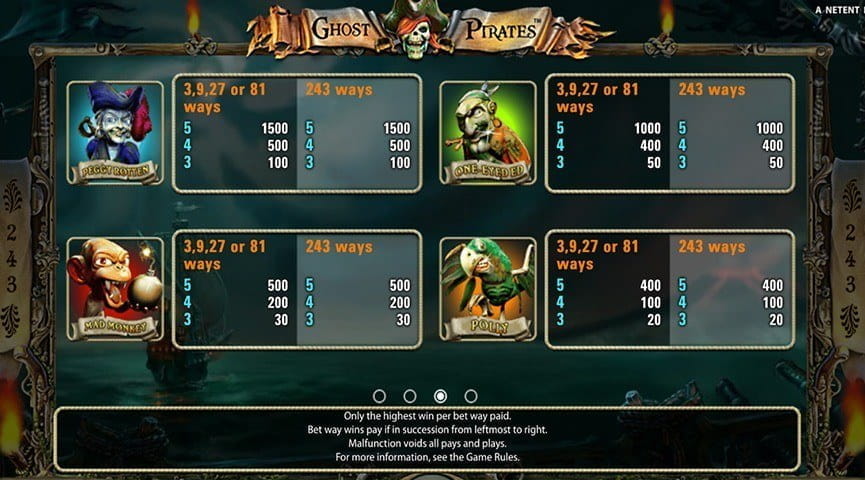 Advantages:
10 different bet levels
Multiple ways to win
Different Wild Symbols
Fun holiday theme
Autoplay feature
Simple to play
Disadvantages:
No Progressive Jackpot
Low wagering Limits
Even though there are 243 different ways to win with this slot, keep in mind that the maximum bet is only £62.50. Coin values range from £0.01 to £0.50, but there are only five-bet levels to choose from. If you want to only play for a few pence on each spin, this slot accommodates you as well. You can play for a minimum bet of £0.25 and still get the 243 win ways. Only play for 3 win ways, and the minimum bet is even less. Enjoy!
Joker Wilds and a Bonus Game
With so many different ways to win, there is a lot to be on the lookout for in this slot. We have talked about the wild joker. If you get this symbol, it will replace all other symbols on the row. Beyond the free spins that appear quite often, you will also be able to enjoy the great sound effects and background music that will make you feel as if you are on the ship with the pirates. It is an exciting gaming environment that will keep you coming back to play for more.
The thing that makes this slot so unique is that you can choose from five different quantities of win lines. If you want to have a shot at winning all 243 different ways, it will cost you a bit more. The payoff, of course, is that you will have a lot of fun spotting those winning combinations. Add to this the five different bet levels that are incorporated into the play of Ghost Pirates, and you have quite a few choices at the outset. Don't feel as if you need to stick to one method of playing. Try out various combinations of wagers to see which you feel more comfortable with and enjoy the most.
Mobile Version of Ghost Pirates
Even though there is a lot going on with this slot, it still plays great in its mobile version. This is good news if you are the type of player who does not like to feel confined to their desktop computer. You will enjoy the same great graphics and features on your smartphone or tablet. NetEnt really went above and beyond as they developed the mobile version of Ghost Pirates, so you can feel free to play this slot wherever in the world you happen to be. Just remember to pay attention to those winning combinations and bet accordingly.
Final Words & Recommendations
This slot is unique from the very beginning. The graphics are really out of this world. It really looks and feels like you are there in the ocean being the captain of your very own pirate ship. Making a departure from the traditional pay lines, incorporating win ways was a great touch. It adds a special feature to the slot that is not present very many other places. Add to that the 96.80% RTP, and you really cannot go wrong with giving this game a serious shot.
Rating:

4.8/5

Powered by:

Microgaming

Play at:

Ladbrokes
Rating:

4.6/5

Powered by:

Microgaming

Play at:

Genesis Casino
Rating:

4.5/5

Powered by:

Ash Gaming

Play at:

LeoVegas
We feel that this slot is well worth playing! This is one game that we do feel benefits from playing the free version first, just to make sure you get the hang of the different methods for winning in comparison to other slots. Once you do that, you will almost certainly find yourself giving the real money version the old college try. If you want to try something a bit more different still, consider one of the other three slots listed here. We have personally reviewed these for you as well.