Game of Thrones 15 Lines Slot Review – Key Features, Max Payout, Demo, and More
Game of Thrones 15 Lines is based on the very popular Game of Thrones television show. This show took the world by storm, so it only made sense that one of the most well-known gaming companies, Microgaming, would create a slot to feed the fan base during long gaps between the show's seasons. In this case, the "fix" is in the form of a slot game with 5 reels and 15 paylines. There is a Gamble feature, a round of free spins, video clips, and stacked wilds that make the slot truly stand out from others.
In this review, you are going to be taken on a tour of a game that will give you a taste of Westeros and the four houses. All of the main characters are featured in this slot. You have the houses of Baratheon, Targaryen, Lannister, and Stark. Of course, you can't leave out the Iron Throne that they are all vying for. In a way, it's like you are becoming a part of the battle for the throne because this is a way that you can interact with the story, characters, and the setting. The primary difference is that you can do it to win money rather than a throne.
Give the Game a Test Run
So before we get into all of the details, we must talk about the demo game. The demo operates exactly like the real money game, so you get a perfect representation of how the settings and everything works. You are simply playing with demo cash instead of real cash and there is no obligation to sign up. The demo helps you make an informed decision about putting real cash into the game and also gives you the opportunity to see how it works. It's always good to not go into a slot blind. Instead, you get to gather a little more knowledge than some of the houses have about each other in the show.
Once you are ready to play for real money, Royal Panda Casino is known for good welcome offers. For instance, you can get up to £100 in bonus cash, which is Royal Panda doubling your initial deposit. Of course, you have to check out the deposit rules to ensure that your deposit method doesn't void the bonus. Once you have the bonus cash, you have additional money in your bankroll that helps you meet wagering requirements and simply adds to the fun, which is the most important part of the decision to bet real cash. The winnings are a good perk.
Evaluate the Key Features
As for the key features of this gem, they are fantastic. While there is no progressive jackpot, you do have the Gamble feature that allows you to gamble up to 4x your winnings, which, if you're feeling lucky, can net some serious profits. The overall gameplay is nice and smooth. While there is a lot going on with this game from free spins to video clips from the television show, it's very organized and fun. It is nice having a theme that is familiar in the world but unique when it comes to slots. Nonetheless, there are some familiar aspects to the slot itself, such as the quickspin feature, autoplay, the presence of five reels, and the 15 fixed paylines that are part of the slot's name.
Everything About the Paytable
Of course, you must have a working knowledge of the paytable. It's relatively simple with just 10 symbols. Landing 3 or more of the Iron Throne on the reels pays the most with the Logo following right after. The other symbols, which pay from most to least are Baratheon, Lannister, Stark, Targaryen, Ace, King, Queen, and Jack. The Logo is also Wild, despite the fact that it pays. The game also allows you to stack Wilds, which can enhance the winnings even more. This game has a high RTP, so it's no surprise that you can get reasonable winnings outside of the free spins round.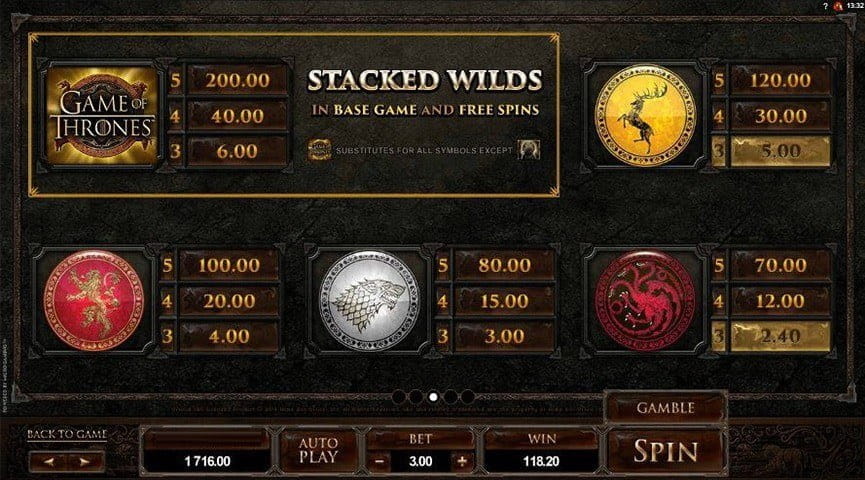 Advantages:
Nice betting range
Free Spins Multiplier
Fixed paylines
Popular theme
Stacked wilds
Gamble winnings up to 4x
Disadvantages:
No bonus round
No progressive jackpot
Another aspect of the game that is nice is the betting range. It's not a high limit slot, despite the winning possibilities. The range is £0.15 to £75. The range is somewhat wide, which is good so that the game appeals to different types of players. Some players like to bet low, while others enjoy a little more risk. It is almost a penny slot but not quite. Just keep in mind that there is no progressive jackpot. However, the Gamble feature is on for this game, so you can use it if you want to.
All About the Free Spins
In regards to how you get the free spins, it's pretty simple. Land the Scatter in 3 places on the reel and you are going to get to watch a short video clip before being told to choose which house you belong to. You can choose just one out of Lannister, Baratheon, Stark, and Targaryen. Each has a different number of spins assigned to it along with a multiplier. The higher the multiplier, the lower the spin number. However, the winning potential is still high even with the lower number of spins. Simply choose the one you feel is best.
Once you are presented with the houses and you aren't entirely sure which house to choose, the free spins hit so much that you can choose a different one every time. On a £3 bet, we won over 300 credits on a single free spin round. However, landing a lot of Wilds on the reels during normal play got us over 600 credits, so the free spins are not necessarily where all of the big winnings are. You can win a lot during regular play and strive toward that max win of 75,000 coins without relying on special features. It is fair to say that the feature pays fine, but it is not always going to land you a lot of money.
Get In on the Mobile Excitement
If you are a mobile slots player and/or a Game of Thrones fan, then you will love the fact that you can take your 15 fixed paylines with you. All you need is a good internet connection so that you don't have any interruptions in the gameplay. Interruptions can result in pays and plays not counting and that wouldn't be so fun. As long as you have a good connection, you can enjoy the great graphics, spin action, and all of the features from wherever you are with your mobile device. The odds of winning are exactly the same.
Concluding Remarks
There is another variation of this game with 243 ways to win. The payouts are high, but, just like the 15 line version, there is no bonus round. You do, however, get a potentially lucrative round of free spins that allow you to take advantage of the many ways to win. On the 5 reels, you can win a maximum of 6,050,000. If you're interested in trying this version, you can find it at Mansion. The max winnings and the number of paylines are the only true differences between the two games, as the symbols and features are identical. Other slots you might enjoy include:
Rating:

4.7/5

Powered by:

Playtech

Play at:

Betfair
Rating:

4.7/5

Powered by:

Playtech

Play at:

Ladbrokes
Rating:

4.5/5

Powered by:

IGT

Play at:

LeoVegas
All in all, Game of Thrones 15 Lines is a fantastic part of the Microgaming lineup. It and its 243 ways to win variation are very unique slots that appeal to a very large audience because of the popular TV show. You can get your Game of Thrones fix while the show isn't airing, but it's also a great way to express your love for it while winning some money. If you haven't tried it, the demo is a great way to get a peek at how this game works. If you have demoed it and you're ready to put down some real money, Royal Panda is ready for you.