Funky Seventies Slot Review – Playing Rules and How to Win
As the name implies, this slot will take you back the 70s. Don't worry – you did not have to be alive back then to enjoy this just as well! In fact, you will find yourself grooving along with the music and casting your gaze upon the various artefacts from an era when life seemed to be so much simpler. This slot has an impressive 40 different bet lines. While you do not have to memorize where they all are, you will want to at least know how to hit the winning combination. Beyond that, there are a number of special rock and roll features from the 70s that can come in and save an otherwise losing spin.
What you are about to read should help you to win some money with this game. It is important to know what you are getting yourself into before you start playing for real money. We want to help you enjoy the experience so that you can get the most out of every spin that you eventually make with this slot. The graphics built into this slot definitely set the mood. You may even find yourself looking for your bell bottoms and corduroy pants to further set the scene! You will enjoy the special effects and background music as well. Before you get wrapped up in your own little piece of the 70s, play the demo version so you can figure out how everything works.
Dance Under the Disco Ball – Demoing Funky Seventies
Details are what you crave. We get that. But, before you start playing for real money you should definitely try out the game first. Not only is it fun, but there are also so many different ways to win that it is better to see them in action before you start wagering with your own money. How many slots have you seen a disco effect for a special feature? That is what we're talking about. You really need to see this slot in action to appreciate just how special it is. Set up an account with your favourite casino and start playing this one for free.
Lookup NetBet Casino for a Funky Seventies trial run. They are offering a great bonus to any player who makes an initial deposit of more than £10. They will give you up to 500 free spins on your first deposit. This is a great deal if you stop to think about it. It is as easy as that.
Let's Look at the Game – Winning Rules
This slot, as you can imagine, has a theme that revolves around the decades of the 70s. As such, all of the symbols and characters that you will encounter are from that era. From the old-time computer to the disco balls, you will find yourself reliving that era for yourself or imagining what life must have been like then – all depending on your age of course. Each of these symbols will be accompanied by the sounds of the 70s as well. Wait until you win with your next spin and you will experience what we're talking about here. While there is not a bonus game with this slot, there are plenty of features to keep you spinning.
Reading the Paytable
With so many bet lines, you will want to access the paytable from time to time to determine what constitutes a winning or losing spin. Keep in mind that there are many winning combinations with this slot, but they will only be reached when you go from the left side of the screen to the right. You cannot win both ways with the Funky Seventies. In addition, you may only win once on any given bet line, but you are able to win on multiple win lines. That is always fun when that happens, and all of the wins will be added together to give you a total for the spin.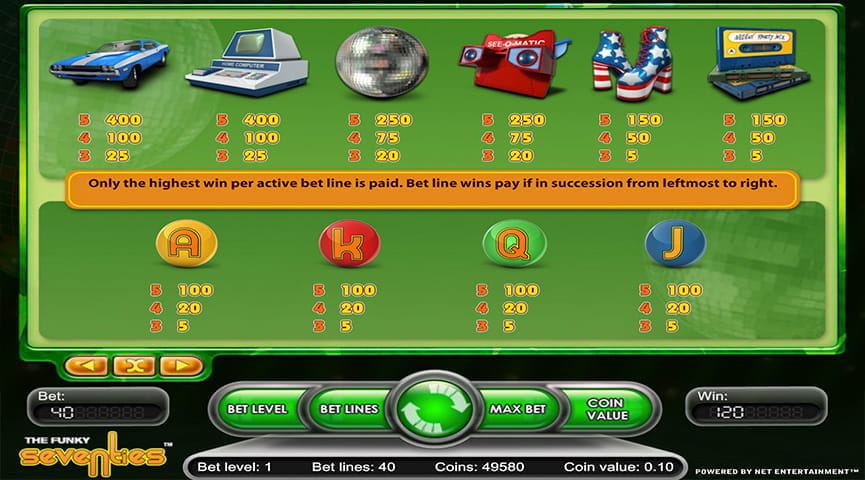 Advantages:
40 Ways to Win
Quick Spin Feature
Low Minimum Bet
Free Spins
Nudge Wilds
Fun to Play
Disadvantages:
No Progressive Jackpot
No Bonus Game
You can bet a little with this slot, or you can risk a bit more in hopes of really hitting the big winning combination. The choice is up to you, and you are welcome to change your bet with each new spin if you want. For this slot, you must bet a minimum of £0.40. This is because the smallest coin value is £0.01 and there are 40 bet lines that are accounted for in each spin. With that in mind, there are also 10 bet levels, which means that you can bet as much £100 when making each coin a value of £1.
Special Features and Free Spins
If you end up with a wild 70's symbol, you are in luck. This is a special symbol that has been built into the game and it effectively replaces any other symbol on the bet line. This means that you could end up with a winning spin just when you thought that all hope was lost. Keep in mind that a scatter symbol cannot be replaced by a wild. If you are lucky enough to get three or more wild 70's symbols on any given reel, you will end up with a sizeable win.
Players are compensated for the lack of a bonus game with the addition of free spins. These are always fun to get because you get to keep spinning with your original bet, and all wins are doubled. You get access to the free spins round by collecting three or more scatters on any given spin. With three scatters, the game will give you five additional spins. The nice part about this feature is that you can get additional scatter symbols during the free spins round leading to yet more free spins. The fun just keeps on going.
Mobile Version of Funky Seventies
The next time you want to relive the 70s and you are away from home, just pull up this slot on your mobile device. Game developer NetEnt has done a great job recreating this slot and making it specifically for the mobile platform. You can easily see all of the reels as you make each spin when your phone is in its landscape mode. You will hear the same great sound effects and cast glances at the cool graphics that bring back this decade in style. Just decide on an online casino which fits the bill and then pull up the Funky Seventies at any point to begin playing.
Before You Start – Consider These Other Great Slots as Well
This slot's theme is based on the 70s. It provides great entertainment and is a memorial to this decade. You may not have lived during that era, or you might have forgotten what life was like. Whatever the case might be, you will see the era of funk come alive before your eyes with this slot. With different ways to win and an RTP of 96.5%, you have a decent chance to win some money with this one. That is a nice bonus given the fun that you will be having as you play it. If you're still not convinced about playing Funky Seventies, then we suggest trying out some of our recommendations below.
Rating:

4.85/5

Powered by:

PlayTech

Play at:

Mansion Casino
Rating:

4.7/5

Powered by:

PlayTech

Play at:

Mansion Casino
Rating:

4.6/5

Powered by:

NextGen Gaming

Play at:

Royal Panda Casino
All in all, we think that Funky Seventies is a winner. If you don't believe us, start by playing the free version and experience the fun for yourself. Ok – there is no bonus round. We feel your pain, but we also found there to more than enough opportunities to win some money with this one. There is a good range of wagers to be made, so everyone should be happy at some level. If you want to try out something else and you're not satisfied with your choices until now, read our review of the top-rated UK slots. You'll find plenty of information regarding great online casinos, various slots and gameplay specifics.