Fairytale Legends Hansel and Gretel Slot Review – Playing Rules and How to Win
Fairytale Legends is a welcome addition to the NetEnt line of slots. This one will bring back memories of your childhood, and they will be fond ones indeed. Hansel and Gretel is the second instalment in this series, and all indications are that it is a winner. Launched in 2017, this one is full of the woodsy adventure where the characters are trying to avoid the evil witch all the while getting some goodies as they go. That is your goal as well, as this is how you will rack up some wins with the special features. Each spin will bring you a new part of the story.
You may not be used to seeing your favourite fairy tale characters on a slot. You are not alone. This is one of the most unique and creative slot because the concept has not been done much. You will enjoy watching the characters and symbols come to life in front of you. At the same time, you will want to know what they all mean, and that is what we aim to cover in this review. Furthermore, you can give a check to our page about volatility of slots, so you can be aware of the most important parts before emerging in the gameplay. Back to this slot, we can say that the graphics are outstanding, and so are the sound effects. That will draw you into the game, but we want you to know how to win as well. Continue reading to discover just how possible this is.
Relive a Childhood Classic – Play This Slot for Free
We like the simplicity of this slot. There are only 10 pay lines, so it is more than manageable to keep track of everything that takes place with each spin. At the same time, this does not mean that there is nothing going on. On the contrary, there are as many special features and bonus opportunities as there are pay lines with this slot. To learn everything is impossible by simply reading about it. You will want to experience it. For that, we think you should play the demo version first. This will allow you to see everything taking place in front of you and learn how it works before betting any of your own money.
If you have been playing the demo version, it won't be long before you are ready to give this slot a spin for some real money. In that event, we would like to tell you about the opportunity being offered at Casumo Casino. They are going to give you up to £25 in bonus money if you make your first deposit with them. That is a wonderful way to get started with this slot. You can just put in a small amount of money. That is perfectly acceptable, as they will still match that amount 100 per cent. You will even get some free spins added on top of that. On the other hand, you can also read about the rest of the best casino sites around.
Let's Look at the Game – Winning Rules
The storyline associated with this slot will already be known to most players. The details of the fairy tale may be fuzzy at the beginning, but it will all come back to you as you begin playing. Each spin will bring the potential of free spins, a bonus game, or any of a number of special features. This is similar to the story itself, as you just never know what lurks around the corner for Hansel and Gretel. Just decide on your bet, hit the spin button, and watch what happens.
Reading the Paytable
While there might be only 10 pay lines associated with this slot, there is no shortage of ways to win. This is what makes the game itself so exciting. You will want to have ready access to the paytable at all times. This is how you will discover what each winning combination is and what each symbol will payout should you be fortunate enough to get everything just right. You will also be able to learn about the various features that are built into this game, so make sure that you scroll through each of the pages on the paytable in order to learn everything that there is to know.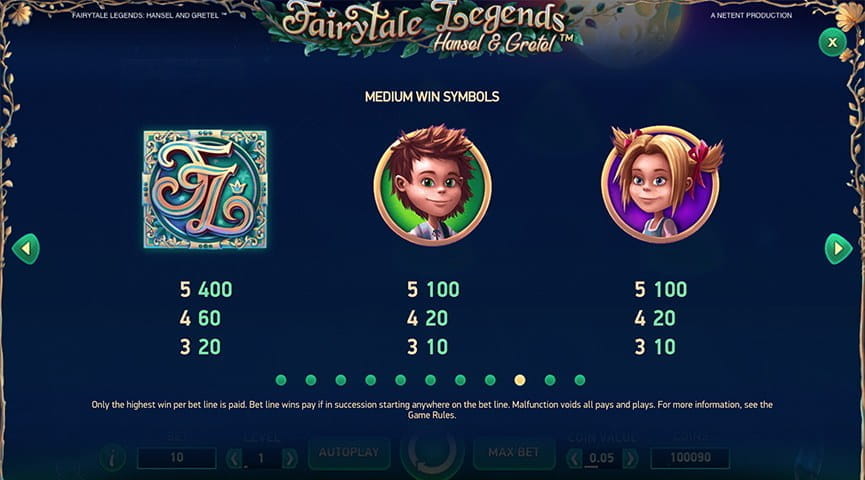 Advantages:
10 Ways to Win
Quick Spin Feature
Low Minimum Bet
Free Spins
Many Special Features
Fun to Play
Disadvantages:
No Progressive Jackpot
Low Maximum Bet
Before you hit that spin button, you need to decide what you want to bet. There is quite the range with this slot, appealing to every type of player imaginable. Because the smallest coin value is only £0.01 and there are 10 bet levels, you can wager as little as £0.10 per spin if you so desire. We think that this is a great place to start for many players, as it allows you to see the game in action a few times. When you are ready to increase your bet, you can go as high as £200 per spin. You can change your bet with every spin or just keep it the same.
Special Features and Free Spins
Honestly, there are so many different special features with this slot that you will just need to begin playing to find out about them all. There are three random features that can appear out of nowhere. One of them is the fairy surprise. This may come about when you have a losing spin, which makes it so unique. Your lowest win symbols will be turned into a selected symbol by the fairy. This will continue until you get a win. So, just because you lost does not mean you will not win anything! We don't know of another slot that offers this feature. Keep looking and see if the fairy arrives.
If you are looking for bonus opportunities, there are three of them in this slot. The bonus features will appear on the odd-numbered reels and they come in the form of the candy house bonus, the free spins bonus, and the coin win. The coin win bonus feature will give you an instant coin that is equal to five times your original bet. Just imagine how quickly your balance will increase if you had placed a large bet when you get this feature activated.
Mobile Version of Fairytale Legends Hansel and Gretel
This slot is so fun and engaging that you will quite possibly find yourself wanting to play it when you are not at home in front of your computer. NetEnt gets that, and this is why they developed a version of Fairytale Legends Hansel and Gretel specifically for the mobile platform. You can now use your phone or tablet to pull up this game whenever you so desire. That is great because the same special features and bonus games will appear there as well. You will even be able to see the fairy fly across your screen, and that is always a good sign!
Before You Start – Consider These Other Great Slots as Well
How can you find anything wrong with this slot? It seems to have everything. It brings back memories of childhood dreams, has spectacular graphics, and brings an entertaining story with each new spin. As if that weren't enough, it also has more special features and bonus opportunities than nearly any other slot that you will find online today. Add to this the RTP of 96.71% and you will find that there are some great ways to add to your coin total with this one.
Rating:

4.8/5

Powered by:

igt

Play at:

LeoVegas Casino
Rating:

4.6/5

Powered by:

NetEnt

Play at:

Royal Panda Casino
Rating:

4.7/5

Powered by:

NextGen Gaming

Play at:

Mr Green Casino
Again, this slot is recommended if you like a simple story with many opportunities to win. Since that should cover just about everyone, we expect that you will begin playing it shortly after reading this review. If you really need to think about it, just give the free version a try first. After that, you'll be playing for real money and probably adding to your account balance. We also went ahead and reviewed three other slots here for you as well. Take a look and see what you think about them. If also they don't fit your taste, you can check our list of top 10 slots with highest RTP where you can also learn what the RTP is and why it's so important for you to choose your slot correspondingly.