Everybody's Jackpot Slot Review – Share in the Wins of Others!
This popular slot offers a unique concept rarely seen before – shared jackpot wins. Now, at first glance this sounds like a travesty as no self-respecting gambler would be willing to part with his win! However, the player who actually won the progressive jackpot still gets 70% of the accumulated sum. If you do some quick calculations, you will find that this still equates to quite a pleasing amount. The remaining 30% of the jackpot get distributed to other users of the slot who have wagered within 24 hours before the jackpot is won. This means that you can receive a cash prize after you thought you were done playing!
On this page, we've covered everything there is to know about this slot. We'll tell you all about the theme and the introduce you to the characters you will meet on the reels. We've also provided an overview of the betting range, the available platforms, and explained all about the unique progressive jackpot. Of course, you can also give a spin or two (or twenty) to the free demo included below. If you're not sure that this slot is exactly what you're looking for, you can find several alternatives at the end of the review.
Try Everybody's Jackpot for Free!
Well – no jackpots here, but you do get an exclusive chance to see how the game looks and feels. We've provided you with a demo version that showcases the graphics of this slot and all the controls. You also get to see how winning the jackpot looks like, but don't get your hopes yet – sadly, no demo slot would award you with the actual jackpot, and most casinos only offer real money modes for their progressive slots. Focus on the atmosphere, and fiddle with the game however much you like.
If you feel ready to have a crack at the jackpot yourself, then you should do it at our top-recommended venue – the Mansion Casino. This operator is famed for an excellent platform and extensive Playtech slot catalogue, so you will not be bored there. Of course, their welcome bonus also plays a certain part in our rankings. As the title suggests, there is little point in playing Everybody's Jackpot if you don't have a chance to share in the jackpot wins, so you like this slot you should really switch to real money play.
Everybody's Jackpot Overview
Everybody's Jackpot makes you part of a live TV show, where you are competing for glamorous prizes. The slot has a classic format with 3 rows and 3 reels, but this is where the similarities end. There are eight permanent paylines here; lines 1 through 5 go from left to right, while lines 6, 7 and 8 run from top to bottom. This is a rarely seen format which boosts the estimated Return to Player rate above 94% – as you may well know, that's pretty good for a progressive slot, because those usually run a lower RTP in the main game. The interface and the controls are of the expected high Playtech quality, so there is little to comment on that front.
Symbols and Payouts
Everybody's Jackpot invites you to walk the red carpet with its intro movie and takes you directly to the finals of a TV game. The symbols even appear on the reels in a circular pattern, fairly reminiscent of a Wheel of Fortune. The game is themed around luxury, so most of the symbols are represented by piles of money, golden bars, Rolex watches and emerald pendants. The only characters in the game are the two hosts of the show. The female host is always with you as you spin, cheering your victories rather spectacularly, and awards you even if a single of her symbols appears on the reel. The male host meanwhile offers the main game's jackpot which is worth 250 times your wager – but you need three of his symbols. There is also a Scatter symbol – the game's logo – which triggers free spins.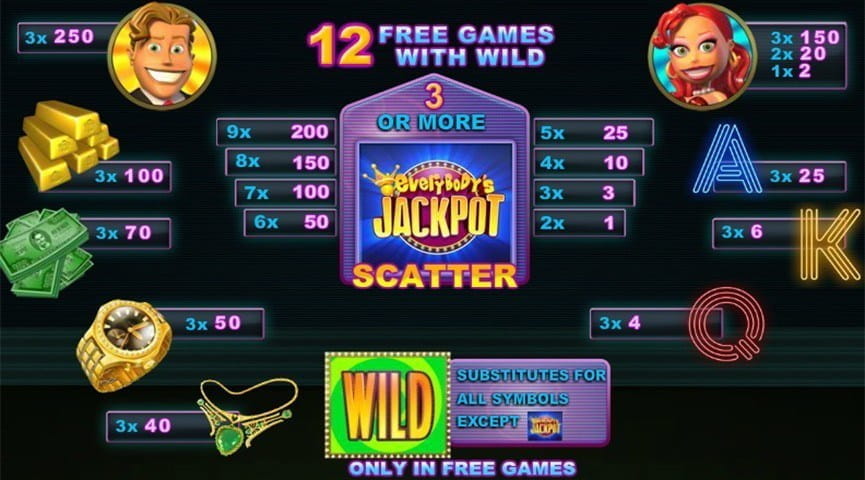 Advantages:
Progressive Jackpot
Shared Jackpot Wins
Top to Bottom Paylines
12 Free Spins for Scatters
Playtech Interface
Fun Theme
Disadvantages:
Dated Graphics
30% of Jackpot is Lost
With 8 fixed lines, the game offers a relatively limited betting range – your total wager can be between 8 pence and £40. That's not ideal range for high-rollers, but many progressive jackpot slots have even lower max bets. The progressive jackpot here isn't one of the highest you will find. It usually gravitates between £100,000 and £150,000. The progressive jackpot win is triggered randomly by the system – it is not dependent on nay symbols showing up, so it can happen at any of your spins. The main highlight of the jackpot is, naturally, the shared jackpot bonus – let's see how that works!
Shared Jackpot and Free Spins
Everybody's Jackpot may look a lot like a classic slot, but it actually awards you with two bonus features. The most important one is the shared jackpot. The lucky player who triggers the Mystery Win receives 70% of the accumulated prize – this equates to a lump sum of around £70,000 – £100,000. The remaining 30% are distributed between players that have played in the last 24 hours before the win. In order to qualify, you must have bet at least £43.83 – and that's pretty much it. You could be offline, sleeping or working, and you would still get your prize. 15% of the jackpot are shared equally, while the remaining 15% are shared in proportion to the total money wagered by the player. This means that there is a subtle ranking between the participating players.
The second bonus is awarded by the scatter symbols bearing the game logo. Those scatters award cash prizes without taking part in paylines – but those are kind of on the low-side. However, if 3 or more appear on the reels, you receive 12 free spins! That's a fairly respectable number, and furthermore, a Wild symbol is added to the reels and can appear in the middle. Considering how dense the paylines are, this means that the Wild boosts your odds of winning significantly. While this is not the most innovative bonus in the world, it does boost the profitability of the main game, and offers you good returns while you are gunning for the progressive jackpot.
The unique thing about Everybody's Jackpot is that there is a lot of room for strategizing. The shared jackpot wins are a great feature, but it can also be rather frustrating if you have missed out on qualifying by a single hour! You have a set minimal wagering budget, and you can attack specific time-periods hoping that even if you fail to land the jackpot itself, you might qualify for a percentage of someone else's win. An important question to consider is whether you should play more often while sticking to the minimum wagering requirement for qualifying, or bet larger sums in hopes of getting a larger share of the jackpot. It all comes down to luck in the end, so it's entirely up to you which strategy to pick.
Try for the Jackpot on the Go?
Even though this is a relatively order title – having come out waaay back in 2012 – it has proven popular enough to warrant getting a mobile version. Since this is a Playtech title, it has gotten a full do-over, and the interface is specifically changed for touchscreens, making it very easy to play even while you are on the move. The mobile version is on offer in our recommended operator Mansion Casino, but it can also be found at other Playtech online casinos.
Final Verdict: A Clever Concept
As already mentioned, Everybody's Jackpot has proven quite popular over the years, and the main reason for that is the shared jackpot feature. Of course, bot all people like to share their wins, so it could prove to be hit-and-miss for some players. If you are looking for a more classic progressive jackpot – where you get to keep all of the winnings – then record-breaking Mega Moolah would be a much better option for you. Alternatively, you could try Captain Cannon's Circus of Cash, which offers highly interactive bonus rounds. If you are unsure whether you're in the mood for progressive jackpots, then you could try out another luxurious title – Pure Platinum.
Captain Cannon's Circus of Cash
Rating:

4.8/5

Powered by:

Playtech

Play at:

Mansion Casino
Rating:

4.3/5

Powered by:

Microgaming

Play at:

Betway Casino
Rating:

4.5/5

Powered by:

Microgaming

Play at:

Betway
Outside of the unique concept, Everybody's Jackpot doesn't have that much going for it. The graphics are a bit dated, while the theme is nothing really new. The top-to-bottom paylines are something that is seen more rarely and helps boost the profits by quite a nice margin, but the free spin bonus is relatively hard to land. However, the shared jackpot is an original idea that gives a lot of food for thought to die-hard slot fans. If you want to try out this slot, be warned that it you may end up dedicating a lot of time to it.