Emoji Planet Slot Review – Playing Rules and How to Win
Text messaging, it seems, has taken over email as the primary means of communication in the world today. One does not even to use words to talk, as emoji seem to do all the communicating, we need these days! That is the theme behind this fun and innovative slot by NetEnt. Recently launched in 2017, this slot makes use of the relatively new cluster pays format, so there is no need to be concerned with pay lines or the like. Do not that let this scare you away, as there are so many features to look at here that you will be eagerly looking forward to each new spin.
Reading this review can win you some money. If you like the sound of that, you are not alone. We think it is best to first understand how a slot works before just jumping in and spending some money. With that in mind, we have gone ahead and played this slot numerous times. We know how each of the special features work, and we can say that we are impressed. This is definitely a one of a kind slot. You will find yourself wanting to use some of these emoji in your own text messages, particularly if they have won you some money!
Choose Your Emoji and Win – Play This Slot for Free
There are some important points to this slot that we think you will benefit from learning about before you start playing the real money version. That is why we want to encourage you to go ahead and play the demo first. It does not cost you anything, and you will still see all of the features that have gone into making this slot so popular in such a quick period. The emoji interact with one another to form clusters. When that happens, you can win big. It is all up to you and the ways the symbols form on the screen but playing for free will allow to receive the maximum enjoyment possible out of each spin.
This is one of those slots that just keeps on giving when you play in the real money format, and LeoVegas is the casino that keeps that up as well. In fact, they are going to add some bonus money to your account balance before you even take one spin. All you need to do is make the initial deposit and get up to £100 bonus cash. On top of that, you will receive 20 wager-free spins on a predetermined slot game. This is a lot of Emoji Planet fun. Furthermore, you can see our recommended UK slot sites.
Let's Look at the Game – Winning Rules
As you start playing this slot, you will notice that there is not much that the game does not have. There are great graphics, moving animations, and cool symbols to keep you entertained. It is an entire planet full of symbols, contained over an entire cluster of reels and rows. You will love watching each spin take place right on your screen, looking for the group that will pay you the most money in the end. Just decide on your bet and hit that spin button. You can even set the slot to autoplay mode for even more rapid-fire action.
Reading the Paytable
Cluster pays is a relatively new style of slot, so you will want to take some time to familiarize yourself with the format. There are many different ways to win, but there are no pay lines. How can that be? Well, we are glad you are asked. Instead of forcing certain symbols to appear on a line, this slot uses clusters of characters to determine a winning spin. You can look at the pay table page at any time to find out how this works and what you need to do in order to add some coins to your account balance. You will also discover more information about each special feature, and how much each symbol is worth when you do win.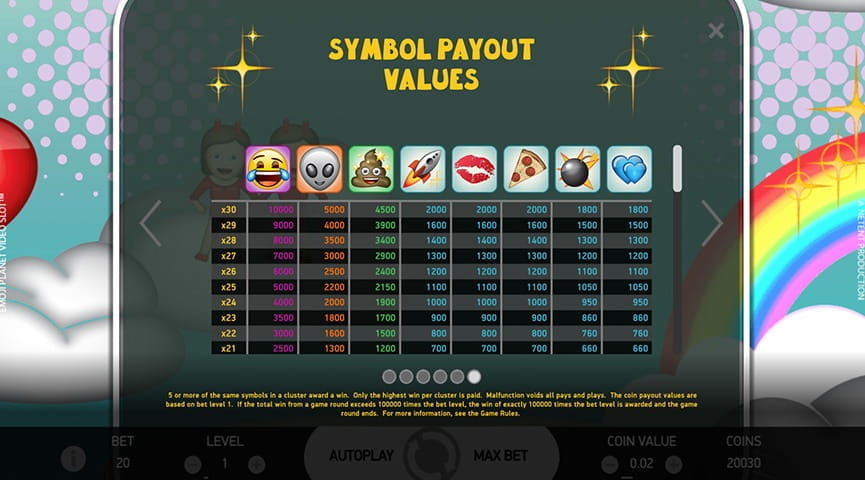 Advantages:
Many Ways to Win
Quick Spin Feature
Low Minimum Bet
Free Spins
Cluster Pays
Fun to Play
Disadvantages:
No Progressive Jackpot
No Bonus Game
Naturally, there are some limits to your bet that you will want to be aware of. This is the same as with any slot, but Emoji Planet has such a nice range that most any player is sure to be satisfied. You can start out playing with bets as low as £0.25. This is great not only for those players who do not like to risk much at any time, and for those who want to first familiarize themselves more with the cluster pays format before wagering more. At that point, you can always increase your bet up to the maximum of £200. The maximum bet could win you up to £100,000 given the right conditions!
Special Features and Free Spins
There are almost more special features contained in this slot than can possibly be reviewed here. The emoji themselves have bonus features built into them. There is also the bomb feature, which can be blown up to get you between 5 and 100 times your bet. The pizza feature is signified by a 3X3 overlay that will appear randomly across the playing surface. Get this feature and you will see a big win in your future. There is also the kiss, rocket, and two hearts features that you will appreciate as you begin playing this slot.
We also want to tell you about the avalanche feature. This one is fun and can win you some serious coins. When this feature is activated, certain symbols will disappear in order to make way for others. As you know, you need certain combinations to win, so this essentially doubles your chances of winning on any given spin. If a cluster is formed, an explosion will happen as soon as your win has been determined. At that point, new replacement symbols will fall into place. The feature will continue for as long as winning combinations are formed. This is quite fun to watch, particularly if it keeps going!
Mobile Version of Emoji Planet
While this might not be your traditional slot in the sense that it has only 3 rows, NetEnt has still created a spectacular mobile version that deserves your attention. This slot will perform great on your smartphone or tablet, complete with all of the same emoji that you have come to love on the desktop version. You will also get access to the same features that can help you win big, so there really is no reason not to try this one out the next time you are in the mood and you are not near your computer.
Before You Start – Consider These Other Great Slots as Well
With so many different features and a number of ways to win, it is really easy to recommend this slot. It is definitely one the more unique ones that you will play, so that is worth something right there. You will see many features that you never thought of ever before, and the emoji concept is something that is so relevant in today's culture. With such a high RTP of 96.4%, you will have a balanced chance of winning some money back. Play this one today and you will see what we are talking about here. Oh, and we have a suggestion for you, that might sparkle some interest – you can check where you can take the best slot bonuses!
Rating:

4.6/5

Powered by:

NetEnt

Play at:

Slots Million Casino
Rating:

3.3/5

Powered by:

NetEnt

Play at:

Royal Panda Casino
Rating:

4.8/5

Powered by:

IGT

Play at:

Slots Million Casino
To summarize, this is a slot that you will want to play several times in order to get the hang of it. That means, you should start with the demo version. As soon as you have done that, we are confident that you will be playing it for real money in no time at all. Even then, it will take many spins before you can gain access to all of the different features that make this slot so special. After you have been playing for a while, we understand if you want to try something different. When that moment arrives, consider one of the other three slots that we have reviewed recently for you.