Eagles Wings Slot Review – Playing Rules and How to Win
The eagle is a symbol of freedom almost the world over. It also represents a care free life where one can just soar high above and let the wind be their guide. You will get all of those feelings and so much more when you play Eagle's Wings. While you will not see any cool animations with this slot, the symbols themselves seem to tell the story. There are also 25 bet lines to keep you more than entertained as you look for those winning combinations that make playing online slots so enjoyable. With everything that is built into this game, we have quite a bit of ground to cover, and not a lot of time to do it. So, let's get started and make sure to stay with us until the end – lots of interesting details await!
If you really want to enjoy a slot, it is important that you know all of the details associated with it going into the game. You want your spins to mean something. Without a proper foundation, you will be left wondering why you didn't win, or looking at the screen in anticipation of the big win that never seems to come. That is why we have written this review. We have played the game many times and are able to provide a first-hand look at what has made the slot so popular since its launch by Microgaming back in 2014.
Nature and Eagles Rule the Day – Play This Slot for Free
When we went to play this slot for the first time, we were pleased to find the free version. This is a great way to learn how to play the slot, and you do not have to worry about needing to place any bets until you are good and ready to do so. It is important to have the freedom to just sit back and enjoy the story unfold in front of you with each spin. You can look at the various symbols and learn how the special features are activated and work to win you some coins. Load up the demo version today and see how you like Eagle's Wings.
When you start to soar with the Eagle's, you will surely want to try your luck at winning some real money at some point. We think that Duelz Casino is a great place to get started on that quest. It is here that you can make your initial deposit and earn up to £100 and 100 free spins. This is an excellent way to begin making spins with Eagle's Wings, as you can earn some decent rewards. Apart from that, we're sure you want to know more about the symbols and the paytable which you can check down below!
Let's Look at the Game – Winning Rules
Opening this slot up for the first time is a treat in and of itself. You will find a similar look to other slots out there, with a few caveats. We noticed that it looks more like a slot machine that you would find in a Vegas casino, complete with the very same buttons. You can easily see the number of pay lines, coins, and your bet right on the main playing screen. Just decide what you want to wager on your next spin, put that number in, and then hit spin. You will watch the symbols fly by until they settle on what hopefully is a win.
Reading the Paytable
Just as there are many speeds at which an eagle can fly, there are multiple ways to win with this slot. In fact, there are 25 fixed pay lines built into the structure of this game, so there are plenty of ways that you can win with each spin. You might wonder how you can keep track of each pay line to see if you are a winner, but you need not worry about that. You will just need to take a look at the pay table to learn that information. It will detail each of the 25 lines, and it will tell you how much you will win with each symbol.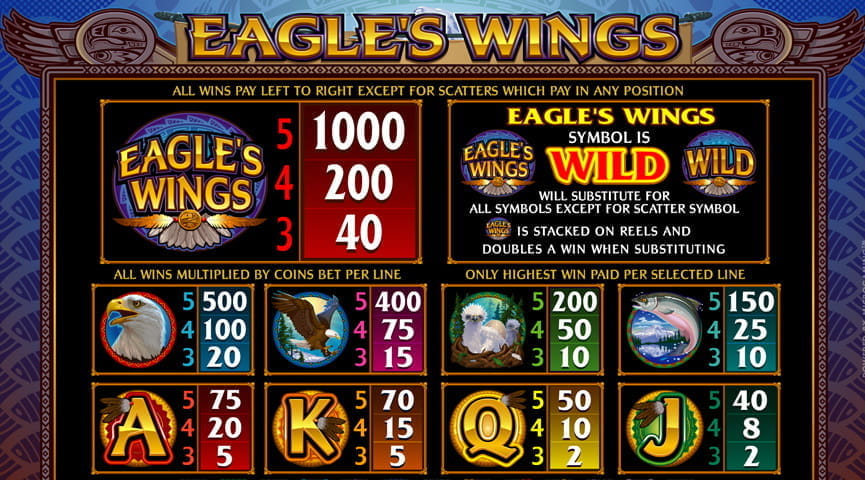 Advantages:
25 ways to win
Quick spin feature
Good bet range
Free spins
Bonus Rounds
Fun to play
Disadvantages:
No progressive jackpot
Low maximum bet
Before each spin, you will need to set your bet. There are minimum and maximum amounts associated with your wager that you need to know about. At the low end of the spectrum, you can bet as little as £0.25 on each spin. This is a low wager that we think most players will be happy with, particularly when you are just starting to learn how the game works. When you want to increase your bet, you can go as high as £31.25. That might not be near enough for some players, making this a slot more designed for the average casino player.
Special Features and Free Spins
There is a Lucky Eagle Bonus Game built into this slot that you will want to know about. It will be activated when you find at least three eagle coin symbols show up anywhere on the screen during one of your spins. You will enter into the bonus game where you will need to pick one of the bonus eagle coins. You will then get a certain number of free spins depending on the selection that you made. We can tell you that up to 60 free spins can be dished out during the bonus game, which gives you a great chance to win some serious money.
There is also the Eagle's Wings Wild Symbol to tell you about. The wild symbol in this game is, naturally, the Eagle's Wing. When you get this symbol, you can count on it substituting for any other symbol on the reel. In fact, it will take on the form of a symbol that will give you the biggest win on any given pay line. That is a way to collect a win just when you thought that all hope was lost. Remember that the Wild symbol in this game can appear in a stacked fashion on up to all five reels.
Mobile Version of Eagles Wings
You do not need to worry about needing to be at home when the mood hits you to play this slot. Microgaming has developed quite a nice mobile version of Eagle's Wings that you will enjoy every bit as much as the desktop version. All of the same features are incorporated into the version developed for your smartphone or tablet. You can place your bets and see all of the spins unfold right in front of your eyes. Just make sure that you put your mobile device in landscape mode so you can see all of those eagle symbols!
Before You Start – Consider These Other Great Slots as Well
Some players might be a bit disappointed with the lack of animation built into this slot, but we think the special features are worth the investment of your time. While the graphics do seem a bet outdated, the theme really works. There is a lot that this slot has going for it, so it is certainly worth giving it a few spins. You might just find that the eagle's really fly high for you. With an RTP of nearly 96.5%, there is certainly a good chance that you are going to win many of your bets.
Rating:

4.5/5

Powered by:

IGT

Play at:

Duelz Casino
Rating:

4.7/5

Powered by:

PlayTech

Play at:

Ladbrokes
Rating:

4.6/5

Powered by:

SG Interactive

Play at:

21 Casino
Keep in mind that this slot has both a bonus game opportunity and free spins. Not many slots have that much going for it. Add to that the presence of the wild and scatter symbols, and we feel that there is more than enough to look forward to with each spin. The setup is basic and easy to understand, making it an ideal game for beginner slot players as well. When you are ready to move on, we would like to point you to three more slots that we recently reviewed. Furthermore, yo ucan also check the slots at our best UK slot casinos!