Cluedo Spinning Detectives Slot Review – Unique Features, Winnings, and More!
Cluedo Spinning Detectives is based on a famous mystery game, but the game itself holds a great deal of mystery because it's busy. The moment you click the Spin button, the game becomes very busy and somewhat chaotic, but it's all in good fun because the chaos translates into many ways to win. The scenery doesn't stay the same, as the game switches rooms that have unique Wilds that can add coins to your bankroll. Overall, it's a somewhat difficult game to explain, but this review will give you a good idea of how it works so you can decide if this is the type of game you want to play.
What you will find in this review is a look at the demo game, paytable, the gameplay, the features, what we think, and some recommendations that you might like. We must warn you that this game has a lot going on. Saying it's "busy" is somewhat of an understatement for the fact that even a tour of the paytable can make your head spin. Fortunately, it is all laid out, but it's a matter of remembering what does what. Really, it's a matter of giving the game a try so that you can experience it for yourself and see how it works.
Solve Mysteries for Free with the Demo Game
The way that you can determine how it works is to try out the demo. You can spin the reels and solve mysteries for free so that you can see all of the action for yourself. If you're not into mundane slots that don't really do anything, then you're going to love this. If you want to just sit back and relax, this game requires more interaction from you, so be prepared to do some clicking because you will have to spin and make choices throughout the game. The fully functional demo makes this evident, which is good so you can determine whether or not you'd like to play with real cash.
When you find that you are ready to play for real cash, BetVictor is offering a great bonus once you choose it as your casino. The deposit must be made by debit card to qualify for the bonus. This is a great way to get some free cash in your bankroll as you are growing accustomed to the casino and the real money version of Cluedo Spinning Detectives. It is simple to claim it and it is bonus cash that you can enjoy.
A Look at this Unique Game
What you will find is that the theme of this game is a lot of fun. You will be a fan of this slot whether or not you have played the game Clue. However, the only way you can truly understand this game is to play it because it is somewhat complicated. The Wilds vary based on the room you trigger. You also get a progressive jackpot that pays up to 50,000 coins. Free spins open room functions and you can take advantage of a really fun bonus round. Technically, all of this happens on more than just the main 5 reels, so you get more than just the 40 fixed paylines. There are so many ways to win that the game comes with a small learning curve. If you like highly active games, you'll like this one. What's missing, however, is the autospin and quickspin features. You will have to physically play this game rather than set it to play for you.
How Does the Game Pay?
The paytable to Cluedo Spinning Detectives is somewhat involved. There are 12 main symbols. However, there's much more to this game. There are rooms and each room has unique features. When a certain room is triggered and 5 scattered Magnifying Glasses appear, then that room's jackpot is awarded. The game logo isn't Wild for the Magnifying Glass. The envelope is also not Wild in this case. You will also see three people, Gold White, Gold Peacock, and Gold Green with each representing something different based on whether they are shown in a picture frame or folder. If you encounter the Billiard Room, then you will notice white, orange, blue, purple, red, and yellow ball Wilds that are tapped by a pool cue and scattered into additional Wilds. The library feature also has its own set of three wilds. Scatters on the main reels can trigger either a Spinning Detective Bonus or a Free Spins Bonus.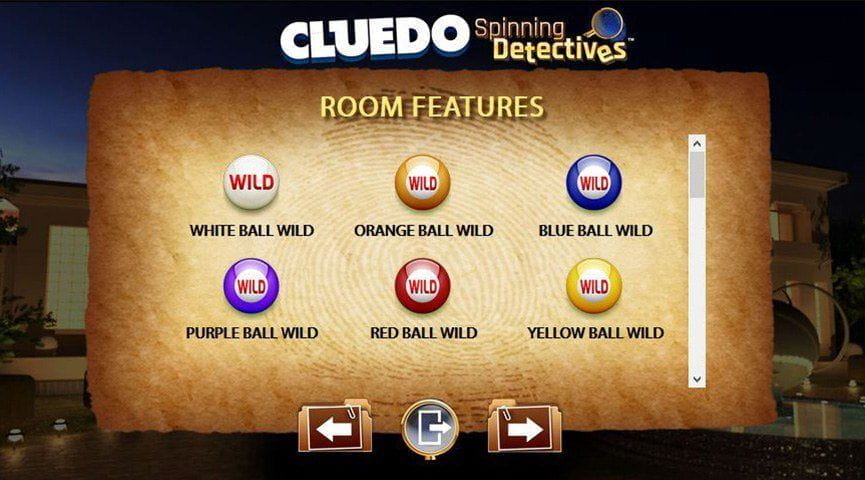 Advantages:
Many chances to win
Detailed paytable
Lots of Wilds
Multiple games
Interactive bonus round
Wide betting range
Rooms, Bonuses, and Free Spins, Oh My!
To get to the features, specific events must happen. The free spins are triggered by getting the Scattered Mansion symbol on reels 1, 3, and 5 on the main reel. When the free spins are triggered, you get 7. The game's logo can't be used as a wild for Mansion. To activate the Spinning Detective Bonus, you have to get 3 Scatters on reels 1, 2, and 3 of the main reel. Again, the logo can't be used as a wild for Scatters. When you trigger this bonus, you get to pick 7 cards to reveal suspects, rooms, and weapons. You can get the master Slot Detective and 2x multipliers to increase your winnings. The goal is to match color groups to solve the case. If no color groups are matched, you get a last chance pick.
The unique combination in which the Scatters must land in order to award a specific type of feature is somewhat difficult with this slot. This doesn't discount the winning possibilities because you have so many rooms that award additional money. Factor in the progressive jackpot and it's no wonder you're not awarded free spins or a bonus round a lot during your gameplay. When you do hit them, you are rewarded nicely. You can also snag Big Wins during play, which pads your bankroll even more.
Play On Your Mobile Device
The mobile slot version of Cluedo Spinning Detectives was released in 2017. The game features are exactly the same. However, you aren't going to see the rooms rotating on the left side of the screen like you do on the desktop version. Instead, your rooms will pop up in front of you as you activate them. You can also touch the reels to spin because limited space on the screen only leaves enough room for you to see the reels, your bet, and your bankroll balance. Nonetheless, the game is still as graphically sound and equally as fun to play as the desktop version with the added perk of being able to play from anywhere.
A Final Note and a Few Recommendations
If you like this slot, then you will like Gonzo's Quest. While it doesn't have the rooms and many Wilds that Cluedo Spinning Detectives has, it is a game of mystery that has increasing multipliers, the avalanche feature, free falls, 5 reels, 20 paylines, and up to 50,000 coins to win. It is different, but thematically it is in line with what Cluedo Spinning Detectives. If you want a little more mystery, then Double O' Cash is another adventurous slot that will give you a bonus mission feature, up to 30 free spins, and Scatter pays with just two symbols. There are 5 reels, 20 paylines, and up to 100,000 coins to win. Other slots that you might like include:
Rating:

4.3/5

Powered by:

Playtech

Play at:

Mansion Casino
Rating:

4.85/5

Powered by:

Microgaming

Play at:

PlayOJO
Rating:

4.7/5

Powered by:

Playtech

Play at:

Ladbrokes
Overall, Cluedo Spinning Detectives is a fun slot. There's a lot of mystery to it, even with the well-defined paytable, so you just have to try it. Even in the absence of autospin and quickspin, there's so much going on that you stay rather busy. You have free spins, a bonus round, multiple rooms with Wilds that do different things, and a progressive jackpot. While the max win isn't the highest, the RTP is very good and the potential to win a lot of coins is there. Go ahead and give the demo a try so you can see it for yourself and decide if this is the right slot for you. Or you can read all about the best WMS slots in our dedicated post.