Cat in Vegas Slot Review – Playing Rules and How to Win
Just about everyone loves the Las Vegas Strip, but not everyone can visit there in person. This fun little slot allows you to watch a cat live out your wildest fantasies on your behalf. Complete with the neon lights that have made this area so popular, you will find a slot that has five reels and three rows. Traditional in its design, this one also has 25 bet lines that you can win on. It is exciting and full of the type of twists and turns that will keep you coming back for more.
Any slot that models itself after the Vegas Strip will have a lot of going for it. Released by the software developer Playtech in 2015, this is a game that has become popular because the designers paid such an attention to detail. This is why we have written this review for our readers. We want each of you to get a visual picture of what is incorporated into the design of this slot before you actually start playing it. There are some unique symbols that can win you some serious money, which also add a creative element to the game. We are going to discuss this and a lot more in the following paragraphs, so stay tuned!
The Cats Save the Day – Play This Slot for Free
You might be the type of player that just wants to start betting on a slot to see what happens. While we can understand your eagerness to get started, we want to encourage to wait just a moment and play the demo version of this one. Cat in Vegas is so fun that you don't necessarily need to be playing for real money in order to appreciate all that it has to offer. So, play the free version. Get to know the special features and see what happens when you hit the right combination of symbols on the bet lines. This is how you will learn and gain the experience that you need to enjoy the real money version even more.
Naturally, the time will come when you will want to start trying your luck on Cat in Vegas with some real money. When you are ready, you will want to open up an account at LeoVegas Casino. While we know that there are many options to play this popular slot, this is a great one to choose right now because of the bonus opportunity that they have going. You will end up with a £100 cash reward after completing a wager with your first deposit. To make it even better, the casino will provide you with some wager-free spins that you can make use of right away at all slots.
Let's Look at the Game – Winning Rules
Since its release in 2015, Cat in Vegas has been one of the more popular slots developed by Playtech. You will understand why this is as soon as you begin playing. It is really that fun and innovative. You will notice graphics that are quite unique, along with animations that really make each spin sizzle. With 25 different bet lines to look at, there is a lot that that this slot has to offer, beginning with your bet options. We will go over the minimum and maximum limits in a moment but place your bet and hit spin. That is when the action begins.
Reading the Paytable
So, you know by now that there are 25 bet lines to look at with Cat in Vegas. Do not worry about the number, as the game itself is really rather simple in its approach. You will enjoy knowing that you have a lot of options to win with each spin. To get a better look at those options, you are able to check the paytable anytime that you feel like it. This is a useful part of the slot as it details where each of those 25 bet lines are, and how many coins are attached to each winning symbol. You will also be able to read more about the special features and how much money you can possibly win with each should they be activated.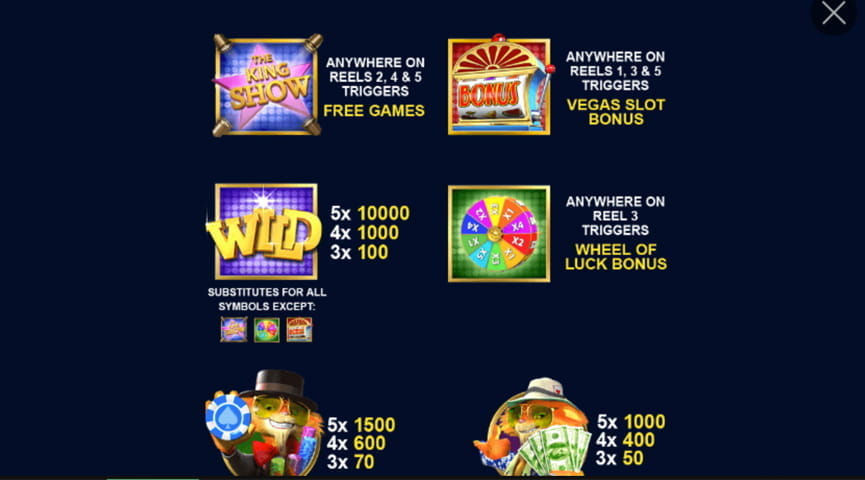 Advantages:
20 Ways To Win
Quick Spin Feature
Bonus Opportunities
Free Spins
Expanding Wilds
Fun To Play
Disadvantages:
No Progressive Jackpot
No Bonus Games
There are many ways to bet on this game. To begin, you will need to select your coin value and then the bet level. Keep in mind that there is a progressive jackpot associated with Cat in Vegas as well. When you go place your bet, you will want to keep it between the minimum and maximum levels set by the game and the casino. We find that there is quite the range here, so most players should be able to place a wager that they are both comfortable and happy with. This is keeping in mind that you are always welcome to change that bet each time you begin a new spin.
Special Features and Free Spins
The most logical place to begin this section is to talk about the progressive jackpot. This is why many players will come to Cat in Vegas. The chance of winning a major jackpot that keeps going up by the day is almost too good of a chance to pass up. You will notice that the progressive jackpot is always working in the background. You will know that you have won it if every single one of the red lights hanging over the reels begin to light up at the same time. This can net a potentially enormous win when it is all said and done.
There is also a Vegas Slots Bonus that we want to tell you about. This feature will activate itself when you get three slot machine symbols to land on any of the odd numbered reels. When this happens, Felix the cat will come into the screen and lead you in playing four different slot machines. There will be some multipliers that enter into the scene here. You will keep playing until you notice a sign appear that says, 'Out of Order'. These are just a few of the features included with this slot, so begin playing to discover more.
Mobile Version of Cat in Vegas
With so many bonus features and a progressive jackpot at stake, it is understandable that you would want to play this slot on your smartphone or tablet whenever the mood strikes you. This is why we were happy to notice that Playtech has made a version of this slot just for the mobile platform. We are equally happy to report that it is a great version, and it replicates the one that you will be playing on the desktop. You will not miss out on anything, right down to the progressive jackpot. Fire up your favourite online casino and begin playing on your mobile device today. If you happen to like it, make sure you check out the best mobile casino sites in Britain!
Before You Start – Consider These Other Great Slots as Well
With all of the positives that we have pointed out about this slot to this point, you might be wondering if there are any drawbacks. While some players will always find something wrong with a slot, this one seems to have everything. The one area where it is lacking is with the RTP. At only 92%, players have grown to expect a more balanced approach. We understand this but can also point out the progressive jackpot provides an excellent opportunity to win a massive amount of money that is simply not available with many other slots today.
Rating:

4.7/5

Powered by:

NetEnt

Play at:

Casumo Casino
Rating:

4.5/5

Powered by:

Microgaming

Play at:

Betway Casino
Rating:

4.5/5

Powered by:

Microgaming

Play at:

Betway Casino
We encourage you to begin making spins with this slot to discover how much fun it is. There is a lot going on, so each spin seems to take on a story of its own. The theme is rather unique, with Felix the cat really stealing the show. We truly believe that you will enjoy it as much as we did. If you are ready to move onto something more different, perhaps away from the Vegas Strip, consider one of these other three slots. We have reviewed them each for you so that you can choose one that is to your liking. And if that doesn't seem like enough, you can always check our list of the best slot casinos in Britain.