Castle Builder Slot – The RPG of Online Slots
It's not every day that we come across a slot game like Castle Builder. Its unique level-based progression and interactive story reminds us more of a traditional video game than an online slot. Combine this with the outstanding graphics and you got a slot to remember. The best thing about it is that the more you play, the better your rewards will be. Not only will that keep the game fresh, but it could also net you some good money in the end.
If you want to find out everything about Castle Builder slot, make sure to read on. Down below, we will break down the main concept of the game, as well as its rules and bonus features. What's more, just below this paragraph, you will find a free demo of the slot, so you can try it yourself. And once you are ready to play for real money, we can help you decide where to do it. So, make sure to stick around because we'll be answering any burning questions you might have about this unique slot.
Play Castle Builder Slot – Free Demo
Before we dive into the specifics of the game, why don't you try it for free? We strive to provide the most concise reviews possible, yet the best way to learn about a game is to play it yourself. This rings especially true for unique titles, such as Castle Builder. So, go ahead and build a few castles, marry a few princesses, and have some fun for free right here. And if you like it, make sure to read on to find the best place to win some real cash while playing it.
If you enjoy Castle Builder slot, why don't you play it for real money? Not only will you get the same fun experience, but you can also make some cash while doing it. If you choose to place some real bets on the game, we recommend you do it at Royal Panda Casino. Register now and make your first deposit and you will get 100% welcome bonus, up to £100. Sounds like a pretty good deal to us, don't you agree?
Castle Builder Rules and Features
Castle Builder utilizes a unique concept that you don't find in many slots out there. In its essence, it's just a regular 5-reel, 3-row slot. However, the gameplay is divided into several levels and it even has some kind of a story. You are a master builder, contracted by the king to build castles for his way-too-many daughters. Each level is completed when the corresponding castle is built, which also triggers the Wedding Bonus game. The game comes with a grand total of 30 levels and once you play through all of them, you get to start over. If you would like to learn more about the levels themselves, make sure to read on.
Symbols and Paytable
The online Castle Builder slot features ten different symbols across its five reels. All wins are paid from left to right only, with half the symbols requiring you to line up only two of them, while the rest require a line of three across one of the slot's paylines. It doesn't feature any scatters, but it is plenty generous with its wild symbol, so you have nothing to worry about.
There is also one special symbol – the building block. That one allows you to make progress on the castle building feature and doesn't reward money on its own. Also, it cannot be replaced by a wild. And yet, it is still the most important symbol in the whole game. But we'll talk about that in a bit.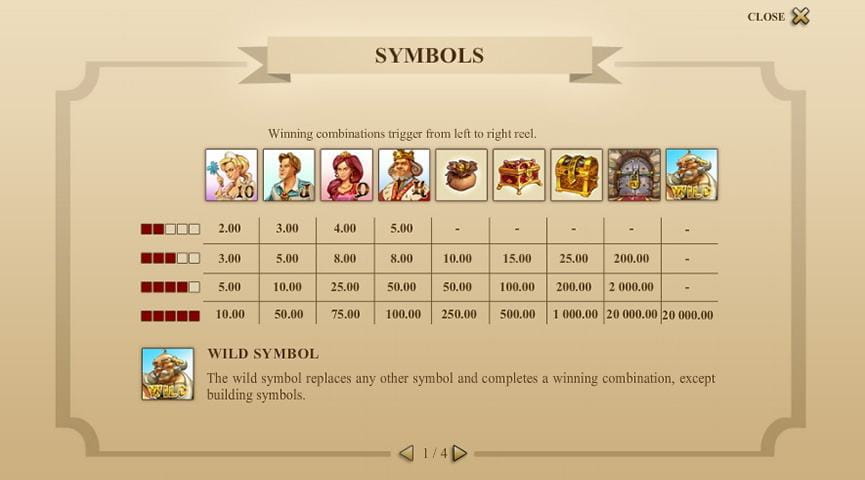 Advantages:
Great Graphics
Engaging Structure
Continuous Mini-Game
High-Paying Bonus Round
Achievement Tracking
Unique Theme
Disadvantages:
No Scatters
Fixed Paylines
When it comes to betting ranges, Castle Builder is quite liberal with its. You can wager anything between £0.01 and £15.00. However, if you want to play with all paylines, you must bet at least £0.15. As for the maximum win, the game could net you £375,000 if you are lucky enough. However, you will not find a progressive jackpot here, so you will have to rely on lucky spins and good bonus game guesses only. Still, we think that over a quarter million quid are a good sum to try your luck for.
Unique Level-Based Gameplay
Castle Builder might not have a lot of features, but the ones it does have are quite original and engaging. The most notable one is obviously the castle building. Each time you line up two ore more building blocks on a payline, you will make some progress towards completing the build. The more building block symbols you line up, the better, as they will contribute different value to the castle – Standard, Bronze, Silver, or Gold. And the total value of the final build will attract richer admirers for the Wedding Bonus game.
Once the castle is complete, the three suitors will reveal themselves. You will have to choose one of the three to marry the princess but do so carefully. Each of them holds a different reward, so you want to choose the one that pays out the most. Of course, you do not know who that is before you choose. Once you do, the three admirers will reveal the prizes they hold, and you will get the one of your chosen suitor. Of course, the bigger bets you placed during the castle-building phase, the richer the suitors will be.
Mobile Version Would Have Been Nice
Unfortunately, the online Castle Builder slot is not available for mobile devices. Otherwise, it would have been the perfect game to play on your daily commute. What better way to escape the gloom of public transport, than to embark on a quest in a charming medieval land, trying to create beautiful homes for gorgeous princesses? And for some reason, the king trusts you enough that he allows you to choose his daughters' husbands. Sounds like a great place to be, unlike the full bus you take to work every morning.
Conclusion and What Else to Try
If you like the fairy tale theme presented in Castle Builder slot game and you're looking for some more titles with the same vibe, why don't you give Jack and the Beanstalk a few spins? Or maybe, the adventurous Gonzo's Quest is more up your alley. They are both great titles to try out.
On the other hand, if the lack of progressive jackpot and the level-based structure doesn't quite suit you, maybe you should go for a more traditional slot. Mega Moolah is a great classic to play, and it has already proven to be a millionaire-maker.
Rating:

4.9/5

Powered by:

NetEnt

Play at:

888 Casino
Rating:

4.4/5

Powered by:

NetEnt

Play at:

LeoVegas
Rating:

4.3/5

Powered by:

Microgaming

Play at:

Betway
All things considered, Castle Builder is a great slot that takes a very different approach to its core gameplay. And unlike most slot games, it features a story as well. Sure, the dialogues can get a bit repetitive and after you play for a while, all castles will feel the same. Yet, Castle Builder slot game goes to show that there are alternative ways to approach slot design and it definitely proves the concept that there is so much more that developers can do with their titles. So, if you want to try something new and different, make sure to check out Castle Builder!