Captain Cannon's Circus of Cash: The Greatest Show on Earth!
Gamblers usually like slots because of the – well, gambling – but Captain Cannon's Circus of Cash surprisingly manages to stand out as a game too. The nostalgic 2D graphics are done by Ash Gaming, one of the well-known subsidiaries of leading software studio Playtech. With 9 bonus games and a progressive jackpot on offer, there is a lot to look forward to here. There is always something happening on the screen, and the fun sound effects also help to bring the theme to life and take us on a tour around a rather wacky circus.
Our reviewers have played through the slot and covered everything you may need to know about it on this page. There are nine possible bonus rounds in total, but which one is triggered is determined solely by chance – this makes each game session unique in its own right. You can also test the slot personally with our free demo, and find all the technical details like RTP, betting range and payline options. Let's see what Captain Cannon has in store for us.
Gather Round, Try the Strongest Demo in the World!
If you want to personally become part of the show, then you should give a spin or two to the Circus demo that we have prepared for you. You can witness the graphics for yourself as the ringmaster ushers you into the 'greatest slot' you will ever see. The demo has all the features of the full version, so it will give you a good idea about the effects and bonuses you will encounter. The only difference is in the betting range, which can vary from casino to casino.f
Be careful not to use up all your luck on the demo though! You don't have a shot at the progressive jackpot here, or at any of the winnings that the regular game offers. If you want to try your hand at netting some real cash, then you're in luck because several of our approved online casinos have this slot in their catalogues. Our top recommendation is Mansion Casino, because they have the best overall platform, and offer good conditions for any new players headed their way.
The Amazing Rules Overview!
Captain Cannon's Circus of Cash certainly gets bonus points for overall style, but how does it hold out as a slot? Well, it offers a familiar layout with 3 lines and 5 reels. You have 25 fixed paylines here, which means that you can start playing as soon as you set your bet level. As expected from a game featuring the Playtech logo, the software is intuitive and easy to use. You have different options that allow you to increase the speed of the spins, set an auto sequence, or track the history of your wins. The developers have shown their mettle with some little touches that really improve the overall experience. For instance, by hovering your cursor over the symbols on the reels you can check their returns without having to open the paytable. All to all, a good job.
Meet the Symbols of the Circus!
The higher-paying symbols in this slot are, naturally, the performers of the Circus that have come to entertain you. You will meet most of the extended cast during the bonus rounds, but the Clown, the Seal and the ringmaster's Assistant are always on the reels. The best symbol is Captain Cannon himself. He offers the highest payouts and can net you the slot's jackpot (don't mistake that for the separate progressive jackpot that is on offer!). The Wild symbol in this game is, indeed, quite wild – cause it's a Lion! You can laugh at the irony, but the circus lion substitutes all other symbols on the paylines and offers you reliable aid.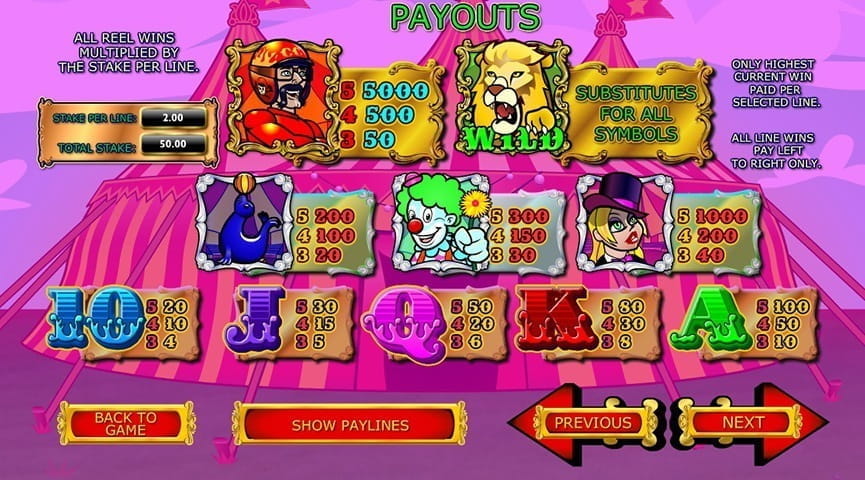 Advantages:
9 Interactive Bonus Games
Animated Bonus Rounds
Progressive Jackpot
Good RTP
High Max Bet
Playtech Interface
Disadvantages:
High Minimum Bet
Single Trigger for Bonus
Captain Cannon's Circus of Cash has 25 fixed paylines. You can adjust your bet per line from 1 pence to £5, which means that your total wager can be between £0.25 and £125. Not quite high-roller territory, but still good – especially considering that most operators also offer a progressive jackpot with this slot. The unique thing about Captain Cannon's Circus of Cash is that the progressive jackpot can be won not through the main game, but rather in the bonus rounds. This means two things – first, the jackpot is (usually) slightly lower compared to other progressive slots. Also, the main game offers a much higher Return to Player rate than expected. It is estimated to be almost 95%, which is rather good for a progressive slot. To win the jackpot, you need to land three special Golden Clown symbols during one of the three highest-ranked bonus games (more on that below!).
The 9 Spectacular Bonus Rounds!
There are a total of nine possible bonus games that you may encounter in this slot. The free round is triggered randomly as you play – if you look beneath the reels, you will notice letters spelling B.O.N.U.S., and after some spins one or more would be highlighted. If all five letters get highlighted – a bonus round is triggered. The game that you get to play is selected randomly, and you can see a ranking of the expected rewards on the right of the reels.
All the bonus rounds are very tightly-knit thematically and show traditional circus acts with good animations and high levels of interactivity. Fire Breathers turn reels wild, Rampaging Elephants cause cascading wilds, Bearded Ladies and Strongmen hide exciting rewards, while the Clown Car is full of clowns – and free spins. The most exciting bonus allows you to control a bear riding a motorcycle over a tightrope – while wearing a pink tutu, of course! As you might expect, the highest rewards com from the Captain Cannon show. This one is very hard to trigger, but offers the best prizes. The bonus games give this slot a high degree of replayability and truly bring the circus to life making you a part of the show.
Final Verdict: A Fun Night at the Circus
As you can see, most of our reviewers consider Captain Cannon's Circus of Cash to be a very fun and engaging game. It's a breath of fresh air breaking a little bit from the usual slot mould. If you have enjoyed the peculiar style, then perhaps you would also be interested to read about Monty Python's Spamalot, another wacky slot with a progressive jackpot and fun features. If you are looking for a classic progressive jackpot though, then record-breaking Mega Moolah would be a better pick for you, as there are four jackpots on offer there. Captain's Treasure is also a decent alternative, as it has even higher RTP than Captain Cannon's Circus, but less explosive bonus rounds.
Rating:

4.3/5

Powered by:

Microgaming

Play at:

Betway
Rating:

4.9/5

Powered by:

Playtech

Play at:

Ladbrokes
Rating:

4.5/5

Powered by:

Playtech

Play at:

Mansion
Captain Cannon's Circus of Cash is a relatively unique title that won't be suitable for every slot fan out there. The bonus features really bring the game to life, though this can also be considered a drawback, as things get a little stale if you hit a dry streak. The high RTP makes this a safe choice for fans of progressive jackpots, as the main game stands very well on its own and will be rewarding both in terms of prizes and a pleasant experience.