Blood Suckers 2 Slot Review – Learning to Play and Become a Winner
Since its introduction back in 2009, Blood Suckers has been one of the most popular slot games ever developed by NetEnt. The eagerly anticipated sequel to that has now been released in 2017, and they have really stepped up the game. The graphics are even more ground breaking than before. You will find a similar format in this slot as the one before, complete with 5 reels, 3 rows, and 25 different fixed play lines to win on. There are new ghoulish characters to frighten you with, and the free spins and bonus game have been revamped.
You might wonder why the sequel needs its own review. Surely it is the same as the first version. Well, not so fast. A great deal has happened in the eight years between slots, and that is reflected in the new sequel. There are new features to talk about and brand new themes to keep you entertained. You will find the storyline to be just as exciting, and the motivation to continue playing spin after spin should still be there. That being said, you should still play the demo version before jumping into this one. That is the purpose of this review, so let's get started.
Get Your Fright On – Play for Free
Playing the free version of this slow is a great way to begin. This review is based largely off the free version, as it contains the same features and symbols that you will find on the real money version. It is important to be frightened and amazed for free, as you will then know what is coming when you start to place your own wagers. We think that is the best way to move forward, and you probably will as well. What we will do now is explain how the special features and the pay lines work, as that should bring everything else into focus for you.
After you play the demo version of this slot for a while, you will inevitably want to try your luck with some real money. While this slot does not allow high wagers to be placed, there are still ample opportunities to win some serious cash. If you are ready, consider going to NetBet Casino to place your first deposit. This online casino will give you up to 500 free spins on select slots when making your first deposit if you input the code 'NBWELCOME500' when registering. Use these spins to take a bite out of the game before you have to spend your own money on spins.
Learn the Game First – Winning Rules
Understanding this particular slot means that you need to know what each respective symbol represents. There are plenty of special features in this slot that will keep you coming back for more, and that is why there are so many different ways to win as well. The important symbol you will want to know about is the Scatter Shot. This is similar to the symbol used in the original version, but with a twist. When this feature is activated at random, you will notice that two scatter symbols will have appeared. This is where you will end up with some free spins, so stay tuned for more information on that.
Take a Look at the Pay Table
Naturally, the pay table will be of interest to you. You can easily access this at any time, during both the real and free versions of the game. Remember that you will want to take into account any winning combinations by reading the screen from left to right. Like most slots, you can only win once on any given pay line, but you will be able to take the highest winning combination to the bank with you. You will also add up all of the wins on all of the pay lines to get your combined winnings for any given spin. Keep in mind that free spins and bonus rounds come with multiplier effects, so the coins may just keep on coming.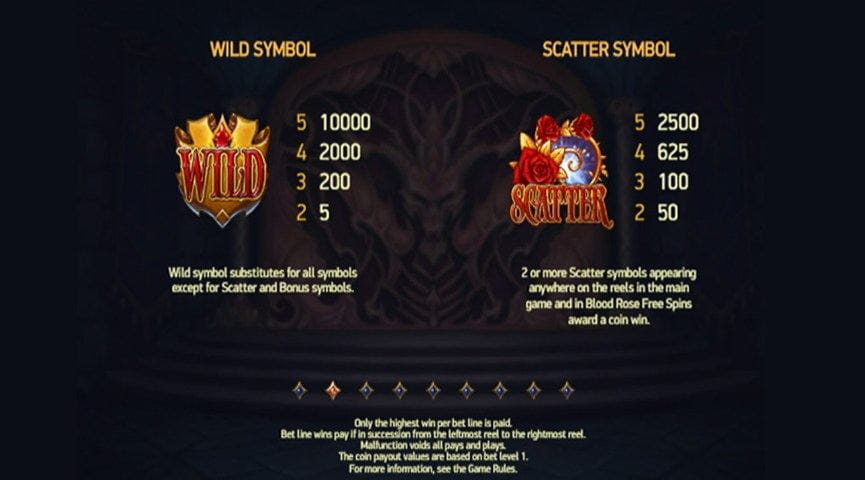 Advantages:
4 different bet levels
Multiple ways to win
Wild jokers
Exciting bonus game
Autoplay feature
Simple to play
Disadvantages:
No progressive jackpot
Low limits
One of the drawbacks with the first version of this slot game was the relatively low maximum bet limit. For this version, that has been increased slightly to £100. There are still 4 bet levels, and the maximum coin value is £0.50. You will just make your wager according to what you are comfortable with, and then let it a spin. The minimum bet is only £0.20, so almost any budget can have fun playing this slot.
Wilds and the Bonus Game
There is a Blood Rose Free Spins feature in this slot that is rather appealing. You can unlock the free spins by combining three or more Scatter Symbols across any of the five reels during a spin. When you get three of them, you will end up with 10 Blood Rose free spins, while 4 scatter symbols will give you 20 free spins, and 5 will give you 20. You can really gain a lot of coins during the free spins, and it will not cost you anything to do so. There is also a cool thorny rose background that is special to the frees spins round that we found to be a nice touch.
The Vampire Hidden Treasure Bonus Game makes a comeback in the sequel, and it is just as exciting as long-time players will remember. It shows up randomly, but our reviews show that it appears quite regularly. You will gain access to the bonus round when three or more bonus symbols appear on consecutive reels. The more bonus symbols you get before starting the game increases the number of coins that you can win. There are five different levels included in the bonus round, and you must still select coffins and treasure chests to find the coins. If you release a demon, be careful, as you may become frightened and it signifies that the bonus round is over!
Mobile Version of Blood Suckers 2
This is a 3-row slot, making it ideal for the mobile environment. Thankfully, NetEnt recognized this and has created a mobile version of Blood Suckers 2 that is every bit as exciting as you would find when playing on the desktop. The Scatter Symbols are still there, as are the vivid graphics and frightening sound effects. You can still get free spins and the bonus game may even be more fun on the mobile version. Get your phone or tablet ready for this slot and play it whenever you have a spare moment or two.
Check This Out First and Additional Slots for You
Even though the RTP has come down slightly, this sequel version to one of the most popular slots of all time still returns about 96.7%. That provides some great chances to win some money while having a great time. The animations that are built into this game are stellar and make use of the latest design capabilities. You can really sense that the developers put their heart and soul into the design of this sequel, and we appreciate that kind of effort. The low wagering limits might put some off, but it is more than offset by the bonus games and the chance for free spins.
Rating:

5.0/5

Powered by:

NetEnt

Play at:

LeoVegas Casino
Rating:

3.8/5

Powered by:

IGT

Play at:

LeoVegas
Rating:

4.4/5

Powered by:

NetEnt

Play at:

LeoVegas
Many people get nervous with sequels because they just seem to be lacking something. This one is not, so it sets the bar high. The same great features are there. If there is one drawback, it is that the slot is almost too similar to the original version, complete with a lower RTP%. That being said, we can certainly recommend giving it a spin. We honestly believe that you will like it. If you want to try something a bit different, take a look at these three other slots we have reviewed for you.