Banana Monkey Slot Review – Playing Rules and How to Win
Here is a cute little slot that is sure to combat the boredom you often feel with other traditional slots out there today. The theme with this one involves mischievous monkeys on the hunt for bananas, while the jungle always looms large with every spin. This slot was developed by Playtech in 2010 and incorporates a 5 reel design. There are 20 bet lines with Banana Monkey, so there are some good chances to win with this won. There are stacked wilds that can help you win even more, as well as the opportunity to win some free spins from time to time.
We wanted to write this slot review for our readers in order to provide the details necessary to enjoy Banana Monkey the ways is was meant to be player. While you could always just jump in and begin playing a slot, we do not think this is a wise thing to do. In this review we cover the game mechanics, winning combinations as well as the special features that the Playtech software provider have developed into this slot. We are absolutely certain that you are going to enjoy the slot more, once you get to know it better. We also want to encourage you to play the free version first, where you can improve your skills and knowledge of the game.
Get the Monkey his Banana – Play This Slot for Free
Most people associate slots with money bets. We do as well. But it is more important to have fun while you play. That is why we want to tell you about the demo version of this slot. You can play that for free. You will enjoy all the bells and whistles of the real version, but without the drawback of loosing your money. Playing for free gives you time to explore all of the different features and to see how the 20 different bet lines work to win you some coins. You can play the demo version as often as you like. It is fun just to watch the story in this one unfolds, so start there and then move onto the real money version in due course.
We understand that you will want to be playing this slot for real money sooner rather than later. If that time has arrived, we want to tell you about LeoVegas Casino. You should consider playing Banana Monkey there as they are offering a generous deposit bonus right now. You can deposit up to £100 and they will then match that same amount and give it to you as a bonus. You will see this money right away and can begin using it for spins on Banana Monkey. In fact, the casino will give you some wager-free spins to use on certain slots as well. This is a lot of fun and a most generous bonus offer.
Let's Look at the Game – Winning Rules
Monkeys have long been one of the more popular animals at a zoo, so it only stands to reason that they would make this particular slot so appealing. The graphics that show up in this game are stunning, and the forest pictures are wonderful as well. You will enjoy watching the spins take place as the monkeys float across the screen in search of those elusive bananas. With 20 pay lines, there is plenty to look at with each spin. You will begin by placing your bet and then hitting the spin button. You just might be a winner on your very first try!
Reading the Paytable
With 20 pay lines to take into consideration, you might think that the game is complicated to learn. This is far from the truth. You actually do not need to concern yourself with where each bet line is located. At any time, you can access the pay table to see that information. You will also see how many coins are attached to each winning symbol. If you ever wonder what has kept you from winning on any given spin, the pay table is the place to go. Remember to read the symbols from left to right. This will put you on the right track to better learning how the slot works.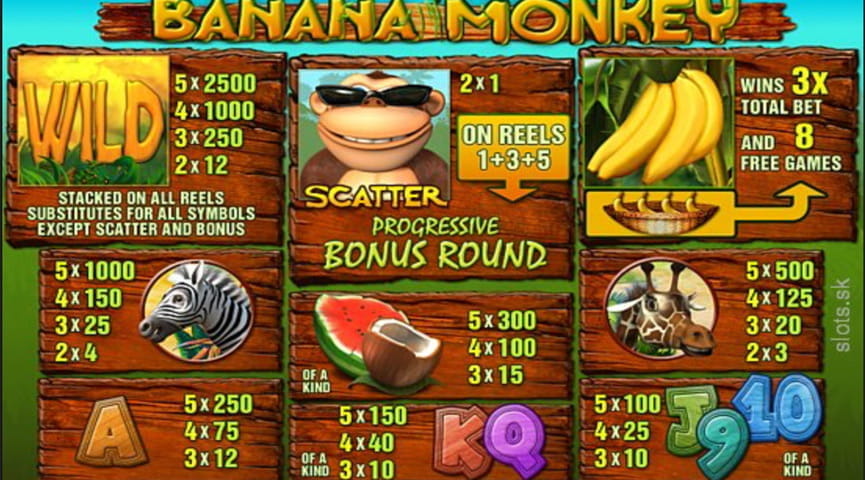 Advantages:
20 ways to win
Quick spin feature
Colourful Graphics
Free Spins
Stacked Wilds
Fun to play
Disadvantages:
No progressive jackpot
No bonus game
There is a good range of bets to be made with this slot. Keep in mind that coin values on Banana Monkey go from £0.01 to £0.50. With a minimum coin value of £0.01 and 20 bet lines, that makes the smallest wager you can make £0.20. This is not much, and it still gives you a chance at winning the jackpot of 2,500 coins. This is more than enough to make most players happy. If you are the type of player who want to risk a bit more in hopes of winning even more, you can bet up to a maximum of £100 on this particular game.
Special Features and Free Spins
There are certain wild symbols that can appear on any of the five reels. These are stack wilds, so getting five of them will with you up to 25,000 coins if you are betting the maximum allowedfThere is also a free spin feature with Banana Monkey that can be quite fun. You will activate this feature when you collect at least four banana symbols on any given reel.. That is a great special feature, so you will be looking for some stacked wilds that fill up your playing screen. When you get this, the jackpot is in your sites.
There is also a free spin feature with Banana Monkey that can be quite fun. You will activate this feature when you collect at least four banana symbols on any given reel. The cool thing about this feature is that your bananas can be collected and saved on each respective bet level. This means that you do not have to collect them all at once during one playing session. This is a feature not built into many other slots that we have reviewed. The free spins come eight at a time, and your wins during that round will be tripled. You can also earn some free spins before you exhaust your existing allotment, so you could be spinning for a long time without having to place another bet.
Mobile Version of Banana Monkey
There are many ways to enjoy Banana Monkey and playing it in on your mobile devices is one of them. Playtech have created a version of this slot specifically for smartphone and tablets. As a result, players could enjoy the game even when they are away from the desktop environment. You will notice that all of the same great graphics and features are here, including the monkeys and their bananas. You can now place a wager whenever the mood hits you, and the next spin could just be the one that nets you quite a few coins.
Before You Start – Consider These Other Great Slots as Well
Our reviews take a great deal into account. We are looking for slots that are fun and entertaining, and this once certainly is that. We also like slots to contain a variety of special features, and this one once again pleases in that regard. The RTP is quite high, so there are some decent chances to win with this slot. You will feel that your money is not be thrown away, and that makes the playing experience all the more gratifying. We feel that this is certainly a slot worth giving a few spins just to see what you think, so consider doing that today.
Rating:

4.5/5

Powered by:

IGT

Play at:

LeoVegas Casino
Rating:

4.6/5

Powered by:

Microgaming

Play at:

32Red Casino
Da Vinci Diamonds Dual Play
Rating:

4.2/5

Powered by:

IGT

Play at:

Netbet Casino
Playing this slot is fun. There is a lot going on, so you will enjoy watching the scene come together in front of you. This is a game that makes you feel good as you play it due to its bright and cheery background. The music and sound effects add to that good mood as well. When you are ready to play a different slot, you can take at the three reviews that we have included above. And if you find that you have a passion for this type of games, make sure you check our list of the best UK slot casinos!