Archer Slot Review – Playing Rules and How to Win
Every child grows up with visions of becoming Robin Hood one day. There is a special appeal to conquering the world and saving the poor from the rich by using a simple bow and arrow. Those childhood fantasies can now be experienced at an online casino near you when you play this innovative slot launched by Playtech in 2010. With 5 reels and 243 different win ways, this is a slot that brings excitement to each spin. There are also a host of special features that really make this game stand out from others you may have recently played.
We really have a lot to talk about this game as this is the first title developed by Playtech to feature 243 ways to win. That is why this review is so valuable. You will want to learn all about the medieval theme behind this creative game. It has free spins, so that will be familiar to many long time slot players. This slot also has an expand and split feature that you will want to know about. It is best to read about these before playing, as that will help you to enjoy each spin even more. With a double up option to go with some features, the fun just keeps going with this one.
Aim and Shoot – Play This Slot for Free
As you can already tell, there are many new features built into this slot that you will want to experience and learn how to make use of. There is no need to risk any money before you even know how the game works, so you will want to play the demo version of this one first. We recommend that with most slots that we review, but it is even more important with this one. You can use the time playing the free version to experience many of the special features you will encounter when you begin playing for real money. This will really help to enjoy each spin even more, particularly when it comes to the story that is being told.
As you get ready to play this slot for real money, we want to tell you about the bonus opportunity available to new players at NetBet Casino. If you input the promo code 'NBWELCOME500' when first registering, you can get up to 500 free spins on select slot games when making your first deposit. That is really a great deal if you stop to think about it. You can use the free spins to test out Archer, before spending any real money.
Let's Look at the Game – Winning Rules
Based on a medieval theme, this slot takes on the look and feel of Robin Hood. There is a great story that takes place as the characters and symbols move through the reels. The graphics are quite creative, as are the sound effects and the background music. You will catch yourself getting wrapped up in each spin that you might forget you even have a bet pending! Speaking of bets, you will just want to decide on your wager and then hit the spin button. This activates the slot and you can sit back to see what happens.
Reading the Pay Table
The pay table for this slot will prove to be most handy to you. There are not traditional bet lines built into this slot. In its place are 243 different win ways. That is a lot of different ways to win, but you do not have to worry yourself with that. Just access the pay table at any time to see what the possibilities are. You will even be able to determine the potential coin values that are associated with each winning symbol should it show up in the right location. The pay table is also where you can learn about the rules with each special feature, so feel free to take a look as often as you like.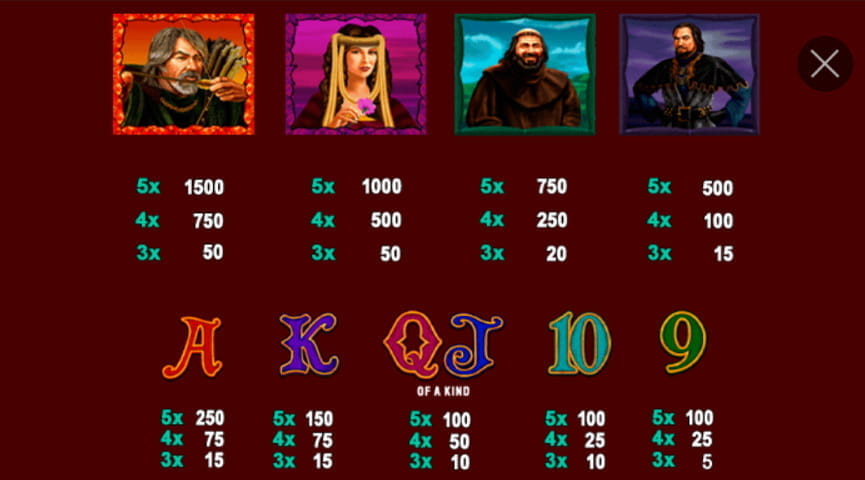 Advantages:
243 ways to win
Quick spin feature
Scatter Symbols
Free Spins
Expanding Wilds
Fun to play
Disadvantages:
No progressive jackpot
No bonus game
There are a good range of possible bets built into this slot, so we feel that most any player will be satisfied with their options. Coin values range from £0.01 to £0.25. This makes the minimum bet only £0.25. This will provide most players with the risk level that they like, while giving them a lot of spins to try their luck on. With the maximum best set at 250 coins, or £62.50, there are some good chances to win serious money with Archer. You may also change your bet at any time, so keep that in mind as you begin playing.
Special Features and Free Spins
As with many slots online today, there are wild symbols that you will want to know about. In this game, the Gold symbols are wild, but note that they can only appear on the three reels in the middle. This means that you can receive a maximum of three wilds on any given spin, but this is enough to win big should that happen. Keep in mind that the maximum jackpot with this slot is 15,000 coins. You can quickly add to your account balance should you be fortunate enough to have a few wilds appear at just the right time.
There is an expand and split feature with Archer that we really like. It is creative and it is unique. With this feature, you will find that certain symbols will appear randomly, and they will be signified by arrow borders. If you get that symbol at the same time that you have a scatter, the arrow will expand to fill up the entire reel. Simultaneously, all of the other symbols on the reels will be split. This means that in certain circumstances you can end up with multiple wins, where one or two would have been possible otherwise.
Mobile Version of Archer
You may want to play this slot on your mobile device, but you are concerned that there is just too much going on to experience it all on such a small screen. Do not worry, as Playtech have developed a version of this slot just for smartphones and tablets. We checked it out and everything looks great. If you put the screen in landscape mode, you can easily see all of the reels. This means that each spin will be experienced at the same level as with the desktop version. You can now feel free to play this slot whenever and wherever you feel like it.
Before You Start – Consider These Other Great Slots as Well
You will notice that we rated this slot a 4.9 out of 5.0. We do not do this all the time, and it is an indicator of how much we enjoyed most aspects of the game. Ok, so there is not a bonus round. There are many other things that this slot has going for it that makes you quickly forget about that. With the inclusion of the more fun and creative special features we have seen in quite some time, this slot is definitely worth trying out. We think that you will be making quite a few spins with this slot once you do.
Rating:

4.6/5

Powered by:

NetEnt

Play at:

LeoVegas Casino
Rating:

4.5/5

Powered by:

Microgaming

Play at:

Betway Casino
Rating:

4.5/5

Powered by:

Microgaming

Play at:

32Red Casino
One thing that we would like to see different is the game's RTP as currently it sits at 94.99 percent. That is probably the only thing that really kept us from giving this one a perfect rating of 5.0. You will still have a more than balanced chance of winning money with each spin, so this should not keep you from playing it. There will be a time when you are looking for something different, so we present you here with three additional slots worthy of your time and consideration. If you'd like to see more game suggestions you can take a look at our full lust of the best slot titles in the United Kingdom.